 The Arizona Coyotes' are 29th in scoring in the NHL, and desperately need an offensive scorer to stay in games. With a 2.14 goals per game average, the offense is sputtering.
There's no real scoring threat on the team
The season is going into the second half and after 42 games, the Coyotes do not have one single player in double digits in goals scored. Both Radim Vrbata and Martin Hanzal have nine goals thus far.
Enter Brendan Perlini. Having played in just 17 games with the Coyotes, he is tied for sixth on the team in goals with six. While with the AHL Tucson Roadrunners, the rookie Perlini also has had 14 goals in just 17 games.
It seems that Perlini's excellent release on his shot, and his speed have helped him gather 20 goals in 34 games. Those numbers are scorer's numbers and Head Coach Dave Tippett agrees that Perlini is developing into a scoring threat every time he hits the ice.
"That's part of his role, he's a goal scorer, he creates opportunities and guys who can do that and finish on them... they're good players. He's playing with a lot of confidence right now, and finding ways to put the puck into the back of the net, said Tippett."
Perlini didn't have an especially great training camp, but hung in there and wound up starting the season with the Tucson Roadrunners.
His development since then has to put a smile on the coaching staff and GM John Chayka's faces.
Last season Domi and Duclair added scoring
This team needs a 20-25 goal scorer, and it was thought that a player like Max Domi could fill that role, or even Anthony Duclair.
Unfortunately, Domi broke his hand in fight, and has missed 16 games while scoring only five goals. Duclair has had a severe sophomore slump which he is just now starting to break out of recently. Still, he only has three goals in 39 games.
To compare both Domi and Duclair's production last season after 42 games, Domi had 13 goals, and Duclair had 12. That lack of production has really hurt the team's success.
Sometimes a young player needs a couple games where his game is going so well, he's begging for the puck to be passed to him so he get a chance to score.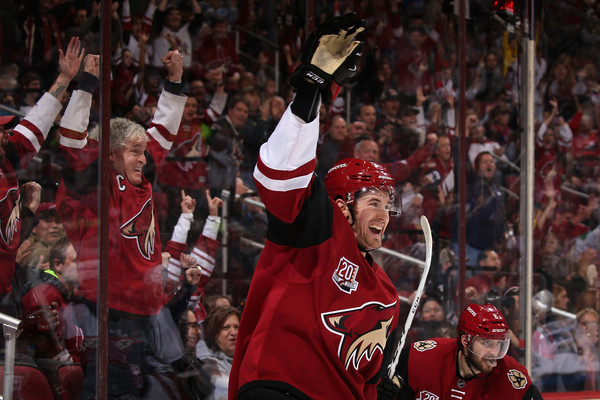 Perlini scored two goals in the Winnipeg Jets game and both goals showed his prowess of getting himself free to break down the wing, and took it to the net. On his second goal, he shot and got his own rebound to show his perseverance to turn on the red light.
Perlini is bursting with potential
It is fairly obvious that Perlini's performance of late gives him the opportunity to show the Coyotes that he can be the scorer they are seeking. If his play continues at it's current pace, he may be able to avoid that trip down Interstate 10 to Tucson for the rest of this season.
It seems he's found his niche, and all the hard work he has put in is finally paying off.
He's made it to the NHL and has fulfilled his dream.
Now all he must do is continue to score goals and help his team win games.