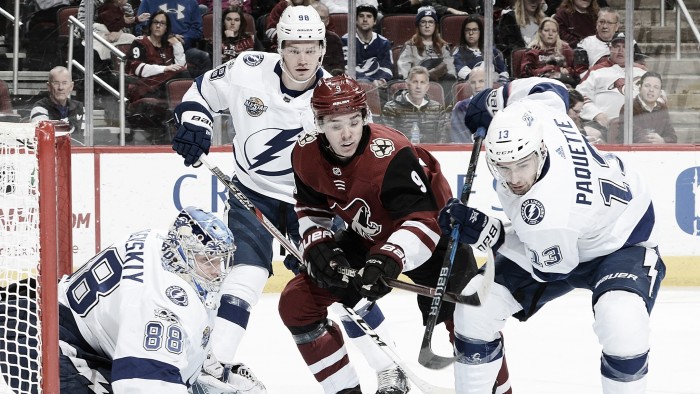 It seems that no matter what the Arizona Coyotes do to play better and gather some wins... nothing has seemed to work.
They came back home after being on the road for 21 games in the first 66 days of the season, only to lose again to the super talented and dominating Tampa Bay Lightning 4-1.
If things weren't bad enough, if it hadn't been for their starting goalie Antti Raanta, who did acrobatics to stop 44 shots, the score could have very well been 7-1, or worse. If you force your goalie to defend the net that many times, there are issues with your team.
And there were issues... like allowing Brayden Point to break in all alone on the right wing to beat a befuddled Raanta.
Head coach Rick Tocchet is frustrated
Mentioning that his team looked tired, and "dull", Tocchet is wondering what he must do to improve this team.
There have been reasons... excuses if you will, which have been used to help fans swallow the poor level of play. They're a young team, has been used, but really they should be improving at a quicker pace.
This was their fifth loss in a row to go along with other losing streaks which are beginning to define their efforts this season.
They have succumbed to a five-game, a three-game, and the embarrassing 11-game losing streak which inaugurated the beginning of this dreadful season.
Things don't get easier
Now that the Coyotes have lost decidedly to the Lightning, they must face the Stanley Cup champion Pittsburgh Penguins next on Saturday night, again at home.
The schedule will FINALLY change to show that the Coyotes will be playing at the friendly confines of Gila River Arena for nine of the next 12 games.
Will that mean they can start winning games?
Not necessarily.
Their home record of 3-9-1 doesn't display that ability.
Is there any hope at all?
This season isn't over by a long shot, but for the Arizona Coyotes to become respectable in the standings they would need an almost complete turnaround.
For one thing, they are dead last in goal differential, at -42. They've given up the most goals in the league, at 118. They have the fewest home wins, at three.
When you compare their current record to last season's at 34 games played, they are eight points behind that pace, and they only finished with 70 points.
They did make a roster move in hopes of adding some much-needed scoring. Nick Merkley was called up from the AHL Tucson Roadrunners to supplement the meager offense.
They are 30th in the NHL in scoring, and if Merkley can hook up with Dylan Strome as he did in Tucson, there could be some red lights above the opposition's goal going off on a more regular basis.
It can be hoped that adding Merkley to the same line as Strome can get Strome going in the scoring column. In 10 NHL games, he has but one goal to show.
Something must change
Head coach Rick Tocchet may not have too many more tricks up his sleeve to revive this team. Their plight seems to be pretty well placed... and the team has had rotten luck to go with misfortune.
Better results were hoped for and even promised from ownership before this campaign began.
Just as coach Tocchet has stated, this is not an easy game, and this season the Arizona Coyotes have discovered that stark truth.
Will they recover to even hit the .500 mark?
Doubtful.
Will their players receive valuable experience and ice time to work out the rough spots in their game?
Hopefully.
As of right now, it's more than difficult to be a Coyotes' fan.
It's downright painful.
What is your outlook for the Arizona Coyotes? Will they be able to recover from this horrible start? Let us know in the comments section below.