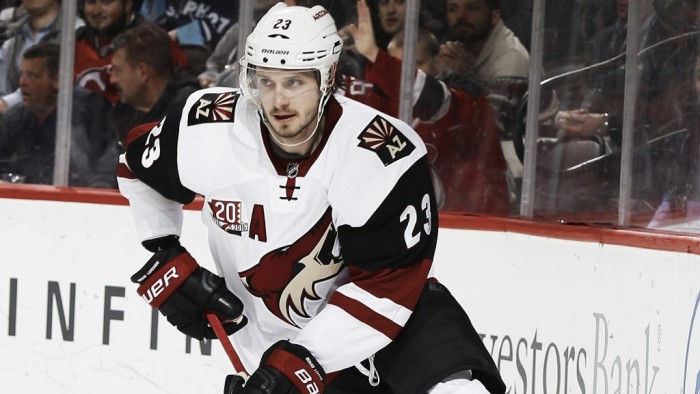 Trade rumors.
They're always out there, and some come to fruition while others do not.
Oliver Ekman-Larsson
It's no secret that there has been talk of trading star defenseman Oliver Ekman-Larsson. So far, it's just that... talk.
With OEL's contract expiring July 1, 2018, the team must get off the fence (or boards) and decide to sign him to a lucrative (in the range of $8 million a year for maybe eight years) contract or trade him.
General managers in the NHL just don't give away talents like Ekman-Larsson for the fun of it.
There's also been talk of Erik Karlsson of the Ottawa Senators possibly being traded. Could a trade involving the two multi-talented D-men be in the works?
Anything is possible... especially in the NHL.
When one examines the absolute ineptitude of the Coyotes to get their engines started this season, the pressure on GM John Chayka to keep his job is mounting daily.
He thought he made some headway in improving this team when he was very active over the summer acquiring some fairly decent players like Niklas Hjalmarsson, Derek Stepan, and Antti Raanta in key trades aimed at making this team a playoff contender.
That hasn't happened.
Brad Richardson
Here's another player whose contract will be up soon. Brad Richardson is earning $2,083,333 this season and hasn't really been the same since recovering from his severe leg injury that had him sidelined most of last season.
He's struggling with just one goal, five assists in 34 games.
He's a gritty forward who is excellent on the penalty-kill and faceoffs (when he's not being chased out of the circle for not following the new rules).
He's 32 and really doesn't fit into the young, fast lineup the team is putting on the ice.
Look for him to be dealt before the trade deadline.
Luke Schenn
Luke Schenn is a hard-hitting defensive blueliner whose two-year deal for $2.5 million will expire at season's end. His 3.5 hits per game since he arrived in Arizona are impressive, but do his defensive shortfalls make him expendable?
He is also a right-hand shooting defenseman and that makes him a valuable commodity. Of course, the Coyotes AHL Tucson Roadrunners' team has a star in the making in Kyle Wood. He could step right in if Schenn is traded away.
There's lots of flexibility there, and Chayka is always creative in his deal-making abilities. Time will tell.
Max Domi
Believe it or not, Domi's entry-level contract is due to expire after this season when he becomes a restricted free agent. He has been really off in his goal-scoring abilities this year but still ranks fourth on the team in scoring with three goals, 15 assists in 36 games.
It would difficult to understand why the Coyotes wouldn't sign Max Domi to a lucrative contract. Like OEL, he is the focal point of this young, swift team and trading him would be detrimental to their success down the road.
Look for Max to get a three or four-year contract in the range of $14 million. He is an intriguing player who has speed, excellent skating and stick handling abilities.
If he and his buddy Anthony Duclair can connect again as they did their first season here, the future of Domi will be in Arizona.
Anthony Duclair
Speaking of Duclair, he is also a restricted free agent who waited until nearly the first preseason game to sign a one-year deal with the team.
To say he is walking on eggshells would be an understatement. He came in with the right attitude to show the team what he can do to step up his game.
His seven goals, six assists in 27 games aren't horrible, but one must admit his up and down game makes him trade-bait. Most teams would love to have his speed, but his overall play and defense must improve if he wishes to stay in the NHL.
He was sent down to the AHL Tucson Roadrunners to find his game, but it is still uncertain if he's accomplished that task.
Look for the team to trade him before the deadline.
Tobias Rieder
Speedy Tobias Rieder has had a below par season so far. His 0.28 points per game this year is off from last season's 0.43 numbers. He is an invaluable asset on the penalty-kill and can score shorthanded if you don't cover him.
His two-year $4.45 million contract is set to expire after the season, and the team needs to decide if the German-born forward is worth keeping or if they need to move him elsewhere.
This writer's projection is that they move him.
Antti Raanta/Scott Wedgewood
The season thus far has been a big disappointment for both Antti Raanta and the fans, due mainly to his injury-prone first half of the season. Missing more than half the games the team has played has really affected the team's lack of wins this season.
He does have a very reasonable $1 million contract, and the team needs to sign him to a multi-year deal to strengthen the goalie position.
Scott Wedgewood was an excellent acquisition by Chayka and has shown he's a more than competent backup goalie. He too needs to be retained to build a strong one-two goalie tandem needed to fortify the net.
Other assets could also be moved
While obtaining Stepan, Hjalmarsson and Jason Demers was intended to upgrade the Coyotes playing level and success, the exact opposite has occurred.
Can any of these three veterans be on the trading block as well? Both Demers and Stepan are signed until 2021, with Hjalmarsson's contract is due to expire in 2019.
They've all three had their chances to show what they've got and thus far excluding Hjalmarsson who has had injury issues, the results are less than encouraging.
Final analysis
The Arizona Coyotes are in trouble.
Why?
Because all indicators were that they would be better this season for many different reasons. They are still young and will be in the hunt in two-three years, but for now, things are not going as planned.
They're so bad that they could actually be worse than the team of 2014/15 season when they only had 56 points. The season is almost half over and they need nine points to get UP to the pace of that horrible season.
GM Chayka appeared on a local radio show on 98.7FM to comment on the team's plight.
Talk about discouraging... something WILL be done about this team's inept showing thus far this season. Excuses can only fly for so long and then it becomes a management issue where the GM and/or head coach take the fall.
Thus far head coach Rick Tocchet has not found any answers as to why his team is totally unfocused at finishing games, giving up late period goals, or squandering leads.
He'll figure it out, but how long will the owner Andrew Barroway wait before results are finally showing up?
After all, he promised in the preseason town hall for the fans that we would be "surprised" at the product on the ice this season.
The surprise has not been a positive one and he is a successful businessman who must know when to make changes to inflict some results.
Now, we just sit back and see what those results may be.
This team is better than their record, but according to Tocchet, some players will be "weeded out" to correct the flaw of not playing an entire 60 minutes of hockey. Tocchet commented after the discouraging loss to the Florida Panthers after blowing a 2-0 and losing 3-2.
As fans suffer through yet another season without a playoff possibility the mere survival of this team in many ways needs to be addressed if they hope to keep or capture additional fans.
Fans are addicted to winning, and until this team learns how to win, they will be chasing an impossible dream.
Winning is infectious, but losing is painful especially the way this team has lost games this season.
What is your take on what the Arizona Coyotes need to do to improve their team? Let us know in the comments section.