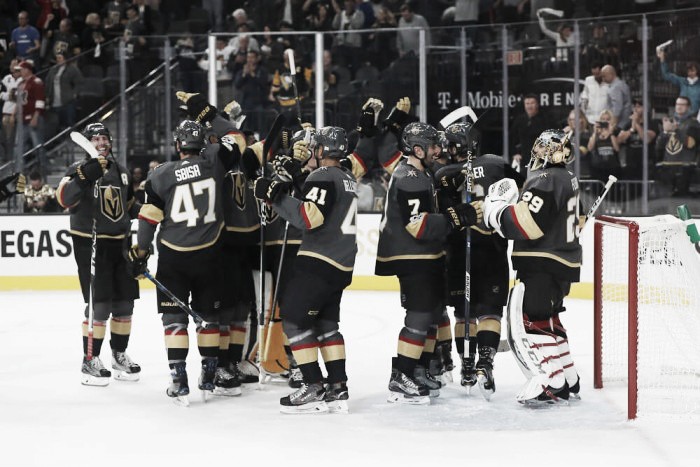 The Vegas Golden Knights are the story of this NHL season. They are exciting, fun to watch, young, and playing with a chip on their shoulder. The fans are loving everything that comes with having a professional sports team in Las Vegas and the players are embracing the challenge that comes with being on an expansion team.
However, we are past the point of looking at this team as an exciting storyline that will soon fade, just like many others in the sports world.
It is obvious that the Vegas Golden Knights are here to stay and the hockey world needs to wrap their heads around that fact that they are a very good hockey team.
What comes next though?
Here are five things that need to happen for Vegas to transform their narrative from a good story to playoff contenders.
1. General Manager Goerge McPhee needs to decide whether they are going to be buyers or sellers at the trade deadline.
If GM George McPhee decides that he is willing to hold onto players like James Neal and David Perron, this team quickly becomes more than a good story. Neal and Perron are both players who are playing for contracts, so the risk of losing them to free agency for nothing is something that the Golden Knights need to evaluate.
Who is available at the deadline and who is not will give hockey fans a glimpse into the thinking of the general manager, which will, in turn, tell us if the Golden Knights are buyers or sellers.
Keep your eye on players like Neal, Perron, Marc-Andre Fleury, William Karlsson, Jonathan Marchessault, and Nate Schmidt. These are players who would be deemed the core of this team. If they are up for grabs, Vegas might be leaning towards being sellers.
2. The Golden Knights need to strengthen their penalty kill
The Golden Knight's penalty kill is not very good statistically. They are currently ranked at having the 23rd best penalty kill, and the only team that is worse than them and currently in a playoff spot is the New York Islanders.
It hasn't seemed to hurt the Golden Knights all that much though, and they have had timely kills in their most recent games against the Pittsburgh Penguins, Tampa Bay Lightning, and Washington Capitals.
However, there will come a time in the season where they will need to kill penalties with a degree of consistency to be an effective team. Very few teams make it deep into the playoffs with below average special teams. Yes, they could very well make the playoffs with these numbers, but an effective kill is critical to winning in the playoffs.
3. They need to continue to be strong at home
This is simple. Don't change anything.
The marketing team needs to keep putting on a show that brings fans to their feet. The on-ice production crew needs to keep pulling on the Vegas Strong motto that unites the city around this team. This city needed something to cheer for after the events of October 1, 2017.
The Golden Knights had to do something to bring the town together.
Hockey brought this city together in one of their darkest hours. Use that motivation throughout the whole season.
If the Golden Knights can bring half of the adrenaline that they brought on opening night to every game, the T-Mobile Arena will become one of the most dreaded arenas in the league for opposing teams.
Whether you believe in the Vegas Flu or not, one this is clear, as Nate Schmidt said, "The house always wins".
4. Their leadership group needs to step up
Reilly Smith, Marchessault, Neal, Fleury, Engelland, and Perron. Those are the names of what makes up the Vegas "core". Yes, this team has prided itself on working as a 20-man unit and they will continue to pride themselves on that.
However, who is going to step up in the room when they are down? Who is going to make a statement play in the dog days of the season when they are playing a seemingly meaningless game at the end of a long road trip?
Who will calm the nerves as the trade deadline creeps closer?
Who will answer the questions about controversial calls?
Who will rally the troops when a call doesn't go their way during a critical game?
This is when leadership comes in handy.
Fleury will walk around with a quiet confidence mixed with a genuine love for hockey. Neal owns a swagger he has to show. Perron exhibits that same calm Fleury has, but with a chip on his shoulder. Engelland gives the dressing room perspective. Marchessault is the spark plug. Smith is always on a mission.
These players need to bring their best when it counts and there are opportunities for young players to prove why they not only belong in the NHL but specifically Vegas.
Whether you believe in the ability for one or two players to change an outlook in a room or not, they have someone to count on to say and/or do the right thing when it matters... that what makes a difference.
5. Marc-Andre Fleury has to stay healthy
Now, this may be controversial because he missed 25 games and they fared perfectly fine, but as the games become more and more important midway through the season and heading into February and March, Fleury is going to be needed desperately to steal a few games.
He is the only bonefied winner on this Vegas team.
There are players who have had success and there are players who have had good personal years but, Fleury has been born and bread as an NHL player in a winning environment.
He has three Stanley Cups, is closing in on 400 wins, will play his 700th game this coming week, and has more than a few times carried a team on his back.
In 2015, his former team the Pittsburgh Penguins needed to win their final game of the regular season against the Buffalo Sabres in order to secure a playoff spot. Fleury got a shutout that game.
In 2009 against the Detroit Red Wings, there were six seconds left on the clock while the Penguins were up 2-1 in Game 7 of the Stanley Cup Finals, the puck found its way to Nick Lindstrom and Fleury needed to come up with a save.
He did.
In 2017, in Game 7 against the Washington Capitals, his team was clinging to a 1-0 lead and he made a game-saving save against Alexander Ovechkin and eventually pitched a shutout.
This is the name that needs to be in the net when it matters most. On and off the ice, he is the heartbeat of the Golden Knights and when push comes to shove, he is the one that needs to answer the toughest calls on the most challenging nights.
Conclusion
When it's all evaluated, Vegas has a chance. They have a chance to continue the storybook that has been the Vegas Golden Knights.
They need luck, just like every other successful NHL team.
They need persistence.
They need adrenaline.
They need the city's support.
They need to stay healthy.
If these things all fall into place, the storybook might just have a dream ending.
I'll leave it to your imagination what that dream ending might be.
What do you think the Vegas Golden Knights need to do to secure a playoff berth? Let us know in the comments section below.