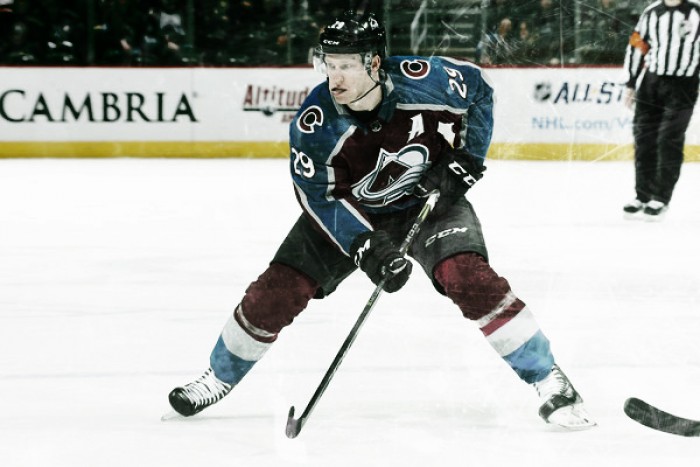 Coming out of their bye week, the Colorado Avalanche are in a position to do something that few thought they could... and make the playoffs.
With several games in hand on the teams they are chasing, Colorado has a chance to make up some ground fresh after getting a whole week off.
They are currently three points out of the final wild-card spot, a position they held going into their week off, but have three games in hand on the Minnesota Wild - who they pummeled in impressive fashion last Saturday.
Colorado trails the St. Louis Blues for the third spot in the Central division, but also have five games in hand on them.
Mackinnon leading the way
Leading the way for Colorado's turnaround has been Nathan MacKinnon, who despite being off for the last week is still holding on for a tie with three others for second in the league in scoring.
He also has games in hand on that competition - three on Blake Wheeler and Steven Stamkos, and one on Claude Giroux.
Few are playing better than the 22-year-old MacKinnon, who has been the driving force of one of the better lines in hockey. Flanked by second-year winger Mikko Rantanen and Avalanche captain Gabriel Landeskog, MacKinnon is raking up the points, as well as the achievements.
The Cole Harbour, Nova Scotia native was named to his second All-Star game and was the NHL's first star of the month for November. He has also tallied 16 multi-point games, including a five-point marker against the defending President's Trophy-winning Washington Capitals.
It's easy to forget about MacKinnon, especially after the Avalanche hit literal rock bottom last year. Big things were expected from MacKinnon, who won the Calder Trophy for being the league's top rookie and led the Avalanche to within one game of a second-round playoff berth - all in year one.
Since then the Avalanche have struggled to find that same success, slipping slowly until to the point they posted the single worst season of any team during the salary cap era. Colorado posted just 48 points in the standings and was outscored by over 100 goals.
Even with the best odds to land the top pick in the NHL draft, they didn't select until fourth, with the New Jersey Devils, Philadelphia Flyers, and Dallas Stars all ending up ahead of them thanks to a lottery that gave every non-playoff team a chance to move to each of the three picks.
That's all water under the bridge at this point (snow off the mountain?), as the Avalanche are right back at fighting for a playoff spot.
If MacKinnon is able to lead them there, he may end up on a shortlist of players in a wide-open competition for this year's MVP.
Nikita Kucherov may be the front-runner right now, but he shares the spotlight with the likes of Stamkos, Victor Hedman and emerging elite goaltender Andrei Vasilevskiy. As a whole, Tampa Bay may have the most complete roster in the league.
Doing it all without Matt Duchene
MacKinnon is leading a team that remained largely intact from last year's nightmarish season. He has played so well, it has gone almost completely unnoticed that they traded one of their better offensive threats, even if it was disgruntled forward, Matt Duchene.
It's easy to forget that MacKinnon is still just 22-years old, or just how hyped he was coming out of juniors. He was so hyped, there was a concern if Jonathan Drouin was just a system of playing on MacKinnon's wing, or if he was a legit prospect.
With Connor McDavid, Jack Eichel, Auston Matthews, and Patrik Laine all coming into the league in just the past three seasons, MacKinnon was put on the rear burner.
McDavid is the closest to him in points - trails by four - but the next closest of that group, Eichel, trails him by 11 points.
It might be a hard case to make to give the MVP to a player on a team that barely made the playoffs, but they call it a 'dark horse' candidate for a reason. Of all the players that will throw their name in the hat for the MVP, MacKinnon is probably doing the heaviest lifting.
His play has turned the most embarrassing team in the salary cap era, into an exciting, fun to watch, and relevant team who has the playoffs within their reach.
Sure does seem like MVP-worthy type of play, doesn't it?