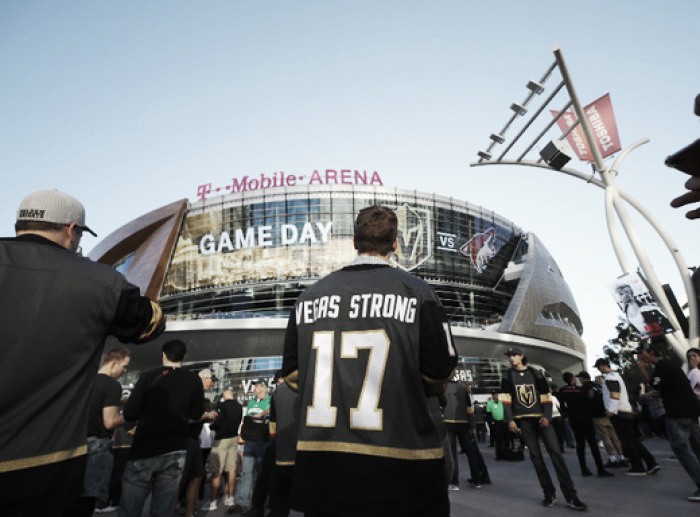 What has made the Vegas Golden Knights special is a question not many people can answer. For some reason, this team is working. Not just sort of working... or keeping their heads above water, or squeezing by teams.
No, this team is one of the best in the league.
The question about Vegas now isn't whether or not hockey will catch on... rather the question is: what took the NHL so long to realize this was a perfect place to put a hockey team?
As we reach the halfway mark today, the story of the season has been the Vegas Golden Knights. Las Vegas as a city has always garnered attention because... well, it's Vegas, but the Golden Knights have captured the city in a way that not many outsiders see.
The Golden Knights have made their way into the hearts of the people of Las Vegas, and that is why this team clicks.
Yes, a strong expansion draft, some general manager genius, an underrated coach, an all-star goalie, and a lot of chips on a lot of shoulders are playing a huge part in the success of the Golden Knights, but there is something much bigger happening in Vegas.
The city of Las Vegas and its people have come alive in a way the world hasn't really ever seen before. This has nothing to do with the night lights, casinos, or lack of windows.
This is all about the people. This is about a group of players trying, desperately to make a mark in a city they didn't really know. This is an about a city that gets to show its colours beyond the world-famous Strip.
October 1st, 2017
If you are a citizen of the city of Las Vegas and the surrounding area, you will remember this day for the rest of your lives. If you have ever been to a concert, you will remember this day. If you have ever been to the Las Vegas Strip, this day will bring back memories and make you think.
If you have any connection to anything that happened that night when a gunman gunned down 58 people and wounded hundreds more on the Las Vegas strip, or it simply made you stop, think, and question your surroundings and hold on tighter to the people you love, October 1st will always come with a moment of thought and reflection.
It also brought with it a chance for the Golden Knights to make an impact.
They had a chance to let a city know that they had a team that would rally around them. They had a chance to bring people together. They had a chance to take a tragedy and honor it.
They couldn't make it disappear or turn the clock back, but they could be there. They could show up in jerseys and listen to stories, take a few pictures and be apart of healing.
They had the chance to show up, and they did.
They made a calculated decision that they were going to play for the city of Las Vegas and the city of Las Vegas made a decision to show up as well.
Like I said, this team is all about the people.
When general manager George McPhee and his team were put in charge of forming this team, he wanted good people, not just good hockey players. He got them, and they showed up when it mattered most. They got players like Deryk Engelland who stood in front of 18,000 fans and told them this team would help this city.
They got players like Maxime Lagace who was thrust into an NHL career as the fourth string goalie, forced to play the part of NHL starter while every other goalie seemed to be going down. They got James Neal who could have sulked in the fact that he got exposed by a team that was two wins away from winning the Stanley Cup, but he didn't.
Instead, he embraced the challenged and showed up. They got Marc-Andre Fleury and David Perron, Jonathan Marchessault and Riley Smith.
They got so many good people. Again, this season for Vegas, it's all about the people.
Positive pressure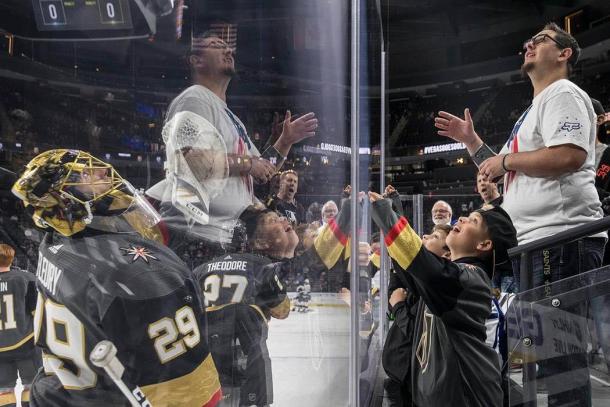 This is a bit more of a reach, but it is safe to argue that the positive atmosphere around this expansion team has lead to their successes.
Example A of this theory is the Golden Knight's practices. About an hour and a half before each practice the Vegas twitter account will announce the place and time of the practice. That information is followed by the standard mention that all practices are free and open to the public.
That small statement at the end of a twitter message has brought to life Vegas' practices. Every practice is filled with people. No, not just 20 or 30 diehard fans or kids who got out of school early looking for something to do.
No, there are hundreds of fans at each practice.
For example, yesterday, after a week off for the league ordered 4-day break, City National Arena was standing room only for practice. A practice that was held at 4 o'clock on a Friday afternoon and the people of Summerlin, Nevada, were out in full force, eager to see their team.
The point is, this city is so happy to have a sports team that the positive energy outweighs the pressure that might be being felt to succeed. That is not to suggest that the fans aren't knowledgeable about the team or the game, but rather the genuine joy that the spectacle of hockey is bringing to the people of Vegas give this team a jolt.
Fans aren't booing when the power play fails to get a shot on net. When a goalie lets in a goal that shouldn't have gone in, there are no ill words thrown their way. The cheers are just as loud for James Neal as they are for Tomas Nosek.
Those small things can bring a group together. To know that a whole fanbase is just excited to be there and excited that you are there makes a huge difference in your mentality.
The pressure is different in Vegas. It is hard to articulate, but the feeling from reporters, fans, officials, players, coaches, and the everyday hockey lover is a bit different in Vegas.
Vegas welcomes new fans and accepts that there will be fans from other teams at most games.
Don't get them wrong though. The people of Las Vegas are tough. They want to win just as badly as any team. They cheer just as loudly as any team in the league and they are taking the expansion label in stride.
In closing, the pressure will change in coming seasons. The pressure of a seasoned good hockey team with high expectations will change the atmosphere a little bit... it always does. However, this season will set the tone.
If the NHL and the sports world has learned anything about Vegas it is that this team is special, but it has been made special by the people of Las Vegas.
It has been made special through tragedy.
It has been made special by its players.
It's been made special through a unique love affair between a desert town yearning for professional sport and a group of players that were deemed unwanted.
The Vegas Golden Knights are special, and it is all because of the people that encompass it.
Be sure to comment below if you have something to say about the amazing Vegas Golden Knights.