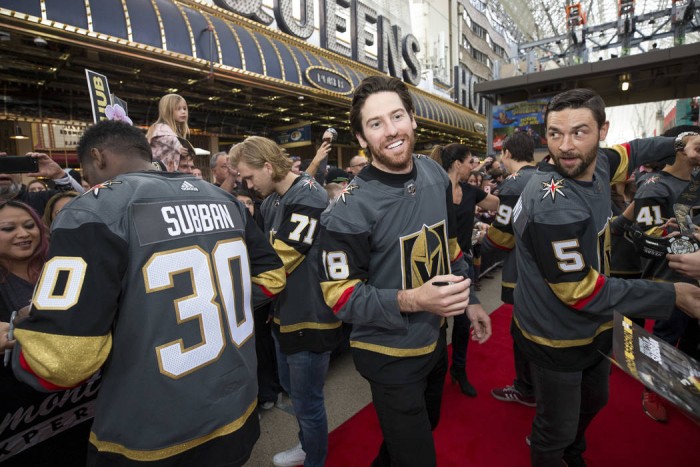 So let's just say hypothetically you are an expansion team with 28 draft picks in the next three years. Let's just say that you have $8 million in cap space, six players who will be restricted free agents come July 1st, and another six that will be unrestricted free agents.
Let's also say that you have the best record in the league and show no signs of slowing down.
You have a goalie who is playing better than he ever has in his Stanley Cup filled career. You have the sixth leading goal scorer as well one of the most diverse and evenly spread offensives in the league.
You also have brought that hockey feel to the City of Las Vegas, Nevada. Yes, you heard that correct, Vegas. Party City, USA, is a hockey town.
Now pinch yourself and remember that none of this is hypothetical.
So, now what?
With the All-Star break past us, the playoff push has officially begun. Besides an emotional homecoming that is on the horizon for Marc-Andre Fleury, the Vegas Golden Knights will settle into a rhythm in the next week or two of playing every other night. They will continue that pace until the end of the season.
However, on Monday, February 26th, the trade deadline will come and pass. What Vegas will do is up in the air. Maybe they will buy a few players and go for a long playoff run.
Maybe they will stick to the plan and sell off the assets. Maybe they will stay put and do nothing at all. Maybe they will be somewhere in the middle.
Here is the case for each possibility.
Sell?
This was always the game plan. Trade James Neal. Trade Marc-Andre Fleury. Trade David Perron. Trade just about everyone to get draft picks and some young players. There is still a chance that this happens but one would think it is slim.
With the record that they have and a chance to make a few waves in the playoffs, general manager George McPhee would have to be given one whale of a deal to trade away a big name.
Fleury is pretty much off the table with his play and modified no movement clause. It would take a blockbuster and a lot of cooperation from Fleury to move him.
James Neal is the big name that could be shopped. Not because they want to lose him but because he is in the last year of his deal and is bound for a payday that Vegas may very well not be able to handle or won't give him.
So if that is the case, trading him to a team that is a contender and willing to give up a few draft picks or prospects becomes something to look into.
Perron is somewhere in the middle. I don't think Vegas wants to trade him but they need to make a choice as to whether he is part of the plan for the future. If he were to be moved, it is hard not to feel for the guy who has publically stated that he is craving stability for his family.
However, there are a few minor trades that could make this team better and just for fun what could a big deal look like? Here are a few that come to mind:
1. Malcolm Subban for a depth D and a third-round draft pick.
Sounds a little out there, but hear me out. Subban's stock is high. He found his footing in Vegas, but, if Vegas sees Fleury as being the guy in Vegas for the next three or four years, Subban is expendable. Oscar Dansk is more than capable of being a backup and Subban will catch a return right now for a team in need of goalie depth.
Vegas could add a depth D and maybe a draft pick for Subban and consider they got him on waivers for nothing, this all of a sudden makes some sense.
Maybe Boston would be a good trading partner?
2. James Neal for a first-round draft pick, and a solid prospect and a depth defenseman.
This is what a package for Neal would have to look like to move him. Teams like Tampa Bay, Nashville, or Pittsburgh come to mind when talking about trading partners for Neal.
For example, if Pittsburgh were willing to give up a first-round draft pick like Ian Cole, and any one of their top-10 forwards on their Wilkes-Barre Scranton depth chart.. I would pull the trigger in a heartbeat.
There is a 50/50 chance Neal leaves in the summertime, it might hurt for Vegas fans to see him go but if a big package like that comes through for him, that's hard to resist. That sounds like a very large return for Neal, but I say this is the only way Vegas parts with him, and Neal is one of the most consistent goal scorers in the game.
3. Jason Garrison for a second-round draft pick.
Garrison is an NHL defenseman that has been caught up in the numbers game in Vegas. He has over 500 NHL games to his name and I can guarantee that someone in the league would be more than willing to add him for a long playoff run. This would be minor, but if GMGM is looking to stockpile draft picks, this one could be easy.
Buy?
Now, it is nearly unthinkable to think about Vegas being buyers in year -one but it is a legitimate possibility. Now for Vegas, take "buyers" with a grain of salt. If they were to be buyers, that most likely will mean they may give up a few players to get better players, but don't for a second think they will be shopping draft picks or prospects.
If there is a way to trade a roster player for another roster player, then yes they will look at it, but that would be the extent of their "buying"
Here is a trade that would constituted as buying.
1. Cody Eakin and William Carrier for Mike Green
Eakin is good. He is doing well in Vegas but he isn't a cornerstone of the team. Carrier is a big body and brings depth and energy. Both of them could do well on a rebuilding Red Wings team. Eakin has a few more years left on his deal and Carrier is a restricted free agent at the end of the year.
Green is an offensive defenseman that has had a very successful career in both Washington and although lower profile, has been playing well in Detroit.
In this situation, the Vegas blue line would undoubtedly get better. A power play with Shea Theodore and Collin Miller are pairing one and Green and Nate Schmidt as paring two, and don't forget about Brad Hunt when he is in the lineup.
Stay?
This is what is most likely.
There is a chance that GMGM goes with the "if it isn't broke, don't fix it" approach. They have a great goalie and a good backup. They have four lines and six D that have gotten the job done.
There is absolutely zero pressure to win the Cup this year. This team is special and they know it. Let them battle it out for this season.
These players in many ways have earned the right to finish what they started... together.
It doesn't make much sense for McPhee to go "all in" and it doesn't make much sense to squander their chances of putting together a fighting chance to let Vegas feel that playoff magic. The whole league wants to see how far Vegas will go, all eyes are on them and they keep surprising everyone.
No one can be sure as to what will happen but don't be shocked if the roster looks virtually the same once the deadline has passed.
What do you think Vegas will do? Are there players Vegas should look to add? Who is expendable? Comment down below. ​