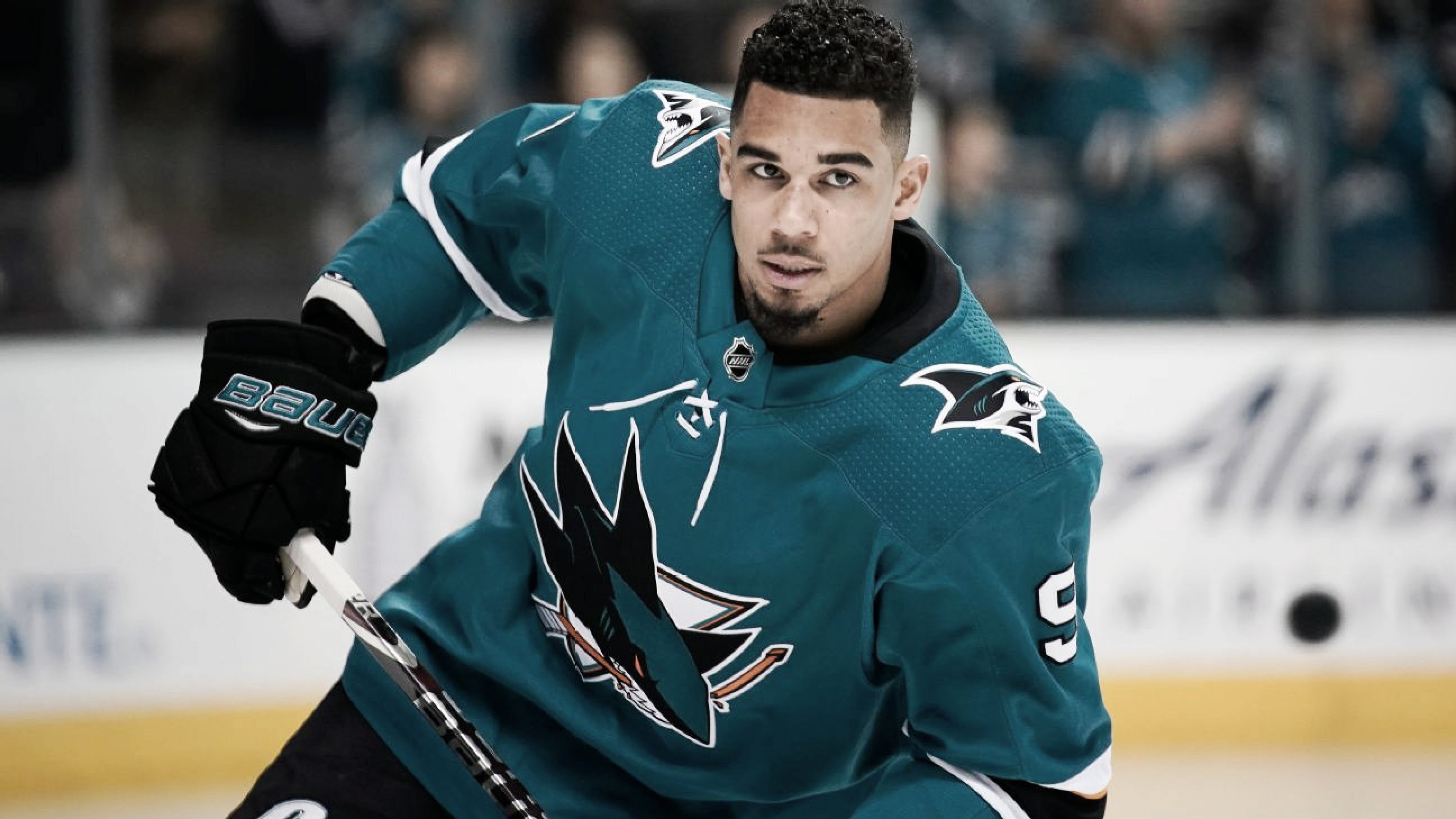 In an unsurprising move, the Buffalo Sabres have moved forward Evander Kane to the San Jose Sharks. In return, the Sabres acquired San Jose's 2019 first-round draft, their fourth-rounder in 2020, and prospect Dan O'Regan. Buffalo's GM Jason Botterill seemed to wait almost until the 11th hour to get a deal done, and it felt like to many that he was playing "chicken" with GM's around the league.
Both of the draft picks came with some conditions. The first-rounder becomes a second-rounder if Kane doesn't re-sign with San Jose or they don't win the Stanley Cup. The fourth can become a third if they push the pick back to 2020.
Official: We've acquired forward Daniel O'Regan, a conditional first-round pick in the 2019 #NHLDraft & a conditional fourth-round pick in the 2019 #NHLDraft from the San Jose Sharks in exchange for Evander Kane.

— Buffalo Sabres (@BuffaloSabres) February 26, 2018
"It was a difficult market for rentals," GMJB said to the media following the end of trade deadline day after many fans were upset with the return that Buffalo got. According to the media, it came down to San Jose, Anaheim, and Calgary and GMJB felt that San Jose gave the best return.
GMJB went on to say, "I think the younger players in the league certainly got a good reward, players with term certainly got a good reward. But it was a scenario where we had a lot of conversations out there and certainly a lot of interest, but I think you saw with the rental market for rental players it was more of a difficult market than previous years."
Kane was expected to be moved as GMJB had set his asking price many months ago before the trade deadline. Kane's past and his locker room antics seemed to be have been the thing that held Buffalo back from getting anything more than conditional draft picks.
Evander Kane's time with Buffalo
Kane leaves a struggling Buffalo team to move on to a hockey club that has the pieces to make a playoff push in the West. Kane's time was a tumultuous one with Buffalo as he'll be remembered for his good in the community but also for his two sexual assault investigations. He had his good moments in Buffalo and certainly had his bad.
Practice was never Kane's thing and he was always the first to leave the ice. He never put in that extra effort and was considered by many to be a cancer in the locker room.
He got into a shoving match earlier this year with teammate Justin Falk and even though there were reports that he may have "turned over a new leaf" those were all but deemed untrue by this trade.
Kane leaves Buffalo having played 196 games for them and totaling 118 points (68 G, 50 A). He was traded for in 2015 from Winnipeg with Zach Bogosian by then-GM Tim Murray who said that Kane and Bogosian were brought in to turn this team around and help rebuild the roster. But, the losses outweighed everything else... so he's gone.
Kane had 20 goals and 20 assists in 61 games this season for Buffalo, and he is in the final year of his deal where he is set to become an unrestricted free agent. This will be the second time that Kane has been traded in his career since being selected fourth overall in the 2009 NHL draft.
Who is Dan O'Regan?
With the addition of O'Regan, Buffalo adds another player that is just on the cusp of breaking into the NHL.
Just like Nick Baptiste and Justin Bailey, O'Regan just has to have his moment where everything "clicks" in his head for him on how to play the game. He played with Jack Eichel and Evan Rodrigues as their linemate at Boston University in the 2014/15 season. O'Regan left BU having 154 points (66 G, 88 A) in 154 games played.
Drafted by the Sharks in the fifth round in 2012, O'Regan has been finding his groove in the AHL as he has 25 points (7 G, 18 A) in 31 games. He was called up briefly to the NHL for 19 games where he tallied only four assists.
GMJB was impressed with the young buck as he was the AHL's rookie of the year last season where he had 58 points (23 G, 35 A) in 63 games. He also had seven points during the playoffs.
As the Rochester Americans prepare to enter the playoffs this season, O'Regan will join the team for that final push to the end the season. He will help fill holes that were left by some of the Americans' injuries this season as well.
Who won the trade?
This question is tricky when it comes to Kane because he has so much baggage that many teams weren't willing to take on. A lot of people wanted to jump the gun and say that Buffalo got hosed or that GMJB doesn't know what he is doing, but if you look at this deal, it's not bad for Buffalo.
GMJB was able to move a player that he most likely wasn't going to resign for two picks and a prospect. He can put the money that Kane is going to want in free agency elsewhere allowing him to really look at his roster after this season is over. Kane being moved allows him to not be tied down to anyone, as Buffalo is set to have 21 free agents once the season is over.
O'Regan is 24 and if the light bulb clicks on in his head about how to play NHL hockey, then the trade would have been worth it. GMJB gets rid of Kane who was miserable in the locker room and set a terrible example for the young players that Buffalo has on their roster.
O'Regan may not replace Kane's offensive abilities but Casey Mittlestadt is coming and Buffalo fans should be salivating at that thought.
For San Jose, they do get a really talented player for a "steal" because of how long Buffalo waited. GMJB told the media that he was only offered conditional first-rounders and that San Jose's offer was the only real offer that was anywhere close to what he wanted. There was no mistaking that Kane was going to be traded, it was just matter of to whom.
San Jose "won" this trade, but Buffalo's end isn't that terrible. San Jose gets a talented player and Buffalo gets a first rounder and a fourth that could become a third. Buffalo fans are nervous that the first could become a second if Kane doesn't re-sign with San Jose.
San Jose GM Doug Wilson has already said that he wants Kane to re-sign and if you look at his past deals for rental players, he has an interesting track record of getting them to sign with him.
All in all, it was the trade that Buffalo needed to make and if it was truly the best one out there... so be it. Buffalo fans shouldn't worry, they just need to trust that GMJB has a plan and they need to trust the process.
Who do you think won the trade? Tell us in the comments section below.