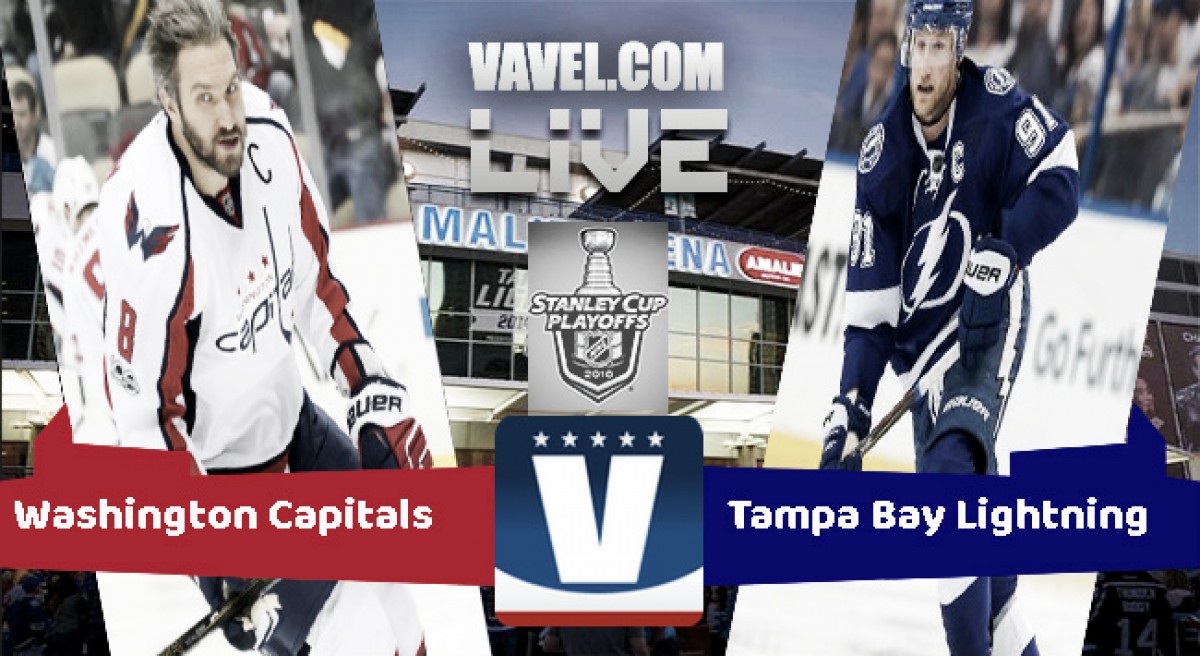 END OF GAME: The Washington Capitals take Game 1 by a score of 4-2, to take a 1-0 series lead. Game 2 is Sunday at 8 pm EST from Amalie Arena. My name is Tyler Fisher, thank you for joining me and good night!
Icing. 10 seconds left in the game.
Empty net Lightning.
The Bolts showing a little more life here in the third period. But they need to show more if they want to send this game to overtime. 4:51 left in the game.
TV TIMEOUT
Tampa Bay goal, scored by Ondrej Palat. 2-4
Interesting to hear that Domingue catches with the wrong hand. He wears his trapper on his right hand and blocker on the left.
NO GOAL. The play was under review, and the call on the ice stands.
Domingue with a great save to keep the Bolts in the game. Well, sort of.
Tampa Bay back to the power play. Chiasson headed to the box.
Washington on the power play. Chris Kunitz gets two minutes for unsportsmanlike conduct.
Power play goal for Tampa Bay. Steven Stamkos pulls the Bolts within three, making the score 1-4. 16:14 left in the third period.
Tampa Bay headed to the power play. Alex Chiasson to the box. Two minutes for slashing.
To start the third period, head coach Jon Cooper of the Tampa Bay Lightning has switched goaltenders, replacing Vasilevskiy with backup Louis Domingue.
END OF SECOND PERIOD: Tampa Bay 0-4 Washington
Bolts kill the penalty. Score still 4-0 for Washington.
Washington with another chance to score. Tampa Bay whistled for a hooking penalty, sending the Caps right back to the power play.
Shots on goal favor Washington, 18-6.
TV TIMEOUT
J.T. Miller has a shot on goal but the save is made by Holtby.
Holtby makes a point-blank save against Braydon Coburn, to keep the score 4-0.
A power play goal for Washington. 4-0.
TV TIMEOUT. Washington will also head back to the power play for the second time tonight. They are 1/1 so far.
17:20 - Jay Beagle scores. 3-0 Caps.
START OF SECOND PERIOD
Stats after one period.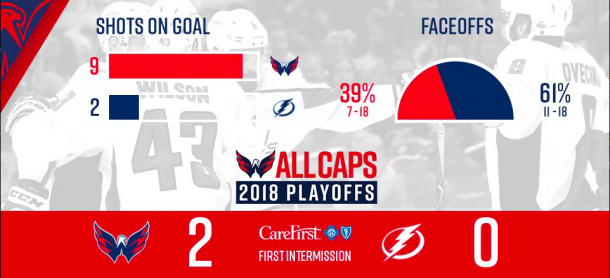 END OF FIRST PERIOD: Tampa Bay 0-2 Washington. Thoughts on the first period?
07.1 - Kucherov scores, but it's waved off. Tampa Bay whistled for Too Many Men. And on the ensuing faceoff, Ovechkin scores to double the Capitals' lead. 2-0.
Stamkos does his best Ovechkin impersonation, camping in the faceoff circle to the right of Holtby. He receives a pass, and his one-time shot is high over the net.
Tampa Bay Lightning go to the power play with 2:26 left in the opening frame.
Two remarkable stops by Vasilevskiy! No wonder he's a Vezina Trophy Finalist.
TV TIMEOUT
8:21 - Vasilevskiy makes a tremendous save to keep the score 1-0!
12:32 - Washington goal scored by Michal Kempny.
No score. 13:27 left in the first period. Tampa Bay leading in the hit category. Washington had a few good chances before the commercial break, but Vasilekvskiy stood tall to keep the puck out of the net.
Tampa Bay really controlling the first few minutes of the game.
PUCK DROP!
THIS JUST IN: Capitals F Nicklas Backstrom (upper body) will not play in tonight's game against the Lightning.
7:53 PM EST: Palat and Point: Three goals apiece in the second round.
7:46 PM EST: Just under 15 minutes!
7:42 PM EST: Kucherov and Stamkos combined for a total of 22 points so far this postseason.
7:41 PM EST: Ovechkin (15 points) and Kuznetsov (14) lead Washington in scoring.
7:30 PM EST: Just about a half hour until puck drop! Who do you think will score first, and for what team? Tweet me your guesses at @LWOS_TylerF on Twitter!
7:05 PM EST: Some fun stats to brush up on before the game tonight.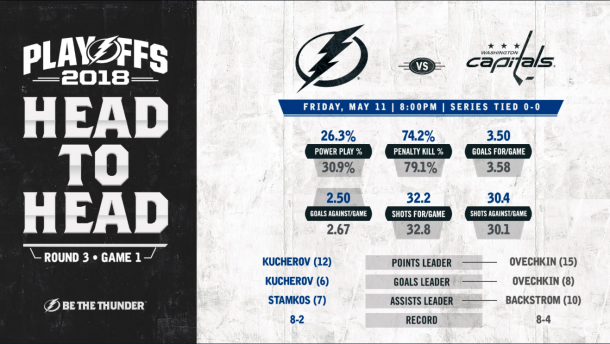 5:44 PM EST: Capitals' forward Andre Burakovsky is nearing a return, and could be in the lineup tonight for Game 1. He has missed the last 10 games with an upper-body injury.
5:26 PM EST: Good afternoon! Thank you for joining me, Tyler Fisher, for today's game between the Washington Capitals and the Tampa Bay Lightning!
I hope you stay with me and VAVEL USA to get LIVE updates and commentary for this game. You will not want to miss this!
If I had to choose who will win this game, it will be the team who scores first. And the team who scores first will most likely go on to win the series. Expect this game to hit overtime also. Maybe more. Both Tampa Bay and Washington are very good teams, and they know what the other is capable of. If one team can point out the other team's major weakness, it's theirs. But, if I had to choose who will win Game 1, Washington wins 3-2 in Overtime. As for the series, my eyes will be peeled to the television for almost every game.
What do these stats mean? Well, it's going to be one GREAT goaltending matchup for both teams. And one physical matchup as well. But only one team can survive, and the other will get sent home packing.
The Capitals have Braden Holtby in net. So far this postseason Holtby is 8-3, allowing 10 goals scored. He averages about two goals per game and has a save percentage of .926. Meanwhile, 200 feet down the ice will be Andrei Vasilevskiy. He too has a similar record but sitting at 8-2 also allowing 10 goals to be scored. So far he's recorded 2.20 goals against average and has a .927 save percentage.
Now, what's a series without good goaltending?
This series is one for the books. Both Kucherov and Point for Tampa Bay and Ovechkin and Kuznetsov for Washington, they're all going to give their best, as the winner of the series advances to the Stanley Cup Final.
The Capitals have Ovechkin and Kuznetsov to thank for their goal-scoring abilities. Both players are first and second respectively who lead the team for goals.
For Tampa Bay, that's Brayden Point. Point is top three for the team in the playoffs for goals scored, and he keeps delivering. Not only is Point scoring goals, but he's also helping create chances. So far this playoffs, he has 4G and 6A for 10 points and is second behind Nikita Kucherov to lead the team.
On every team, you have someone who shines for you in the season and then in the playoffs. But other times, they can also be an unlikely hero.
The season series went in favor of the Lightning as they would get the best of the Caps 2-1.
And then there were two. Two teams fighting to be the best in the East and book their spot in the Stanley Cup Final.
In hopes to force a Game 7 back in Washington, Pittsburgh was on their heels as the series shifted in favor of the Caps who went into Pittsburgh leading 3-2. Kris Letang would tie the game in the second period at 1-1. After a scoreless third period, the game would see overtime. And who other than Evgeny Kuznetsov to win it on a breakaway and putting the puck five-hole on Matt Murray to seal the win.
That series was one everyone had their eyes on. Would the reigning Stanley Cup champs prevail, or would Washington defeat the two-time champions? How about the latter?!
The second round featured a great matchup between two great players and their teams. Alex Ovechkin for Washington and Sidney Crosby for the Pittsburgh Penguins.
In the first round, the Columbus Blue Jackets would take the first two games in Washington to take a commanding 2-0 series lead. However, they would eventually fall off, allowing the Caps to win four straight and take the series 4-2.
On the other end, the Caps have had to encounter a roller coaster of series.
Tampa Bay is coming into this series on a strong note. In the first round, they defeated the New Jersey Devils by winning the series 4-1. In the second round, they would face a tough Boston Bruins team, led by 6'9" captain Zdeno Chara. That series got a little heated at times and was able to feature another victim of the infamous Brad Marchand lick, in Ryan Callahan. Boston would attempt to dethrone the Lightning, but it wouldn't work as leading scorer of the Bolts Brayden Point helped his team advance past the Bruins, winning the series 4-1.
Both teams finished the season first in their respective division. Washington clinched the Metropolitan Divison, finishing with a record of 49-26-7 with a total of 105 points, while Tampa Bay clinched the Atlantic Division and the Eastern Conference in its entirety and finished with a record of 54-23-5 and 113 points.
Hello, and welcome! My name is Tyler Fisher and I will be your host for tonight's game! Tonight, VAVEL USA is featuring the 2018 NHL Stanley Cup Playoffs Eastern Conference Finals between the Washington Capitals and the Tampa Bay Lightning! So sit back, relax, and follow along LIVE as I bring you up-to-minute stats, commentary, and updates throughout the game!