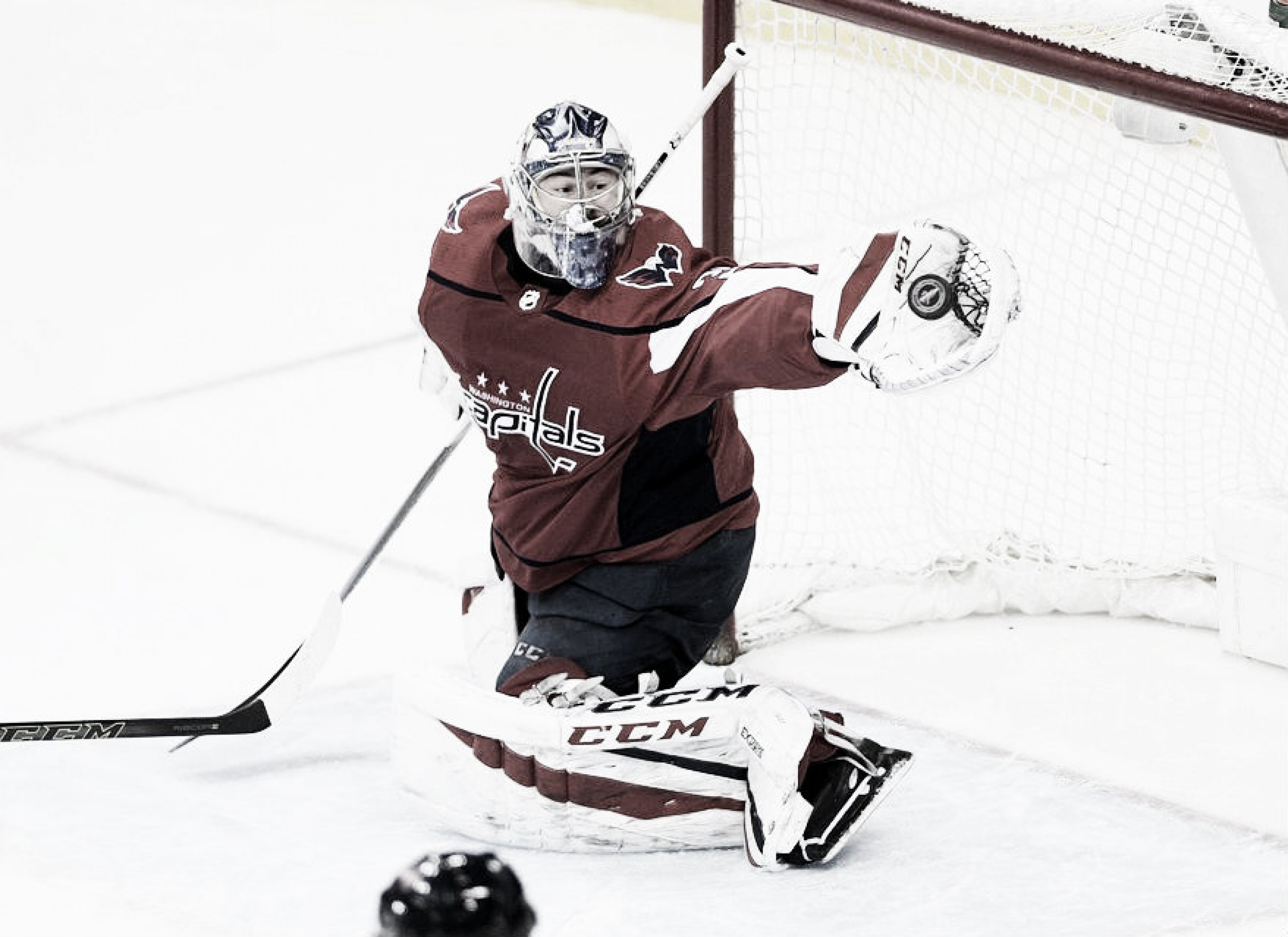 Before the draft, the Colorado Avalanche actually seemed to be in a very good place when it came to its current roster construction as well as its up-and-coming prospects. Both the offense and defense were young and promising, and the future keeps looking ever brighter in those regards. However, there still remained one gaping hole: goaltending.
While on the surface the situation seems to be okay, with starter Semyon Varlamov posting a solid .920 SV% and Jonathan Bernier achieving a decent .913, there lies a couple of much deeper and completely unavoidable problems. In fact, those problems are so big it prevents Colorado from ever attaining a Stanley Cup in the next few years.
That issue would be a completely dry pool of goalie prospects, as well as the age and contract status of the two aforementioned goaltenders. As to Varlamov, his contract is up after next season, he's 30 years old, and he is highly injury prone. Jonathan Bernier is set to be a UFA and is certainly not a number-one goalie (just ask Toronto).
Behind them in the AHL is Andrew Hammond, who is much too old at 30 to be considered a future goalie, and Spencer Martin. Martin may be only 23 but unfortunately does not inspire confidence considering his subpar .893 SV% with the San Antonio Rampage last season.
Down in the ECHL, there is Joe Cannata with a nice .933 SV%, but he is 28-years-old. Beyond these players, there is a bevy of picks that panned out even worse, and are no longer anywhere near the organization.
However, all of that has now changed.
Trade for Philipp Grubauer
The Boston Bruins sent Martin Jones to the San Jose Sharks in 2015, Cory Schneider was acquired by the New Jersey Devils from the Vancouver Canucks, The Arizona Coyotes traded for Antti Raanta with the New York Rangers.
What do all of these have in common? They were good backup goalies that were stuck under an established star. When given the chance to be a number-one, they proved themselves to be capable of excelling in that number-one role.
Philipp Grubauer has shown himself to be, at the very least, a rock-solid backup. In his career, he has achieved a .923 SV% and 2.29 GAA in 101 games. Those are the numbers of a top 5-10 starter, so he could join the aforementioned players as he seems to be in a similar situation.
And there is the basic idea with this trade (who himself had to wait under Braden Holtby), although perhaps a little different. Avalanche general manager Joe Sakic, when speaking about the trade, said, "We're excited to have two No. 1 goalies," that is, Varlamov and Grubauer, and shortly thereafter signed the team's new netminder.
What is likely to happen is that Varlamov will start in net, yet will probably be spelled regularly by Grubauer to help prevent injury. This will come out to Varlamov playing around 50 games and Grubauer approximately 30.
With all that said, it would not be surprising to see the 26-year-old netminder win the net from Varlamov, as he did with Holtby at the end of the season. Also to be noted is the lack of any plans surrounding Jonathan Bernier. With there being no room on the depth chart, he will depart in free agency.
Shoring up the prospect pool
Joe Sakic wasn't done either. With the immediate goalie situation remedied, Sakic looked to the future. With the 64th pick at the top of the third round, the Avalanche selected Finnish goalie Justus Annunen. In the final round with the 202nd pick, Colorado chose Russian netminder Shamil Shmakov.
Both are very large goaltenders, and both will likely be stashed in their respective countries so they are able to develop. Annunen comes in at 6'4" and 217lbs and posted .907 SV% and a 2.31 GAA in Finland's junior. league.
As for Shamil Shmakov, he comes in even taller at 6'6'' yet more slight at 192lbs. He achieved stellar numbers in the Russian juniors, getting a .932 SV% and 2.03 GAA.
These two goalies may not be top-notch prospects, but they add much-needed potential to a goaltender-dry system.
Sakic proving his worth
It's becoming clear that Colorado Avalanche GM Joe Sakic is not only learning, but he is proving himself to be quite competent, and even stellar. His vision of "young and fast" is already paying dividends, and he immediately went to work on the Avalanche's largest organizational hole: goaltending.
The leap forward from 2016/2017 to 2017/2018 he was largely responsible for and Sakic is making sure the progress continues. He did exceptionally well with the Matt Duchene trade and proved it was not a fluke in the Grubauer acquisition.
Fans of the team have got to be getting excited about the direction of the team, as well as gaining confidence in the man running the show. It is not altogether unlikely, seeing these great moves from management, that the Colorado Avalanche will become a playoff regular and even a contender for the Stanley Cup.
Have the Colorado Avalanche improved in this position as much as it seems, and can they continue to build on last year's success? Let us know down in the comments!