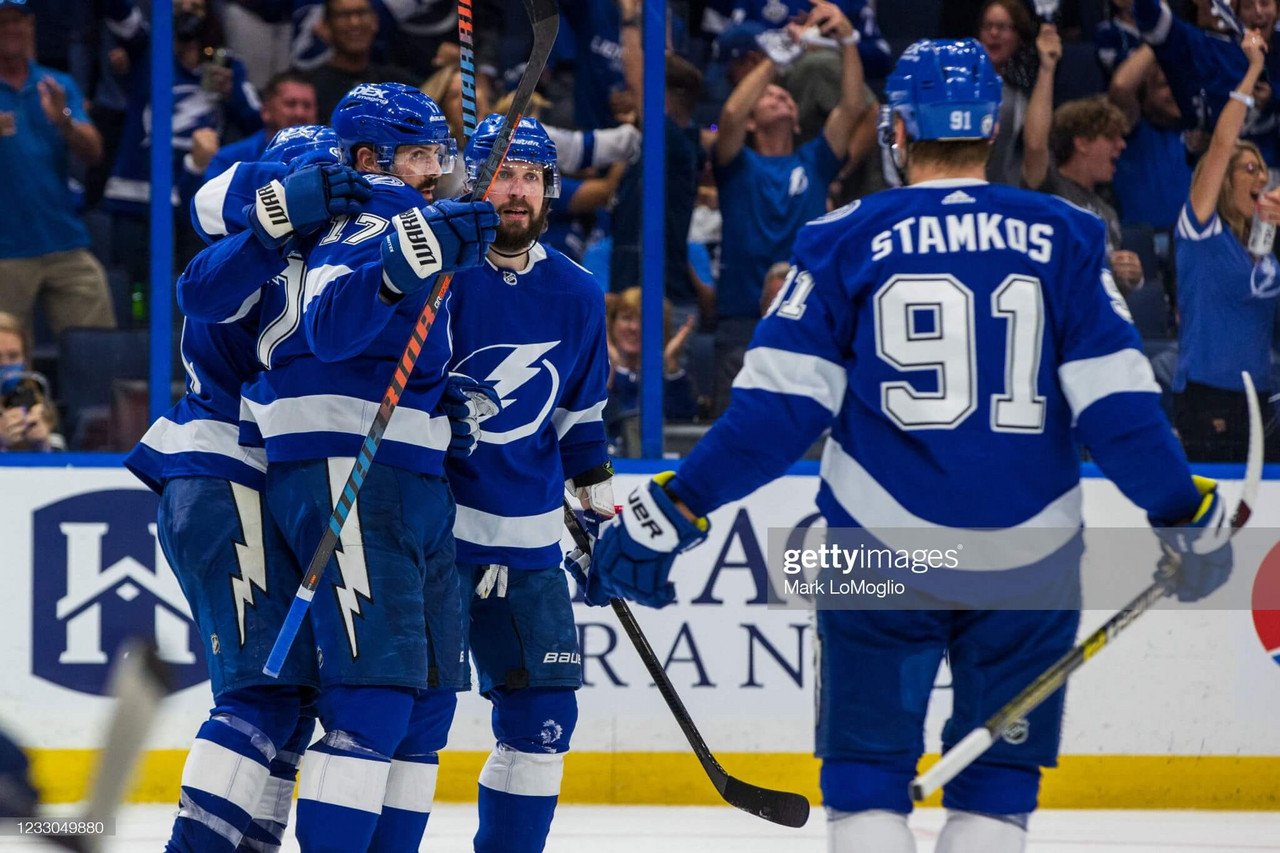 The Tampa Bay Lightning have taken a stranglehold on their first-round Central Division series in the Stanley Cup playoffs with a 6-2 victory over the Florida Panthers in Game 4 at Amalie Arena.
Nikita Kucherov was the star of the game for the defending Stanley Cup champions as he had a four-point night with a goal and three assists. Tampa Bay chased Florida goaltender Sergei Bobrovsky in the second period after he gave up five goals.
Story of the game
Florida started out as the aggressors with the Tampa Bay defense not effectively clearing the puck, leading to chances on goaltender Andrei Vasilevskiy. Against the run of play, the Lightning scored the first goal of the game as Alex Killorn passed through three Panthers defenders to Anthony Cirelli, who beat Bobrovsky through the five-hole.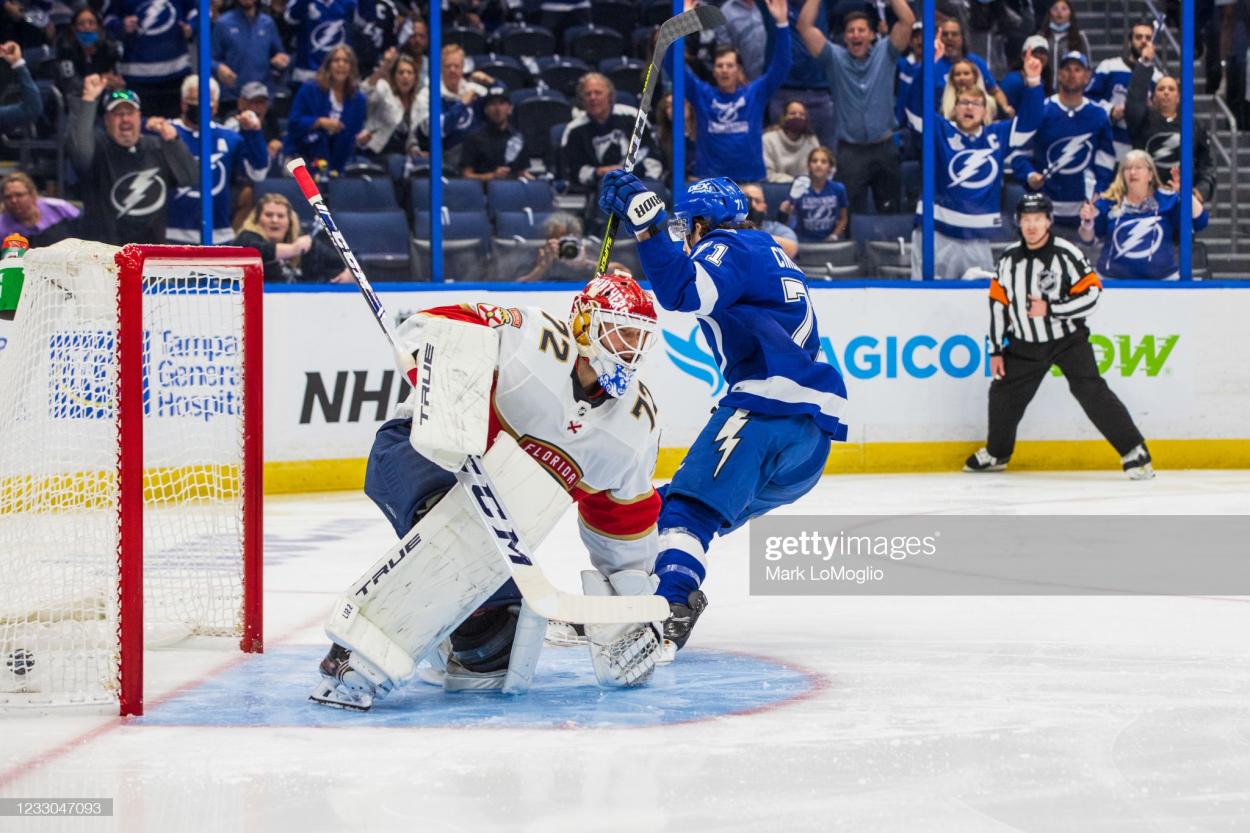 The Lightning doubled their lead as Kucherov flipped the puck wide of the net intentionally that Yanni Gourde got a stick on and deflected past Bobrovsky. Gourde was then sent off for unsportsmanlike conduct and it cost Tampa Bay as Sam Bennett saw his shot carom off of Patric Hornqvist and onto the stick of Johnathan Huberdeau, who beat a diving Vasilevskiy.
The Panthers defense was leaving openings on the ice and they were made to pay for it as Erik Cernak fired a slap pass to the front of the net that Ondrej Palat deflected home for a 3-1 lead, which is what the score would be after one period.
The hosts were spending more time in the Florida zone and after drawing a penalty, they converted on the power play as Kucherov passed from the top of the zone to the right faceoff circle, where a waiting Killorn sent a wrist shot that beat Bobrovsky. Kucherov recorded his third assist on the goal.
It was then 5-1 as Killorn got behind the Panthers defense after taking a centering pass and he beat Bobrovsky, chasing him from the game. Patrick Maroon sent Frank Vatrano hard into the boards and Cernak was called for roughing, but Vasilevskiy held strong and Tampa Bay killed the penalty.
The Panthers did get a goal back on their next power play as Carter Verhaeghe got David Savard out of position with a fake pass and beat Vasilevskiy with a high backhand shot to make it 5-2, the score after two periods.
After Kucherov was called for goaltender interference on backup Chris Dreidger, the Lightning were up a man after killing the power play as Radko Gudas was off for elbowing and Kucherov, who had been setting people up all night, got a goal for himself to close out the scoring and put Florida in a deep hole.
Tampa Bay postgame reaction
The two teams combined for 26 penalties and 92 penalty minutes to which coach Jon Cooper said "the hockey game ended halfway through the second period, then it turned into something else."
He also commented on the series overall, stating "we came here to win a hockey game and we did. We have better in us, we know that. ...We have to be better with our emotions and not get caught up in the antics that are going on in the game.
"We can be more physical, we can be a better hockey team. But I like where we're sitting at in this series, and believe me, we'll be bringing it two nights from now."
Kucherov was slashed by Anthony Duclair midway through the third period with Cooper merely stating "nothing. Next question." Gourde added "it's tough. You never want to see a guy go down to the ice and stay there."
Florida postgame reaction
When asked why he switched from Bobrovsky to Driedger, head coach Joel Quenneville said "it's 3-1 after one and then they score early and they scored the fifth goal. Just trying to do something different was the thought process on that, slow their momentum down maybe and get some excitement, but at that time, a four-goal lead is rather large."
"You have to have a short memory", said Panthers defenseman and former Lightning Anton Stralman. "We look forward to going home and try to play our best game."