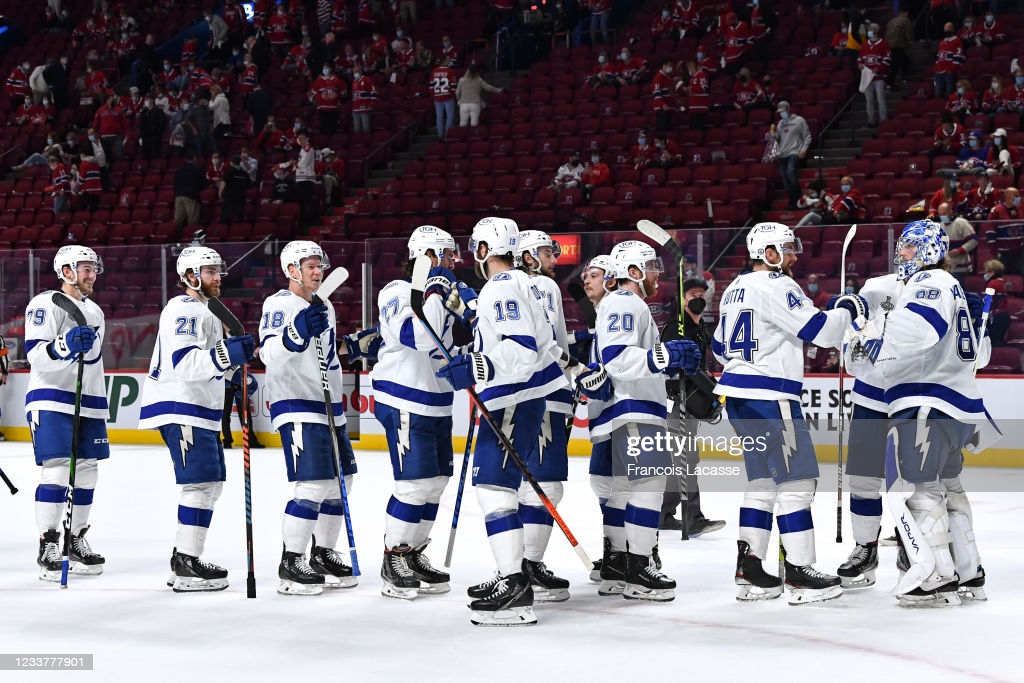 The Tampa Bay Lightning are one win away from winning their second straight Stanley Cup championship following a 6-3 victory over the Montreal Canadiens at the Bell Centre.
Two goals by Tyler Johnson as well as goals by Jan Rutta, Victor Hedman, Nikita Kucherov and Blake Coleman powered Tampa Bay while goaltender Andrei Vasilevskiy made 32 saves.
Montreal saw Phillip Danault, Nick Suzuki and Corey Perry light the lamp while Carey Price made 24 saves as the Canadiens are on the verge of becoming the first team since Washington in 1998 to be swept.
Six different goal scorers put Tampa on brink of title
Montreal was bolstered by the return of head coach Dominique Ducharme behind the bench while Tampa Bay was still without Alex Killorn as he nursed an injured foot as both teams went with the same lineups from Game 2.
Montreal came out strong, but the momentum shifted when Jon Merrill fanned on a shot. He then iced the puck trying to free Josh Andreson. Off of that icing call, Rutta fired a shot through a screen in front of Price to give Tampa Bay a 1-0 lead 1:52 into the game.
Eric Staal then sent the puck out of play, which drew a delay of game penalty. The Lightning capitalized as miscommunication between Danault and Arturi Lekhonen left Victor Hedman wide open and he lasered a shot by Price to double the lead less than three and a half minutes in.
A timeout was called immediately by Ducharme as he tried to stop the Tampa Bay momentum. It didn't help as the champions kept pressing, but the Canadiens were able to weather the onslaught for the next few minutes.
Finally, the Canadiens had momentum as Shea Weber sprung Danault, who charged into the offensive zone, and while he was looking for Brendan Gallagher, Danault opted to shoot instead and he wired his shot off the post and behind Vasilevskiy to cut the lead in half with 8:44 remaining.
The goal from Danault seemed to spark the hosts as they pushed Tampa Bay back time and time again while creating a ton of scoring chances for themselves. Mikhail Sergachev was called for interference, providing Montreal with a chance to tie the game.
The Canadiens didn't capitalize as the first period came to an end. Despite a terrible start, Montreal led in shots, and was still very much alive as the two sides headed into the intermission.
Tampa Bay all but sealed the game in the opening four minutes. A bad line change allowed Erik Cernak to spring Tampa Bay on a breakaway that Kucherov finished easily. Another turnover resulted in another odd-man rush where Mathieu Joseph was able to corral his own rebound after Price saved his initial shot and feed Johnson, who made it 4-1.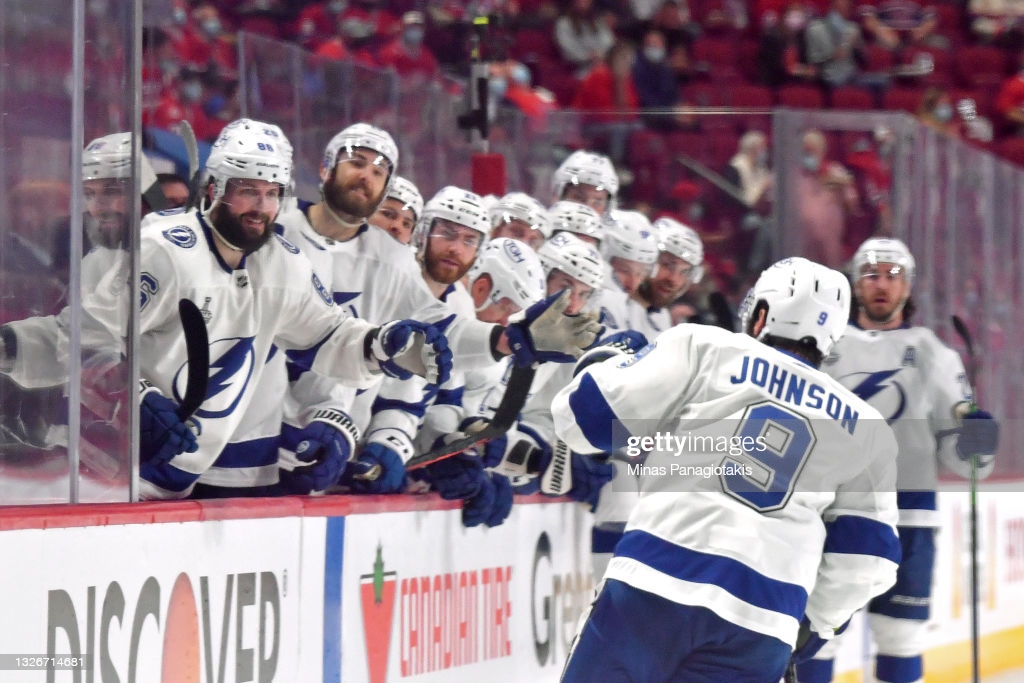 Suzuki drew Montreal a little closer as he picked up a bump-pass from Jeff Petry and gained the offensive zone with ease, firing a low shot that fooled Vasilevskiy and cut the lead down to 4-2 after two periods.
Tampa Bay continued to dominate the puck in all three zones as the third period began. A bad turnover by Erik Gustafsson turned into a rush for Johnson, who slotted his own rebound by Price and pushed the lead back up to 5-2.
The Canadiens responded once as Perry collected the puck and worked along the goal line, choosing the perfect angle before roofing his shot right over Vasilevskiy to again make it a two-goal game.
With Price on the bench for the extra attacker, the Canadiens were hoping to draw closer, but another turnover led to an empty net goal for Coleman as the Lightning will look to wrap it up on Monday.