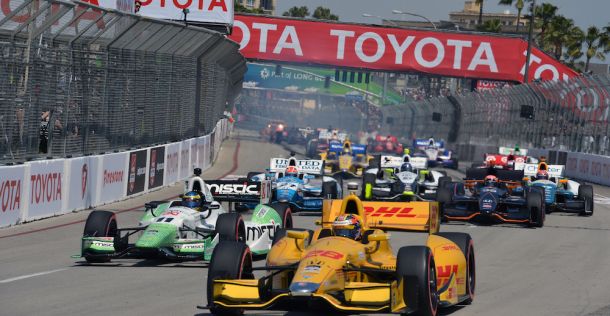 This weekend the cars and stars of the Verizon IndyCar Series travel 1,953 miles from Louisiana to California to compete on the most venerable street circuit in the United States.
Drivers consider this 1.968-mile, 12-turn street course to be the marquee event on the annual schedule, second only to the Indianapolis 500 in history and prestige. The drivers' reverence for Long Beach has as much to do with the famous names of previous winners (Unser, Andretti, Zanardi and Tracy) as it does with the storied 40-year history of an event that has hosted races with Formula 1, CART, Champ Car and Indycar.
The concrete and asphalt street course is dominated by two long, fast straights separated by six 90+ degree turns, a glorious hairpin and a picturesque fountain corner that is as narrow as it is tight. Look for drivers to use push-to-pass almost exclusively on the long straightaway paralleling pit road and heading into Turn 1.
The combination of a familiar track and a dry weather forecast will be a welcome change to start this third race of the 2015 season. The preceding two races have been exercises in endurance and survival for most drivers and teams. The challenge of new Honda and Chevrolet aero kits, a new venue, waterlogged track conditions, lightening and an abundance of caution laps have tested the abilities and patience of every team in the paddock.
Long Beach should (or might) be a return to relative normalcy for drivers and fans hungry to see more green flag laps and uninterrupted wheel-to-wheel racing compared to the past two races.
Let's take a look into the headlining stories as the weekend of racing is set to begin on the streets of Long Beach, California.
Separate Winners, Same Engine
Two different drivers (Montoya, Hinchcliffe), two different teams (Penske, SPM) and two different manufactures (Honda, Chevrolet) each earned a win in the first two races. Despite this relative parity, Team Penske remains the strongest in the field so far this season with Montoya, Castroneves and Power currently 1-2-3 in the points standings.
Drivers In Probation
Francesco Dracone and Ryan Hunter-Reay both enter Sunday's race on probation due to infractions from last weekend's race. Dracone was fined $10,000 and placed on probation for six races after hitting a team member during a pit stop. Hunter-Reay was penalized three driver points and placed on probation for three races after making (avoidable) contact with Simon Pagenaud.
Out Go Karam, de Silvestro; In Comes Saavedra
Simona DeSilvestro will not start in the No. 25 Andretti Autosport car this weekend, despite her strong 4th place finish last week. Andretti continues to pursue sponsorship opportunities to support running DeSilvestro for additional races this season.
Sebastian Saavedra returns to Indycar for the first time in 2015, replacing Sage Karam in the No. 8 Chip Ganassi car. Saavedra will drive the #8 for the next three races as part of a season-long ride sharing program with Ganassi/Karam.
All Those Yellows
The (long) length of full-course caution periods over the last two races remain an active source of frustration for drivers, teams and fans. While Indycar has not announced any changes to their management of caution periods, look for the series to take steps this week to minimize the impact of yellow flags.
A Slow Start for Ganassi and Andretti Autosport
Despite starting a combined 8 drivers in the first two races, both Ganassi and Andretti Autosport enter the Long Beach race with only one active driver (Kannan) in the top ten of driver points. (Simona DeSilvestro is currently 6th in points but will not start the race).
The Toyota Grand Prix of Long Beach begins this Sunday at 4:30PM ET / 1:30PT on NBCSN, IndyCar Radio, Sirius 213, XM 209, IndyCar.com, and on the INDYCAR 15 app.