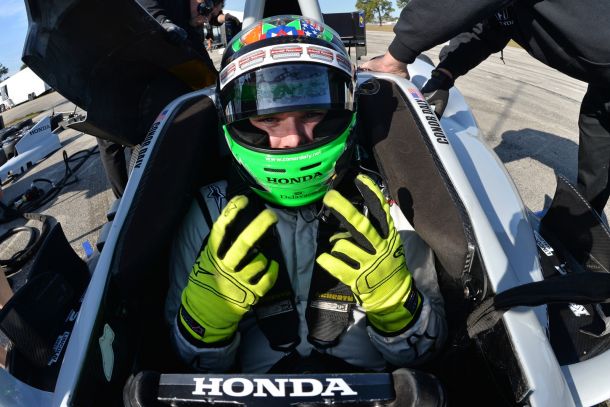 Schmidt Peterson Motorsports announced on Saturday, April 25 that Conor Daly will drive the team's third car at the 99th running of the Indianapolis 500.
Daly, 23, will be making his second start in the 500, having finished 22nd for A.J. Foyt Racing in 2013. The Indiana native's most recent race was at Long Beach, where he was a late substitute at Dale Coyne Racing for the injured Rocky Moran Jr, finishing 17th.
"I am ecstatic to partner with Schmidt Peterson Motorsport for the 99th running of the Indianapolis 500. I have had a great relationship with Sam Schmidt since driving for him in Indy Lights and I've always wanted a shot with his Verizon IndyCar Series team. It's an honor to make my second attempt at running the Indy 500.
"I can't thank everyone enough who have put in the hours to pull this program together. I am confident we will all benefit from this relationship going forward and I can't wait to get to work on track!" Daly said in the Schmidt Peterson Motorsports press release.
Team owner Sam Schmidt added, "Conor raced for our team in Indy Lights in 2011 for a partial season before heading off to Europe, so we know what he is capable of. He deserves to be competing in the IndyCar Series full time and we're honored to be providing this opportunity."
The sponsorship and livery of the No.43 entry will be unveiled at a later date.
Daly, who has spent a lot of time racing in Europe in GP3 and GP2 but now seems to be focusing on looking for opportunities in the Verizon IndyCar Series, is extremely popular with both fans and fellow drivers. Some of the funding for his test with SPM at Sebring in February was provided by fellow drivers, among them Marco Andretti and his teammate for the month of May, James Hinchcliffe.
After Long Beach, fans started a #KeepConorAtCoyne hashtag on Twitter, wanting his last minute drive at Dale Coyne Racing to become more permanent, and the announcement of his drive at SPM for the 500 has produced a lot of happiness.
Daly will definitely have a lot of people willing him on when practice for the 99th running of the Indianapolis 500 begins on Monday, May 11. The race itself takes place on Sunday, May 24.