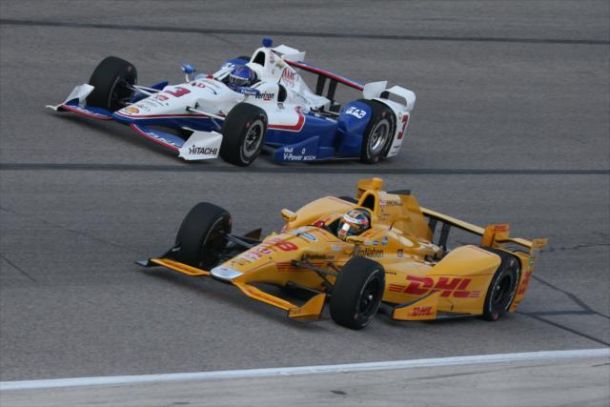 That's all from me right here! Stay tuned for the recap of the race to hit the Racing section soon tonight. Thanks for following along - this is Aaron Durant, signing off!
Analysis: Juan Pablo Montoya won at St. Petersburg (a street circuit), then got his next win at the Indianapolis 500 (an oval). Scott Dixon won at Long Beach (a street circuit), then got his next win tonight in Texas (also on an oval).
CHECKERS: A fenomenal drive for Scott Dixon results in his second win of this 2015 season! Dixon wins in Texas!
2 to go: Dixon takes the white flag!
5 laps to go: Credit should be given to the entire field, as there have been no accidents even with the incredibly tight action in this difficult race. Dixon is completing his masterful drive in Texas!
11 laps to go: Dixon has a lead of about eight seconds. He's been consistent all race long and could very well take an easy win tonight.
16 laps to go: The top three is Dixon, Andretti, and Munoz.
20 laps to go: Kanaan in and out from P2 and now Dixon comes in from the lead. Castroneves is challenging Kanaan out on the track now.
Lap 222 of 248: Nearing the 20-laps-to-go mark in Texas! Dixon leads.
Lap 209 of 248: Now less than 40 laps to go. Graham Rahal is on pit lane. Marco Andretti and Simon Pagenaud are planning to save fuel and make it to the end.
Lap 201 of 248: Less than 50 laps to go in Texas! Only the top four are on the lead lap, and they're all Chevrolet-powered cars: Dixon, Kanaan, Castroneves, Montoya.
Lap 195 of 248: Scott Dixon is back into the lead of this race. Kanaan and Castroneves complete the top three. Back to the same leaders after those green flag pit stops!
Lap 191 of 248: Castroneves in now from the lead. He stayed out for an extra handful of lap. They'll take a half wing of front wing out.
Lap 186 of 248: Kanaan stays out as Scott Dixon comes down pit lane. Kanaan peeling in now as Dixon is heading out - he took a slight wing adjustment before leaving; looks like they took some front wing out.
Lap 179 of 248: Dixon has been fast and consistent since the drop of the green flag; he is the current leader of this race. Polesitter Will Power is a lap down in 11th position.
Lap 173 of 248: Now Tristan Vautier has retired from this race with mechanical problems as well. Graham Rahal and Sebastien Bourdais enter and exit pit lane.
Lap 166 of 248: Both CFH Racing cars are out of this race as Josef Newgarden has climbed out of the No. 67. A very rough weekend for the team.
Lap 161 of 248: Ed Carpenter has retired from this race. "We lost an engine . . . I'm not helping because I'm not coming up with a solution," he said.
Lap 155 of 248: Will Power, after starting this race from pole position, is being lapped by leaders Scott Dixon and Tony Kanaan.
Lap 145 of 248: Dixon, Kanaan, Castroneves the top three. Kanaan is chasing teammate Dixon after these two swapped spots during the last green flag pit stop cycle.
Lap 140 of 248: Race-leader Tony Kanaan has a very nice stop and is back out on track. A number of other drivers have come in and out already for this cycle of green flag pit stops.
Lap 133 of 248: Hunter-Reay is on pit lane once again. He's struggled greatly throughout this race so far. Briscoe and Munoz complete the top five behind Kanaan, Dixon, and Castroneves.
Lap 126 of 248: Just past the halfway point of this race! Kanaan, Dixon, Castroneves remain the top three.
Lap 123 of 248: Kanaan is leading this race but continued pressure is being put on him from Ganassi stablemate Scott Dixon.
Lap 109 of 248: Tony Kanaan, Scott Dixon, and Helio Castroneves are the top three. Montoya has dropped all the way down to P7 after leading at the restart.
Lap 101 of 248: Takuma Sato, Josef Newgarden, and Sebastien Bourdais have recieved stop and go penalties for passing the pace car before the blend line.
Lap 98 of 248: Back to green at Texas Motor Speedway! The front runners are running very close after that, the first restart of this 248-lap event.
Lap 97 of 248: One lap from the restart.
Lap 94 of 248: Montoya is the leader of this race under yellow with Castroneves and Kanaan in second and third.
Lap 87 of 248: Simon Pagenaud and his Penske crew recognized that they had an entire lap of time with so much of the field being a lap down and they decided to make plenty of changes to the car.
Lap 83 of 248: The first full course caution of the race has finally come out after 80+ laps of green flag racing. The cause of the yellow is debris on the front stretch. Pit lane is about to be a very busy place.
Lap 80 of 248: Jack Hawksworth, after taking four pit stops, is the first driver to retire from this race.
Lap 75 of 248: Tony Kanaan has shown that he has a fast car throughout this race so far; he has taken over the lead from Simon Pagenaud. Juan Pablo Montoya continues to run in third.
Lap 63 of 248: Close racing is keeping it exciting and tense around the track. Pagenaud, Kanaan, Montoya remain as the top three.
Lap 48 of 248: Pagenaud remains in the lead with Kanaan and Montoya behind him rounding out the top three as much more of the field has come in to pit. Tire degredation and downforce adjustments are bringing these cars in.
Lap 34 of 248: Ed Carpenter and Graham Rahal dart into pit lane for fresh tires and downforce adjustments; pitting under green puts them way behind, especially coming in this early.
Lap 27 of 248: Pagenaud, Power, and Kanaan run in the top three. Hawksworth came down pit lane for a downforce adjustment, going a lap down.
Lap 10 of 248: Castroneves is battling for third position with Tony Kanaan. Pagenaud leads from Will Power as Castroneves runs third with continued pressure from Kanaan.
Lap 3 of 248: Green flag in Texas! The field is very tight in these opening laps.
8:51 pm ET: Coming to the green!
8:49 pm ET: James Hinchcliffe was on the Big Boss video board to give the command! Engines are fired and the cars have headed out on track and are completing the pace laps.
8:07 pm ET: The green flag is drawing near! Stay tuned as tonight's race is coming closer.
Below are news, notes, and headlines entering tonight's race to get you up to speed! Be sure to come back here before the race starts at 8:00 pm ET for minute-to-minute coverage of all 248 laps.
The Verizon IndyCar Series traveled to Texas following two street circuit races at Belle Isle in Detroit, and will take to the large Texas Motor Speedway for a 600 kilometer race that will end under the lights. Tonight's race will be just the second oval race of the season thus far, with the first being the Indianapolis Motor Speedway for the 99th Running of the Indianapolis 500. The race tonight consists of 248 laps around the 1.455-mile superspeedway in Texas, resulting in a total race distance of just over 360 miles.
The only driver to win on an oval so far this year is Juan Pablo Montoya (Indianapolis 500), and he is also the only driver to have won two races at this point in the season (St. Petersburg, Indianapolis 500). He fell just short of completing a 1-2-3-4 Team Penske sweep of the top four spots on the grid in qualifying, as fellow Colombian Carlos Munoz qualified as the fastest Honda in fourth.
As for the remaining three Penske cars, they will be starting from the three front-most spots on the grid, led by reigning series champion Will Power. Power was the first driver to make his qualifying attempt on Friday, but his two-lap average of 218.519 mph stood strong as the rest of the drivers made their attempts, and he was deemed the polesitter and winner of the Verizon P1 Award, earning his 40th career pole position. Starting second will be Simon Pagenaud, making his first start with Team Penske at Texas in this, his first year with the team. Pagenaud had the fastest lap in the opening practice session on Friday and had the only time in qualifying that gave Power a run for his money, qualifying just 0.017 mph behind him. Starting third will be Helio Castroneves; his two-lap average in qualifying was 218.069 mph.
Carlos Munoz is the aforementioned top Honda on the starting grid for tonight's race, but Graham Rahal, the next Honda down the qualifying time sheet, is not far behind; he starts from the sixth position tonight.
The winners of the two races last weekend in Detroit, Carlos Munoz (Race 1) and Sebastien Bourdais (Race 2), are starting P4 and P18, respectively.
Ed Carpenter won this race last year for his team Ed Carpenter Racing as he raced at the ovals and handed the car to Mike Conway for the road/street circuits. This year, as part-owner of the two-car team CFH Racing, Carpenter is sharing the No. 20 car with Luca Filippi while the No. 67 entry is piloted by Josef Newgarden. Both Carpenter and Newgarden have been off pace as they struggled on Friday. Carpenter qualified P15 and Newgarden will start from just in front of him in P14.
Now, a few headlines entering tonight's race:
Restrictor Plates Added For Texas
Another change has come to the seemingly always-evolving aero kits. This time, "restrictor plates" have been added to the cars, located just behind the rear tires. Their purpose is to increase the downforce of the cars and limit the possibility of them going airborne if traveling backwards.
Infractions From Detroit
INDYCAR announced post-event infractions and penalties after the doubleheader weekend in Detroit. For the full list of these, click here.
Castroneves' Penalty Reduced
Helio Castroneves was penalized following his 300th Indy car race for Avoidable Contact in Turn 1 of the Angie's List Grand Prix of Indianapolis. He initiated contact that started a multi-car accident, ruining the races of a few competitors. INDYCAR decided to reduce the penalty from eight points to just three, as was announced with the other infractions following the Detroit weekend. The original eight points seemed to make sense as the deduction put him one point behind Scott Dixon who he made the contact with entering Turn 1, virtually ending Dixon's race.
Mann And Briscoe Return
Pippa Mann and Ryan Briscoe both drove at the Indianapolis 500, and will be making their return to the track for tonight's race. Mann will be the teammate to Tristan Vautier who will be driving the No. 19 Dale Coyne Racing entry, as she returns to Verizon IndyCar Series competition in the No. 18 entry. Ryan Briscoe will once again be filling in for the injured James Hinchcliffe as he did at the '500'.
Rahal Looking For Fourth Podium In Six Races
Graham Rahal stormed to runner-up finishes at both the Honda Indy Grand Prix of Alabama and the Angie's List Grand Prix of Indianapolis, proving that he is a driver to watch this year. He didn't podium again until Race 2 in Detroit after crashing out of Race 1 the day before, but a podium finish tonight in Texas would mean four in the last six for the American.
---
Above are news, notes, and headlines to get you up to speed before tonight's race.
Welcome to live coverage of the Firestone 600! My name is Aaron Durant. I am the editor of the Racing section of VAVEL USA, and I am excited to be bringing you minute-to-minute coverage of what is sure to be an exciting race tonight in Texas. Before the race, above this point, you will find news, notes, and more to preview the 600 mile race at Texas Motor Speedway. Then, at 8:00 pm ET, be sure to come right back here for coverage of the race!