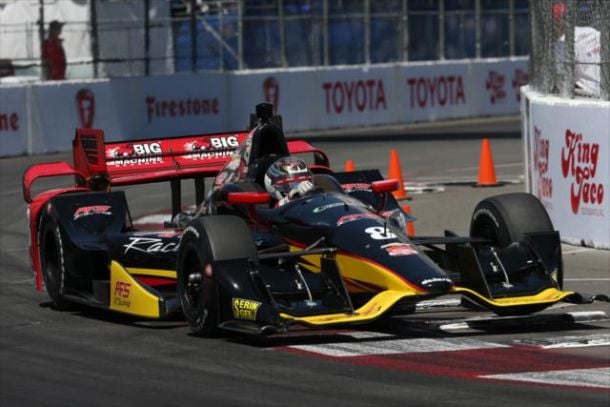 On Monday, June 8, Chip Ganassi Racing Teams announced that Sebastian Saavedra will return to action in their No. 8 entry.
Saavedra will make his fourth start of the 2015 season this weekend on the streets of Toronto with AFS (Automatic Fire Sprinklers, Inc.), one of the largest full service fire sprinkler services of the western United States, sponsoring the No. 8 car once again. The Colombian also raced at Long Beach, the Grand Prix of Indianapolis, as well as the Indianapolis 500 - where he had to be removed from his car due to a foot injury in the biggest crash of the 99th Running.
"I can't wait to rejoin the No. 8 team for the Toronto race," said Saavedra. "I feel a lot of momentum coming off the Texas race where Scott and Tony finished one-two, so things are definitely clicking."
Saavedra has made five starts at Toronto and won the 2009 Indy Lights race from pole position.
"I know the cars are usually good at Toronto after watching Dario and Dixon win consistently there the last several years," he said. "My foot is back to 100% after Indianapolis and I'll be ready to go race this weekend."
The Honda Indy Toronto weekend kicks of with Practice 1 on Friday morning. For full coverage of the weekend, be sure to follow the Twitter account of IndyCar coverage on VAVEL, @VAVELIndyCar.
---
Aaron Durant is the creator and owner of IndyCar Updates and the editor of the VAVEL USA Racing section. Follow him on Twitter at @DoubleA291.