 Soccer's modern residency at Providence Park, home of the Portland Timbers, has, by most measures, been a staggering success story. Every game sold out, a 13,000-strong waitlist for season tickets (and a 98% renewal rate on existing tickets, meaning that list isn't shrinking), and the welcome addition of Portland Thorns sellouts as well, means the facility is being quite well utilized these days.
So well, in fact, that the Timbers' ownership recently proposed an expansion that would add approximately 4,000 seats to the 21,000 seat venue. This expansion was touted as being the ultimate good deal for the city of Portland, because it would be privately funded - no tax dollars would be used to construct this facility, the cost instead being borne by the Timbers and, presumably, by its current ticketholders and concession/merch customers, whose costs would go up as the construction costs would be passed through to them.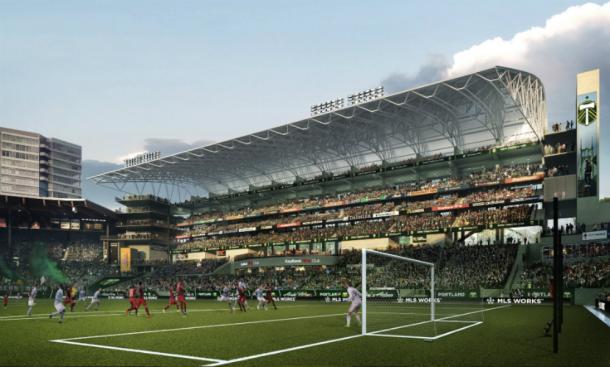 Today, however, we learned of a new wrinkle in the story. While the project itself would still be privately funded, the Timbers plan on asking for a 10-year tax abatement for the new seats on the 7% tax they have paid per ticket sold since 2011, a tax that has so far produced anywhere between $650,000-$1 million a year for city coffers. This abatement would mean the city would miss out on about $200,000 a year in lost revenue from those new seats, revenue that could be used, for example, to fill all the potholes lining both 18th Ave and Morrison St surrounding the stadium.
While that example was a bit snarky, the point is real. The Timbers have been good corporate citizens up to this point, and while this is far from the most egregious tax grab a sports team has done, the city is about to stop making much if any money off the Timbers' tenure at Providence Park.
The original agreement between the Timbers and the city called for the Timbers' rent payments to the city - estimated at approximately $950,000 annually - to sunset after this season, and additionally provides for owner Merritt Paulson to be repaid for his initial $24 million investment in converting then-PGE Park into what it is today by diverting ticket tax payment dollars from the city to Paulson after this season.
Paulson's recoupment is capped at $1.1 million a year, meaning that the Timbers only have to remit the difference between that and their total ticket taxes until Paulson's investment is repaid. As noted above, though, the Timbers' ticket tax payments are somewhere around (but probably at a ceiling of) about $1 million a season, if the Oregonian's numbers in that article are even remotely accurate.
What this means is that, for at least the next 10 years, the Timbers will go from paying the city of Portland approximately $2.2 million a year in rent and ticket taxes (including the taxes that the new addition would generate) to paying them an approximate total of $0.
Timbers President of Business Mike Golub had this to say when asked about the deal the Timbers were seeking:
"If the expansion happens, the city is better off financially," he said. "We are putting $50 to $55 million into a city-owned asset. It'd be like going into your home and having us pay for an addition to your house."
Well...sort of? I'm not sure how "the city is better off financially" under this deal, except that they wouldn't be paying for an expansion that was the Timbers' idea and that they weren't seeking in the first place. But the tax abatement the Timbers are seeking would leave the city in worse shape financially than it is today. That's just math. 
To be clear: I am a Timbers season ticket holder. I love the Timbers. I go to games regularly. I willingly pay to consume Timbers product in many ways and will continue to do so.
But I am also a resident of the city of Portland, and my city is about to take a 10+ year tax hit at a time when it can scarcely afford to do so; its schools are a mess, its roads are in embarrassingly bad shape, and its social services need all the help they can get.
In that light, any tax giveaway - even one as small scale, on the spectrum of sports stadium tax giveaways, as this one is - is not my favorite idea in the world. It's good for the Timbers, it will be a nice addition to the neighborhood, but at what cost to the city it serves?