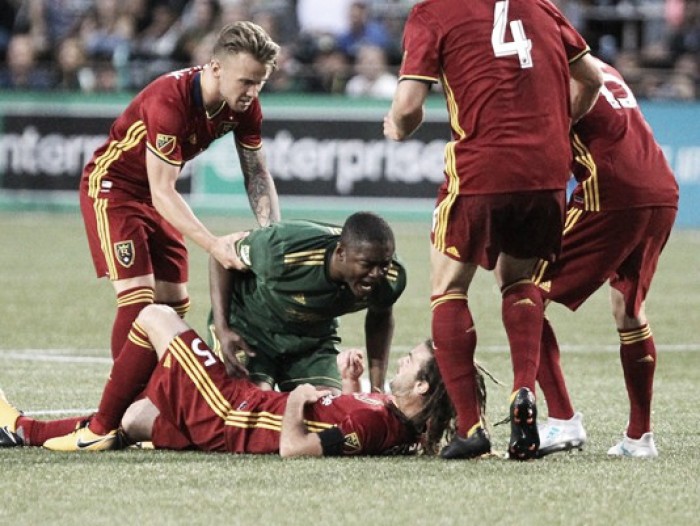 Going in to this game, I thought that the Portland Timbers, as depleted as they were by injuries and national team call-ups, might still be able to play creditably well, and even take three points, against an Real Salt Lake team that, until their last game, has struggled to play decent soccer all season and was missing their most potent attacking force in Yura Movsisyan.
I was so very wrong.
The Timbers started out flat and then somehow got worse over the course of the game. Kyle Beckerman's goal in the 10th minute, thanks to the inattentions of Ben Zemanski, was a harbinger of the very, very bad things to come in the next 80. Two Joao Plata goals sandwiching an Albert Rusnak goal (which pinged in off Jake Gleeson's head after hitting the crossbar) completed the rout, with only a Jack Barmby garbage time goal preventing Nick Rimando from getting the shutout.
INEXCUSABLE
One of Caleb Porter's stated goals for this past off season was to bolster the Timbers' depth, as that was widely seen as one of the team's weaker spots in a season that, to be charitable, didn't go the way a Cup defending season should.
So the Timbers acted. They brought in a few depth pieces in addition to Sebastian Blanco, and for the first month or so of the season, things were going well. And then the injuries started, and they haven't stopped. I don't believe, and neither do the Timbers, that injuries are an excuse for the healthy players playing badly but the fact that between those injuries and various international call-ups, the Timbers played with 15 available players Wednesday night and meant that those depth pieces would have to step up and prove they belonged at this level.
Turns out very few of them do. Between Victor Arboleda's sending off for stupidly elbowing Joao Plata in the head, Zemanski's general disinterest in anything resembling defending, and the fact that the entire Timbers defense was so disorganized that Fanendo Adi spent several plays being the last line of defense before he got himself sent off, this vaunted depth is a collection of players that should never be relied on to carry a team.
That limited ability to carry a team, I suppose, is what "depth" is, and this is clearly a sub-optimal lineup whose construction was borne of necessity not desire, but that depth should be able to, at the very least, play 90 solid minutes without completely embarrassing themselves and sending the Timbers to their worst home loss in a decade.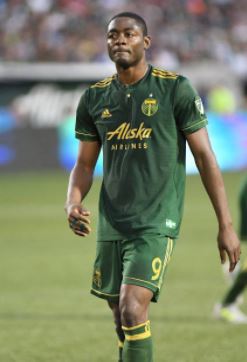 The stupidest thing of the night, though, by far, was Adi. He had just received a pass in the Timbers' half and was preparing to attack with the ball when Kyle Beckerman elbowed him in the ribs. Not enough to knock him down, but just enough to frustrate, the kind of niggling little foul that happens 20 times a game.
Instead of playing through it, as any disciplined junior high school player would, Adi completely abandons the play to go shout at referee Baldomero Toledo for missing a call, and then turns and chases Beckerman down from 15 yards away, chest-bumping him and knocking him down. Both players earned red cards in the process.
So now Adi is suspended for the Vancouver game for the red, and will probably get a longer break from the Disciplinary Committee for his pursuit and decking of Beckerman. Stupid and pointless.
BRIGHT SIDE
The new guy showed up and wasn't terrible. Larrys Mabiala made a few decent plays and looked like he's raring to go, but he got a rough introduction to the Timbers and MLS in that game. His presence will help stabilize a defense that desperately needs...something.
So, to sum up: Adi's suspended Sunday, Chance Myers has a suspected broken ankle, and Myers' replacement, Victor Arboleda, is also suspended for Sunday's game. The Timbers will probably dress 15 players for Vancouver, and we'll probably repeat this mess all over again. The Timbers are in some trouble right now, and they have a mere 13 games to get their act together and become the playoff team we all thought they were in March.