Summer's over. Well, technically, it's not over until the 22nd, but for all intents and purposes, there's no more summer. The days are getting shorter, the nights are getting colder, and there are only five games left on the Timbers' regular season schedule.
Six weeks ago, that fact would have filled me with relief; the Portland Timbers had, to be charitable, an awful summer. Three points from a possible 18 between mid-June and mid-July meant the Timbers were facing another season without playoffs and meant a lot of pressure was being piled on Caleb Porter and Gavin Wilkinson to get things right.
Well, here we are in mid-September, and things have been gotten right. The Timbers are in second place in the West, are virtually assured of a playoff spot, and are now, in theory at least, playing for seeding. There's still that bit of dread in me that says June could repeat itself, but realistically, the Timbers have gotten better at exactly the right time in order to solidify for the playoffs.
As with all things in soccer, there is no one proximate cause for the team's improvement; the acquisition of Larrys Mabiala certainly helped stabilize a defense that was leaking stupid goals at an alarming rate, and the Timbers, while still missing a fair few players, have started to gel as a unit because Porter hasn't had to change his lineup every single week because of a new injury.
You've got questions, we don't have answers
As mentioned, the good news is that the Timbers haven't really lost anyone new to injury in the last couple weeks. The bad news is that they're not really getting people back yet. For tomorrow's game, Liam Ridgewell, Fanendo Adi, and Jake Gleeson are still officially listed as "questionable", and fresh injuries to Darren Mattocks and Jeff Attinella are being evaluated as we get closer to game time. Depending on fitness tests, then, we could either see a really strong starting lineup or another patchwork one.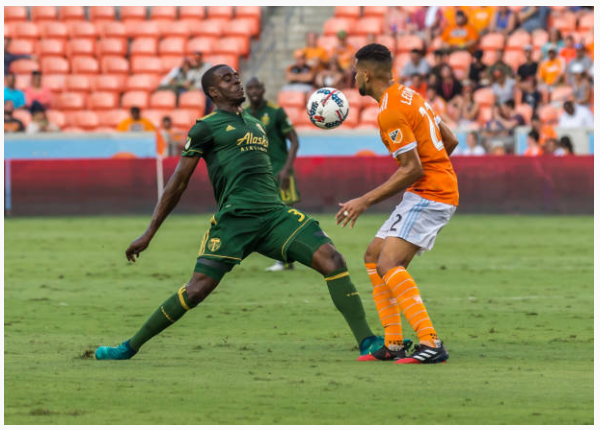 Real Salt Lake are reasonably healthy, and are playing a lot better as well - their playoff odds are a lot longer than the Timbers', but they're still in the hunt, so Portland should have their hands full against a team that, even in their worst incarnation, typically give Portland a tough game. Portland will have to be firing on all cylinders again in order to get a result from this game, but as shown last weekend, that's something they're increasingly able to do now more than two months ago.
Team news/Potential Lineups
In addition to the injury evaluations that need to happen, Diego Chara is definitely out for this game, after picking up his fifth yellow card in the Bronx last weekend. Lawrence Olum will probably slot into the DM role in his absence. If neither Mattocks nor Adi is fit, expect Jeremy Ebobisse to get a start.
Portland:
Jeff Attinella; Zarek Valentin, Larrys Mabiala, Roy Miller, Vytas; David Guzmán, Lawrence Olum – Sebastián Blanco, Diego Valeri, Darlington Nagbe; Darren Mattocks
RSL:
Nick Rimando; Tony Beltran, David Horst, Justen Glad, Danilo Acosta; Kyle Beckerman, Luke Mulholland; Jefferson Savarino, Albert Rusnák, Joao Plata; Yura Movsisyan
Referee:
Robert Sibiga
What/Where/When/How
Real Salt Lake vs Portland Timbers
Rio Tinto Stadium
Sandy, UT
Saturday, September 16, 2017
6:30 PM PT/7:30 MT/9:30 ET
Portland: KPDX
Salt Lake: KMYU
Streaming: MLS Live (subscription, blackouts apply)