 After a less-than-scintillating 0-0 draw in the first leg of this series, the Sounders and Whitecaps returned to Seattle with everything to play for. The Whitecaps seemed to have just the slightest bit of an edge, because in addition to an outright win, a scoring draw would also see them through to the conference finals, while Seattle had to either win or hope for extra time and penalties after a scoreless draw.
It's just that someone forgot to tell Vancouver that "scoring draw" means you actually have to score, or at least try to.
With so much at stake, Vancouver started this game as they ended the last one; conservative, happy to soak up Seattle's pressure and hope for a counter. It's just...the counter never happened. Vancouver never really looked like they would remotely threaten Seattle's goal, even with the dangerous Fredy Montero leading the charge.
SEALING THE DEAL
Seattle, meanwhile, was busily trying to create havoc. They pressed, they kept pushing forward, and they alone seemed to realize that the point of this game was to win it. It took them a while, but in the 56th minute, some sweet little passing moves got Clint Dempsey the ball in space, and in a spot on the pitch from where he makes few mistakes. He made no mistake this time, and the Sounders were up 1-0.
This should, in theory, have forced Vancouver to get out on the front foot a bit - after all, the equalizer they needed would have been enough to send them through. But for some reason, Carl Robinson's team decided to still play their conservative, wait-and-see style, only this time they mixed it in with a bunch of really hopeful crosses from out on the wing to nobody in particular. This strategy worked about as well as you would expect it to, and Seattle was more than happy to let Vancouver look like they knew what they were doing, content in the knowledge that they really didn't.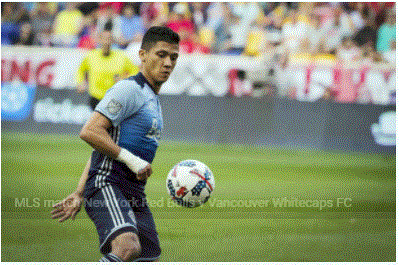 Where'd you go, Fredy?
Image: Ira L. Black/Corbis via Getty Images
THE DEMPSEY SHOW
Love him or hate him, the one thing to know about Clint Dempsey is that he thrives on big moments. That's not to say he's invisible for most of the season, because he's a really good player overall, but in MLS you won't find a guy that rises taller to meet big occasions than Dempsey. And Thursday was no exception. He scored both goals, and not only that, but after the first goal he wasn't content to defend deep and prevent. He kept pushing the Sounders forward and making them work to get the second goal that would put the tie out of reach, and in the 88th minute, from a great pass by Victor Rodriguez, Dempsey did just that.
And, just like that, Vancouver's season ends early. Again. They have never scored in the main portion of the MLS Cup playoffs; goals in the knockout rounds have gotten them there, but once they get to the heart of the playoffs, they just don't seem to know how to unlock opposition defenses. It will be interesting to see what Robinson's fate is this winter; the Whitecaps fell from first place to fourth on the last day of the season, didn't play all that well in the last month, and another playoff failure makes it fair to wonder if the 'Caps will go a different direction next year to try to get over that hump.
Seattle, meanwhile, moves on to face the winner of Sunday afternoon's Portland/Houston second leg at Providence Park, which also sits at 0-0 after the first leg in Houston.