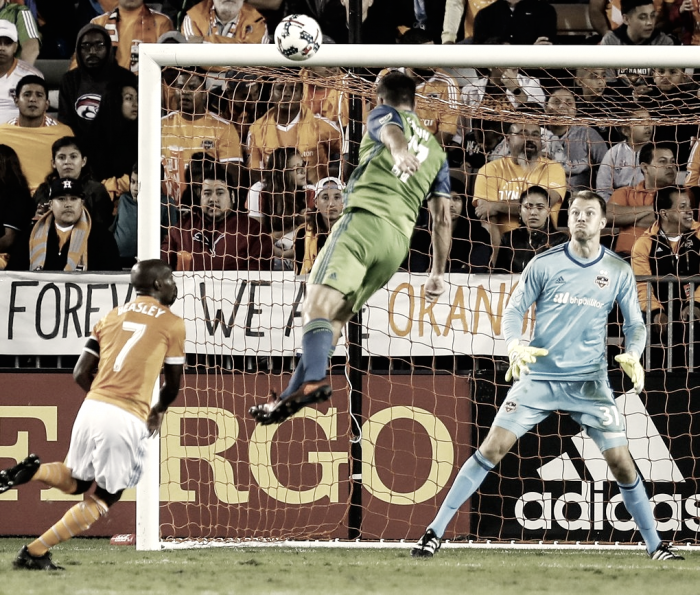 The first leg of the Audi 2017 MLS Cup Playoffs brings the Seattle Sounders home to CenturyLink Field with two away goals in hand against the Houston Dynamo. With the MLS Cup Final against Toronto FC just within reach for the Sounders, Houston is looking for a miracle.
What happened in the first leg
Seattle have boldly done what no Cascadia team has done before, win in Houston. An exciting first half brought two goals, a red card, and a PK save.
An early bullet header from Swedish midfielder, Gustav Svensson, put Seattle up 1-0 early off a corner kick from Nicolas Lodeiro. Some 15 minutes goes by before complete disaster strikes for Houston, Lodeiro sliced a pass between Jalil Anibaba and Adolfo Machado which found the outside run of Joevin Jones in the box. Anibaba, beaten to the ball, pulled back on Jones who tumbled to the ground. Head referee Chris Penso immediately pointed to the spot and despite protests VAR deemed it a denial of an obvious goal scoring opportunity which meant Anibaba's night was over and Houston would see out the match with ten men. Luckily for Houston, Joe Willis guessed correctly to make a big stop on Lodeiro's penalty kick.
Just before the end of the first half Jones sent in a perfect cross to find the head of former Houston Dynamo striker, Will Bruin. His perfectly placed header would seal the deal for Seattle.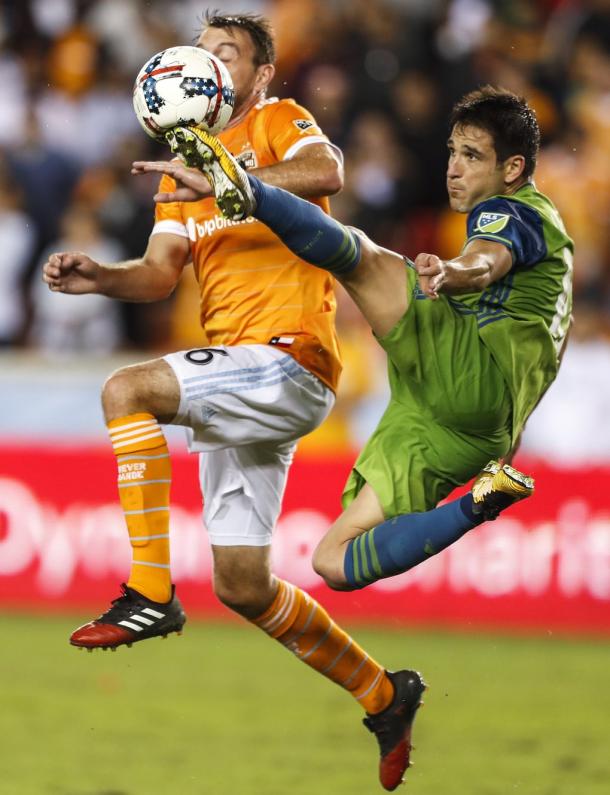 What it will take
This is not going to be anywhere close to easy for Houston, even the Dynamo's Head Coach, Wilmer Cabrera stated that its going to take "some kind of miracle." Seattle have only conceded 11 goals in 17 home games, and only conceded more than one goal on two occasions. The Seattle defense have not conceded a single goal in five games while scoring 11 goals in the same timespan.
On the other hand, Houston only have two away wins for this entire season, most recently being the 2-1 win in Portland in the last round. Houston need to score three goals in Seattle while conceding no more than one goal, a task they have done in their one regular season away win (3-1 win against DC United in RFK Stadium).
Team News
Houston
Houston will still be without the services of A.J. DeLaGarza who tore his ACL in the last home game of the season against the Chicago Fire. Due to a red card in the last match the Dynamo will also be without defender Jalil Anibaba, this could see a backline shift as Machado would cover the right back slot as Phillippe Senderos and Leonardo take the centerback position. Alberth Elis is also suspended with the yellow card he picked up in the first leg, this suspension is massive as Elis is a crucial part of Houston's attack and if they want three goals they would want him helping out.
Seattle
Seattle will also be without some key players including the likes of Brad Evans and Osvaldo Alonso who did not get to play in the first leg either. With a yellow card in the first leg, the Sounders will be without centerback Roman Torres. This second leg could see the return of young American Jordan Morris who hasn't played since the September matchup against the LA Galaxy. With a two goal lead and an MLS Cup Final within their sights, Morris might not be risked.
This game could be very defensive from Seattle as they just need to not concede twice. A single goal from the home side could truly be the icing on the cake.