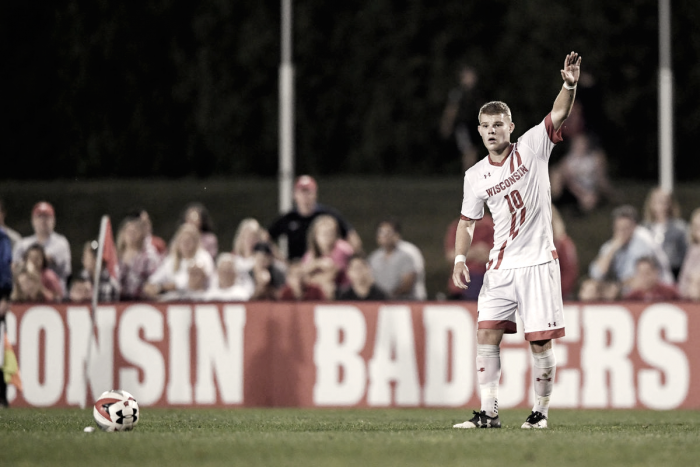 In the first round of the 2018 MLS SuperDraft, Orlando City Soccer Club with the sixth overall pick acquired Wisconsin forward, Chris Mueller.
History on Mueller
The Illinois native started his career with the Sockers FC Chicago Soccer Academy, the same academy that produced Orlando City standouts, Jonathan Spector and Will Johnson. After nine seasons in the academy the 21-year old was deemed a four-star recruit by TopDrawerSoccer.com and moved to Wisconsin where he made 75 appearances, and 55 starts, in his four years.
In this time Mueller scored 22 goals and assisted 35, making him second in all-time assists for UW. In his last year with the Badgers, Mueller led the nation in assists (20) and assists-per-game (.95), he also led the Big Ten in shots (72) and shots on goal (30).
He earned Big Ten Offensive Player of the Year as well as Big Ten First Team, two very prestigious awards. Mueller even scored and assisted in a massive 4-0 win over Wisconsin in the Big Ten tournament before going on to defeat Indiana to claim the 2017 Big Ten Title.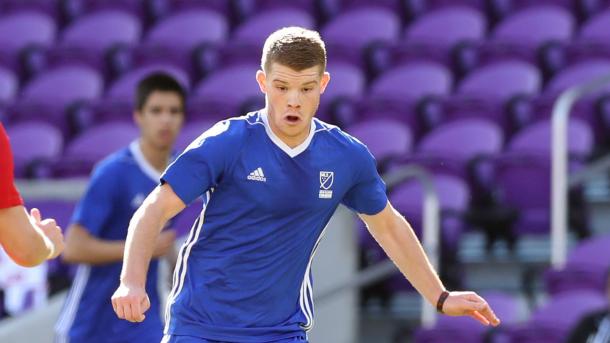 Quotes
Chris Mueller started by saying "Its incredible, it's honestly a feeling that you have been dreaming about since you were a little kid. I can't even put it to words, we were just down there and it is a beautiful city, beautiful stadium, and I'm so grateful to be a part of such a great organization."
When asked what he sees himself doing at Orlando Mueller said "I am hoping I can come in and make an impact and help the club and continue to move forward. They have high aspirations and so do I so I am looking forward to it."
Mueller was also asked how he thinks he would fit in which he responded "I am not sure, I hope I can fit in well. I think they selected me for a reason, hopefully, they see me maybe making an impact. They have so many great players, I am so excited to get down there and start working with everybody. I will play whatever role they need me to, I just want to get out there and help out.

Orlando City Head Coach, Jason Kreis, on Chris Mueller "Chris was a player that we had done a lot of scouting around this entire college season, The guys that have been really focused on scouting came into the combine, even before the combine, and said this was their favorite pick. To end up with him, we feel quite fortuitous and very happy about it."
All quotes via Orlando City SC