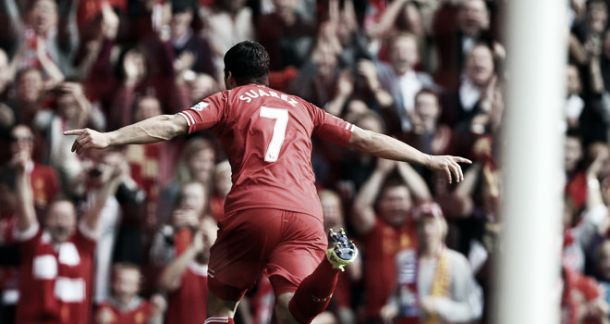 It's the deal we've been waiting for. Luis Suarez has finally left Liverpool and is heading to La Liga, to play for Barcelona next season. It's been a summer of controversy for the Uruguayan strike who's currently serving a four month ban from football. But nonetheless, Barcelona have made it their priority to sign the man who won the European Golden Boot last season, with 31 league goals. The question is though, exactly how much has Luis Suarez cost Barcelona?
Well, as both clubs officially announced via Twitter than Luis Suarez would be heading to Spain, Sky Sports immediately published a story on the Suarez deal. One of the most reliable British sources for transfer news claimed that the deal was worth around £75m.
However, Sky Sports went on to speak to their Spanish football expert, Guillem Balague who claimed that Barcelona had not paid Suarez's release clause and had infact paid €81m, which works out around £64m.
Guillem's friends out in Spain seemed to be sticking to the same story. With local Barcelona papers; Sport and Mundo Deportivo both claiming that Barça paid just over £64m. Surprisingly, Madrid press (AS, Marca) has also taken the side of Barça, claiming that the deal was indeed £64m.
Heading back to the UK though, most sources are choosing to stick with £75m, which is believed to have been Luis Suarez's buy-out clause.
Suarez will sign a five-year contract with Barcelona, and it was originally reported that Suarez would earn around £160,000-a-week at Barça (£8.3m per year), which is significantly lower than the £10m per year he earned at Liverpool.
What has also been reported is that what ever fee Liverpool receive, a bulk of it will be paid up-front. Barcelona sold Alexis Sanchez to Arsenal yesterday for around £35m, and will use some - if not all - of this money to finance an up-front payment to Liverpool for the transfer of Suarez. Barcelona are thought to have got Suarez's fee lowered because they were willing to offer so much of the fee this Summer, and not make Liverpool wait for a series of installments.
It's also been reported by Catalan media that the fee Barcelona paid for Suarez - won't all be paid to Liverpool. Mundo Deportivo claim that around €5m will be paid to Suarez's former clubs (Ajax, Groningen) for training compensation.
If we are going with the English-based press, then Liverpool would pocket a hefty £71m from this deal.
If we are believing Spanish-based press, this would mean that Liverpool would gain a slightly lower £60.3m for the sale of Luis Suarez.
It's anyone's guess!