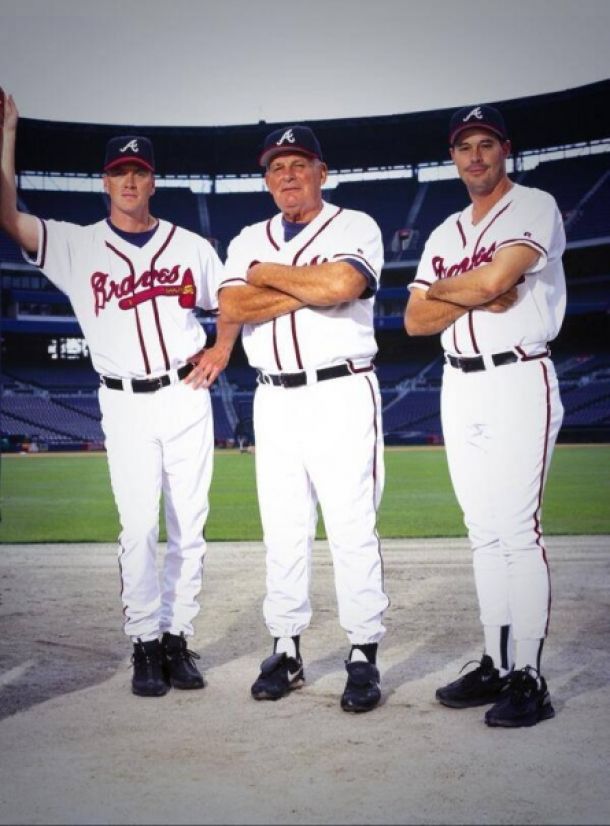 If you've been an Atlanta Braves fan over the last 20 years, Sunday's National Baseball Hall of Fame induction ceremony in Cooperstown, New York, will be as emotionally charged as any day in October could ever be. Six legendary men will be inducted to the Hall-of-Fame this weekend that helped define baseball for an entire generation. Bobby Cox, Tony La Russa, Joe Torre, Greg Maddux, Tom Glavine and Frank Thomas will enter the Hall with their own unique story of immortality, but only three were a part of the fabric that was woven into south-eastern culture of the 1990s that was later to be known as, Braves Country.
The Atlanta Braves started the '90s with more of the same woeful play that ended the '80s. A 65-97 record and 26 games out of first, had a familiar ring to it in 1990. Having missed the playoffs every year since 1982, Atlanta was hungry for success. Little did anybody know that success was going to come the very next year. The Atlanta Braves would rattle off 14 consecutive division titles, 5 National League Pennants and a 1995 World Series crown. And it all started at the top.
Bobby Cox, who was the general manager in Atlanta since 1986, decided in June of 1990 to return to managing after Atlanta went through two managers in less than five seasons. His stint as GM helped bring in the young blocks that Atlanta would build on for years. Tom Glavine, Steve Avery, David Justice and Chipper Jones were all stars brought in under Bobby Cox. In his first full year as manager, Cox would guide Atlanta from worst to first, which had never been done in MLB history.
Cox led the Braves to the World Series five times in the 1990s.
They won it all in 1995 against one of the greatest offenses ever assembled. Manny Ramirez, Albert Belle, Jim Thome, Eddie Murray, Kenny Lofton and Carlos Baerga all hit over .300 that year for the Cleveland Indians. Some have pointed to the four World Series losses, but only the team in 1996 could you argue was a better team than their opponent. In '91 and '92 the Braves took on Minnesota and Toronto teams that were absolutely stacked and much more seasoned. In '95 the Indians were stacked (which Atlanta won). 1996 was the beginning of the Yankee dynasty. That was the a team Atlanta let off the hook. With a 2-1 series lead and a better squad, the Braves let that one get away as their bullpen imploded in game four blowing a huge lead. Then in 1999, they faced a Yankees squad that was probably the best team in baseball since the days of Lou Gehrig and Babe Ruth.
What Bobby Cox accomplished as a manager for the Atlanta Braves and his entire career, was simply incredible. He was the first base coach for the 1977 World Series Champion New York Yankees. In 1985 he won Manager of the Year with the Toronto Blue Jays, right before he took the GM job in Atlanta. His 2,504 wins are fourth all time with a .556 winning percentage. His record 158 ejections were usually perfectly planned as a way to fire up his team or to show that he had their back. And the 14 consecutive divisional titles had never been done before, and probably will never be done again.
The lefty Tom Glavine goes into the Hall-of-Fame as one of the greatest south paws to ever take the hill. He had 164 wins in the 1990s (second only to teammate and fellow inductee Greg Maddux) and a 305-203 overall record. He is also one of only five lefties in the 300 win club.
Glavine had a bulldog mentality that was perfect for the Braves pitching staff. He pitched 8 innings of 1 hit ball in the deciding game 6 victory of the 1995 World Series. Glavine was famously quoted in the dug-out that night in the fifth inning that night to his teammates, during a 0-0 tie, as saying "Are y'all gonna score any runs tonight? Because they sure as hell aren't going to!"
In the bottom of the 6th, David Justice cranked a solo shot over the right field wall, giving Atlanta a 1-0 lead. Justice returned to the dug-out and said to Glavine "Will that do?" Glavine just replied "That'll do just fine". He was a man of his word, as the Braves would win the series clinching Game 6, 1-0. It was Atlanta's first and only world title.
Glavine was a pitcher that had good stuff, but had an even better understanding of how to pitch a game. He lived on the corners of the plate and extended the width of the plate as the game went on. If the home plate umpire gave Glavine an inch off the plate, he'd try to stretch that to two. By the end of the game, a batter is longer protecting a 17 inch plate, he's now guarding almost two feet. That was the brilliance of Tom Glavine.
Greg Maddux,'The Professor', was the absolute ace of the Atlanta Braves pitching staff in that famous 14 year division title run. His 355 wins and 3.16 lifetime ERA (earned run average) came in the steroid era. When most scores were looking like a pin ball game, only Greg Maddux was consistently shutting down the opposing batters. His win total (355) is only second to Warren Spahn (363) since the beginning of the 1920s. He is the only pitcher to have 300 wins, 3,000 strikeouts and less than 1,000 walks. 17 consecutive years of 15 or more wins is a record that will likely stand forever in today's age of starters getting pulled because of pitch counts. He was the last of the great workhorses with 109 complete games and 35 shut-outs as well.
Maddux was not big in stature as he stands only at 6'0" and about 170 pounds, and was never known as a flame thrower. But he mastered the art of pitching. "He could put a baseball through a life saver (candy) if you asked him to," Joe Morgan (Hall-of-Fame second baseman) said complementing Maddux.
Stuart Scott (ESPN) also praised Maddux's accuracy by stating, "he can hit a fly on the wall with a change-up."
His two seam fastball would move from off the plate to on it, which baffled left handed hitters. Maddux was particularly great at mixing up speeds and letting his defense do the work as well. He wasn't obsessed with thinking you had to strike a guy out to be effective. When asked once if he considered 27 strike outs to be the ultimate perfect game, Greg Maddux replied "Not at all. 27 first pitch outs to the first baseman, unassisted would be the greatest perfect game. I wouldn't have to move, and my pitch count would be 27." That's why he was 'The Professor'.
It is hard to calculate the magnitude these three men had on the game of baseball. It is impossible to over estimate the impact they had on fans of the game in the south east in the 1990s. In their hey-day, Atlanta Braves Baseball was the biggest thing going in the area. The SEC football dominance didn't show up until the mid 2000s (Bama in 1992 and Tennessee in 1998 were the exceptions), the Tennesssee Titans first year wasn't until 1999, the NFL's success in Atlanta and Florida was very sporadic and the only college football powerhouses were all in the state of Florida. The Atlanta Braves captured the hearts and attention of the entire region from Florida to Tennessee, and from the Carolinas over to the Bayou. We all became one. And, still are today. We call this Braves Country, and you can still hear the roar of the Tomahawk Chop from April to October.
Before that run of excellence, the south east was not considered a great hot bed of baseball talent. Today, some of the best players in the league hail from Braves Country. Kids grew up looking that dominant run and wanted to be like Maddux and Glavine, amongst others. Two of the greatest pitchers to ever team together are going in to the greatest Hall-of-Fame there is.
And they are being enshrined on the same day that their beloved skipper Bobby Cox is also being immortalized.
The National Baseball Hall-of-Fame is notorious as being extremely difficult to be inducted to. In a ridiculous tradition, no player has ever received 100 percent of the vote, not even Babe Ruth. Greats such as Jack Morris, Craig Biggio and Mike Piazza missed this year's vote criteria of 75 percent. So, when Tom Glavine grabs 91.9 and Greg Maddux commands a staggering 97.2 percent, it shows the all time greatness that they have achieved.
On Sunday July 27, 2014 the Atlanta Braves host the San Diego Padres at Turner Field at a special 5:05 P.M. E.T. first pitch. That same Sunday at 1:35 P.M. is when coverage of the Hall of Fame induction ceremony begins on MLB Network. In a great move by the Braves, gates to the will park open at 1 P.M. for all the fans to look the ceremony on the Jumbo Tron before the game.
All of baseball is excited for all the inductees, but this day is extra special for Braves' fans with three of their own giving speeches. Glavine is expected to be the most polished. He is now a television color analyst for the Braves on Fox and does an incredible job. Bobby Cox will undoubtedly have that jovial down to earth humor that everybody has come to love. Maddux will be the wild card. 'The Professor' has always been known for his quick wit and over all cerebral approach, but has very rarely shown that side when put on stage. All are hoping he lets his hair down and cuts loose.
No matter what you had planned on Sunday, you don't want to miss this. There won't be a dry eye in Turner Field that day, or anywhere else, in Braves Country.
Hopefully we'll see these men really share what made them great. Maybe Maddux and Glavine will paint the corners with goose bumps and hairs on the back of our necks. Maybe Bobby Cox will get tossed out of the ceremony, one last time. One thing is for sure, no matter where we sit on Sunday afternoon, from Turner field to the couches in our living rooms around Braves Country, our hearts will be in Cooperstown.