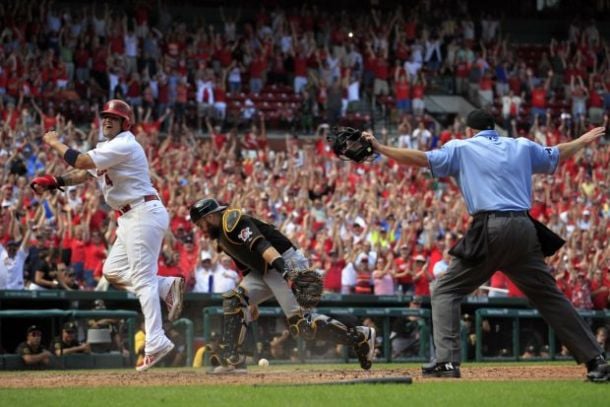 Another pitcher's duel between the St. Louis Cardinals and Pittsburgh Pirates ended with a walk-off single by Peter Bourjos in the bottom of the ninth. The Cardinals finished off the sweep of the Pirates to take a 2.5-game lead on the Milwaukee Brewers and a five-game lead over Pittsburgh in the NL Central. St Louis are the strongest of the three teams currently while the Pirates still sit outside the Wild Card.
Edinson Volquez went 6.1 innings giving up three hits and no runs. The first hit allowed by Volquez was a Jon Jay base hit in the bottom of the fifth inning. Not to be outdone, Shelby Miller went seven innings giving up three hits and no runs. Cardinals' pitchers only gave up four hits on the day. Neil Walker collected three of those hits.
Mark Melancon came in for the eighth inning and needed only eight pitches to get three outs. Pirates' manager Clint Hurdle kept Melancon on the bump in the ninth. He got two quick strike outs but walked Yadier Molina on a full count. Jay followed with a single and Bourjos walked it off on the 0-1 count. Trevor Rosenthal shut the door on the Pirates in the top of the inning.
There were some fireworks despite only one run being scored. Volquez hit Matt Holliday to start the fourth inning. The following batter, Matt Adams, took a slow curve off his shoe. Miller, who had a career ERA around five against the Pirates, responded by throwing behind Andrew McCutchen in the sixth. That incited a warning to both benches.
The Cardinals can really put a stranglehold on the NL Central as they start a series against the Milwaukee Brewers tomorrow. The Pirates, who were also swept by the Cardinals last September, will travel to Chicago for a series with the red hot Cubs.