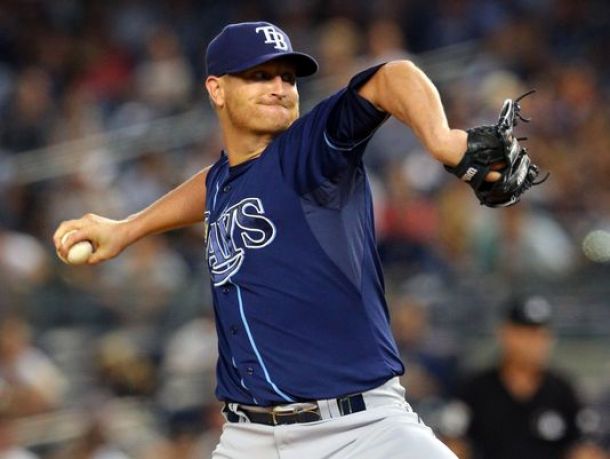 Tampa Bay Rays' pitcher Alex Cobb has overcome so many things in his life that you wouldn't be able to guess. Despite those he has been able to overcome them and end up on top. He's kept a positive mindset throughout those challenges. On the night of his Rays-leading tenth win this was only the beginning. Two starts ago, against the New York Yankees, Cobb almost threw a no-hitter he was six outs away but it wasn't successful. The Rays actually lost that game. Cobb was dominant as always. Despite having David Price on the team, the Rays seemed to always win on the games Cobb pitched. When he spent some time on the disabled list the Rays just weren't the same.
Right before his MLB call up in 2011, Cobb received more sad news. His girlfriend Kelly, was in Alabama when the tornadoes hit. Kelly and her family's house was in the location of the storms. Cobb had told Kelly safety drills. While doing it the phones died. Cobb panicked fearing the worse. Fortunately, the storms changed paths and everyone was fine.
When Alex Cobb was younger his mother had a terrible stroke back in 2005. While in school, he was told to go visit his mother in the hospital. When he got there, he found out more depressing move. His mother had a second stroke. Cobb's mother had passed away. "I lost it," Cobb said. "I was punching walls, crying. I couldn't believe that was happening." In 2008, Cobb's brother RJ was serving in the military when his Humvee blew up. That was it, that was all I heard," Cobb said. "And then it felt like 10 minutes went by. All these things, all these thoughts were going through my mind. I was like, 'No way this is happening.' Fortunately he was okay.
In August of 2011, Alex Cobb knew something wasn't right. He complained first of something weird going on in his hand. He would be placed on the disabled list because of it. It turns out it wasn't a hand issue it was a more serious one. It was a rib blockage in his right rib. Cobb's rookie season was over. Alex Cobb had this to say after that "I'm relieved to know what it is and that it isn't career threatening in any sort of way," Cobb said before Wednesday's game against the Kansas City Royals. It's also good to know that I am in the hands of a specialist who has been down this road before and can treat it properly. I'm ready to get this part over and get on with [Rays head athletic trainer] Ron [Porterfield's] rehab program." I had the privilege to meet Cobb during this time. He always kept his head up and thought positively. When I met him I told him how I had hoped to have him back and well. That's what Cobb did.
In June of 2013, another serious injury would occur. Alex Cobb was pitching at Tropicana Field against the Kansas City Royals when Eric Hosmer's comebacker hit Cobb on the head. It was a scary moment, as the Trop went silent everybody was holding their breaths. Eric Hosmer had this to say afterwards "It's scary stuff, a lot of things are racing through my mind and I just kind of shut down after that happened," Hosmer said. "It's not a fun spot to be in, it's just tough." Thank fully, it was only a minor concussion and nothing else. Cobb now is all for and advocates for protective caps for pitchers. Joe Maddon said this afterwards
"It's outstanding," Maddon said. "It's awesome, the fact he appears to be fine, because the moment it happens, you immediately imagine the worst."You don't even know what to expect. I expected much worse, and so, as it turned out, it appears that we were very lucky. And, of course, Alex was very lucky."
Alex Cobb's story is a very incredible story about overcoming adversity and ending up on top. After the Rays traded Price it was clear who the new ace would be. Cobb just wants to go out there and be injury costless. The Rays want that as well. Next year, he could be in the Cy Young candidates. Cobb is also the face of the franchise. He will definitely be a part of the Rays having success in the near future.