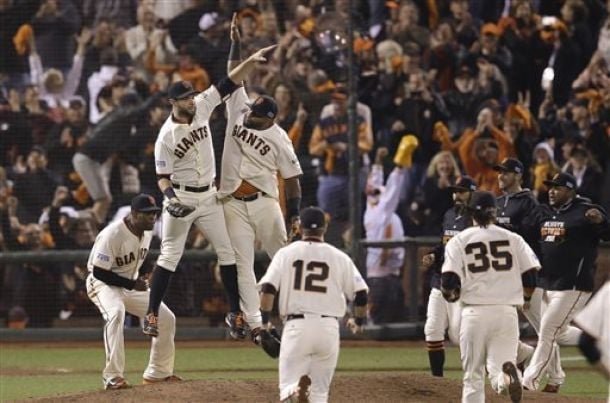 We have heard this story before. Only this time, it took the Giants 4 games to make it to the NLCS, unlike the 5 it took in 2012. The Giants, fueled by Joe Panik's run on an Aaron Barrett's bases-loaded wild pitch, survived against the Nationals to win Game 4, 3-2.
"It's been a remarkable journey. I wouldn't trade it for the world," Pence said.
This story is here again. The Giants will take on the St. Louis Cardinals in a rematch of the 2012 NLCS, in which the Giants would go onto win the World Series. Both these teams have shown success through the years in a lot of the same ways. Both teams rely on pitching. If we've seen any trends over the last few years, it's that pitchng is the name of the game. The team that pitches the best most often wins the series.
"I think anyone that's here tonight sees what type of electric atmosphere this is, and we just love playing in front of these fans," Posey said.
If there is one word to describe the Giants team, it's "loose." The Giants pride themselves on being a loose team and while they are serious about their play, they have one of the most fun dugouts in the league. If you look at other teams in other sports who are like this, the most recent Super Bowl winners the Seattle Seahawks also have the same type of atmosphere to their team.
Ryan Vogelsong was the man of the night, throwing for 5 2/3's innings and only allowing 1 run. Vogelsong has proven to be clutch for the Giants in the postseason, dating back to their postseason run in 2012.
For the NLCS, the Giants are going into a series against the Cardinals with all the confidence in the world. Madison Bumgarner enters game 1 on normal rest and will be good to go to face a hot Cardinals lineup.