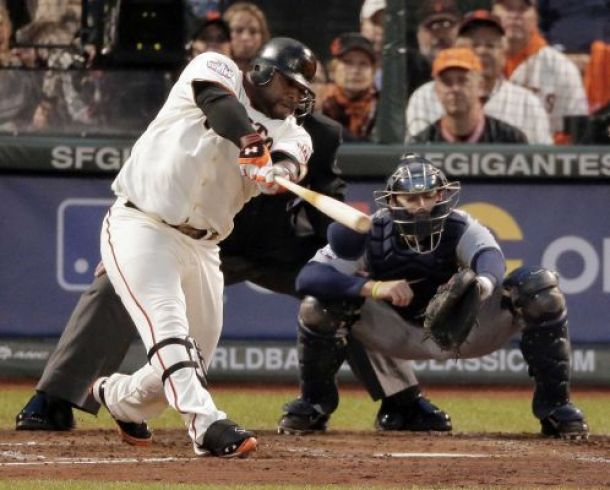 The Padres have made it known that they need to acquire a middle-of-the-order bat to improve the worst offense in baseball. The club has shown serious interest in Cuban slugger Yasmany Tomas, however, the team has added a few recognizable names to their search for proven hitters.
The Padres have shown interest in costless agent sluggers Pablo Sandoval and Adam LaRoche, according to reports from Ken Rosenthal of FOX Sports.
The Padres currently have Yonder Alonso at first base, but his stock has depreciated tremendously. The team played Yasmani Grandal at first down the stretch, but a move to grab the established LaRoche makes a lot of sense.
LaRoche, 35, hit 26 homers and 92 RBI's for the Nationals in 2014. LaRoche has also enjoyed quite a bit of success as a hitter in Petco Park, as he has hit 10 home runs and slugged over .600 in nearly 150 at-bats in the Gaslamp. LaRoche will probably require a 2-year contract, worth $10-15 million annually. The White Sox and Marlins have also showed interest in the veteran.
More surprisingly, Pablo Sandoval has drawn interest from the Padres. Sandoval, who is just 28, may require a commitment in upwards of $100 million on the open market. The Padres have never spent more than $15.5 million on a costless agent (Joaquin Benoit last season), so a Panda sighting in San Diego seems unlikely.
A Sandoval signing would greatly excite a Padres beleaguered fan base who has longed for San Diego to make a splash. Sandoval has a career slash-line of .294/.346/.465, while playing in a spacious ballpark. Sandoval would give the Padres a long-term solution at third, and star who is still very much in his prime. Industry experts view the Red Sox and Giants as the most likely fits.
San Diego has also shopped their surplus of starting pitching, in hopes of acquiring a young, controllable bat. The Padres have shopped All-Star pitcher Tyson Ross, in addition to Ian Kennedy and Andrew Cashner.
All three of the pitchers have the ability to be top-of-the-rotation arms, with varying lengths of controllability. Kennedy can be a costless agent after the 2015 season, while Cashner can be controlled through 2016 and Ross until 2017. Kennedy seems like the most likely to be moved, with Texas and Kansas City viewed as potential suitors.
It seems likely that the Padres will hold onto Ross and Cashner and look at the costless agent market in greater depth.