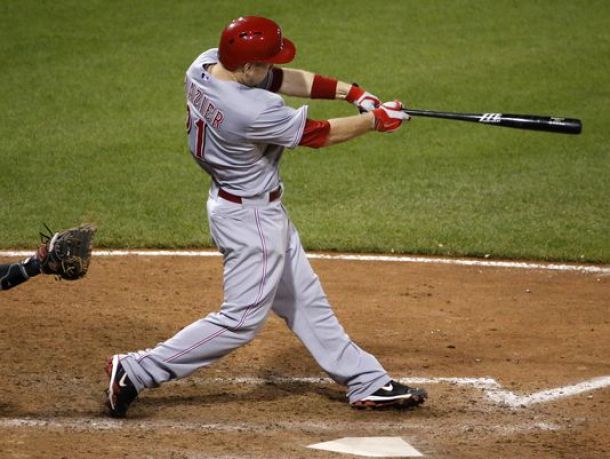 Third baseman Todd Frazier and the Cincinnati Reds have agreed to terms to a 2-year deal that will see their All-Star get a significant raise. Like 7-times his 2014 salary. The Reds announced the deal (via Mark Sheldon of MLB.com) and both sides seem pleased. Frazier will receive $12M over 2-years, much more than the $600,000 he made in 2014 (via Baseball-Reference). Sheldon reports that Frazier will make $4.5M in 2015 and $7.5M in 2016.
Frazier was arbitration eligible for the first time this season, which is usually the point at which players go from making near the league minimum, to a salary more commensurate with their level of play. And the 28-year-old (29 next week) had a career year in 2014, slugging 29 HR (T4 in NL) with 88 runs and 80 RBI on a team that struggled to put together consistent offense among numerous injuries to key players.
Frazier walked in his only All-Star game plate appearance; both he and the Reds hope for many more appearances. His relatively modest salary (for an All-Star) will be something to watch at the trade deadline, particularly in the second year of the deal where a team would envy his bat at that price. He will have one more year of arbitration before eligible for free agency in 2018.