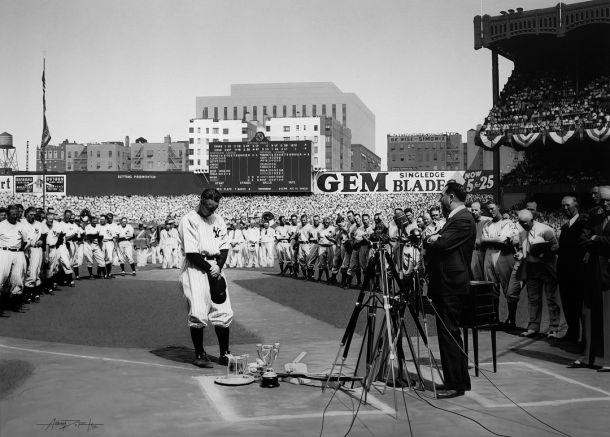 In a continuation of the VAVEL all-time roster articles that Missy Metz and this correspondent are doing, here are the best first basemen of all time. In addition, see the write-ups about the best catcher and best pitchers.
The best first basemen is Lou Gehrig, the former New York Yankees first basemen. Gehrig is the greatest first basemen in baseball history because he was one of the most consistent players of all time, and he still will be years and years down the line.
The legend of Lou Gehrig starts with a former Yankee named Wally Pipp. On June 2, 1925, Pipp was sick and could not play first base, so manager Miller Huggins put Gehrig in for Pipp. Wally Pipp never played another game with the Yankees.
Gehrig played in 2,130 consecutive games from June 1, 1925 to April 30, 1939. Because of his longevity and endurance, he was nicknamed "The Iron Horse." Tragically, however, the streak ended when he was diagnosed with Amyotrophic Lateral Sclerosis, or ALS, which is now commonly known as Lou Gehrig's Disease.
Gehrig's consecutive-game record was broken on September 6, 1995, when Cal Ripken, Jr. played his 2,131st consecutive game. The new Iron Man's streak lasted from May 30, 1982, to September 19, 1998.
Lou Gehrig had New York in his blood from the day he was born until the day he died. Gehrig was born in Yorkville, New York City, and died in Riverdale, New York City. In between that time, he attended PS 132 in Washington Heights and Columbia University in the Bronx, New York City. The New York Yankees signed him out of Columbia University in 1923.
"The Iron Horse" is the greatest first baseman that has ever played in the Major Leagues because of his 2,164 games, 2,721 hits, and 493 homeruns. He also had 1,995 RBIs with a .340 batting average.
Gehrig won the 1927 and 1936 MVP awards, being named to six All-Star games over that time. He also scored 1,888 runs in his career. Gehrig was also part of the Yankees' famed "Murder's Row" with Earle Combs, Mark Koenig, Babe Ruth, Bob Meussel, Tony Lazzeri, Joe Dugan and Pat Collins. He won the World Series six times -- in 1927,1928, 1932, and 1936-1938.
On June 3, 1932, Gehrig became the third player in baseball history to hit four home runs in one game. In 1934, he had 49 home runs, 166 RBIs, and a .363 average in winning the Triple Crown. He served as the Yankees' captain from 1935-1939.
On July 4, 1939, Lou Gehrig retired from baseball and had his Number 4 permanently retired by the Yankees. That day at the stadium, he gave one of the most famous speeches in baseball history; some even called it "baseball's Gettysburg Address." Gehrig famously proclaimed, "Fans, for the past two weeks, you have been reading about the bad break I got. Yet today, I consider myself the luckiest man on the face of the earth….. So I closing... I may have been given a bad break, but I've got an awful lot to live for. Thank You."
Here are some excerpts of Gerhig's speech from the Iron Horse himself, courtesy of MLB.com:
On December 7, 1939, the "Iron Horse" was elected to the Major League Baseball Hall of Fame without waiting the mandatory five years due to his illness. Gehrig is on the MLB All Century team named in 1999. He is the 10th player in the VAVEL all-time roster to be on the MLB All Century team. In 1997, he was named to the Major League Baseball All-Time team.