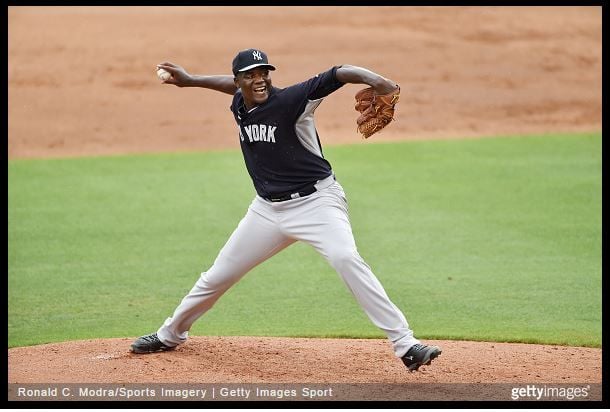 Michael Pineda looked mid-season form as he held the Pittsburgh Pirates to run one while the offense awoke late to give the New York Yankees split squad a 6-2 win Thursday afternoon.
Pineda started for the Yankees and allowed just one earned run on six scattered hits in 5 1/3 innings. He walked none and struck out six. He finishes his Cactus League performance with a 1.42 ERA while allowing only three earned runs in 19 innings spread over five starts.
The Yankees' bats awoke in time to score three runs in each of the sixth and seventh innings. With nobody out in the sixth, Chris Young smacked a two-run single that scored Austin Romine and Aaron Judge. Young's pinch runner, Ben Gamel, advanced a ground ball and then moved to third on a wild pitch. Rob Refsnyder then brought him home with a single.
In the seventh, Judge popped a two-run single, and Gamel brought home Romine with a sacrifice fly.
Pittsburgh took a short-lived 1-0 lead in the top of the sixth when Starling Marte drove home Gregory Polanco. Pittsburgh scored again in the eighth on a Josh Bell sacrifice fly.
Andrew Miller (W: 1-0, 2.57 ERA) pitched 2/3 of an inning to pick up the win. He got the final two outs in the top of the sixth and benefited from the Yankees' rally in the bottom half. Dellin Betances fared better Thursday than in recent outings, pitching a scoreless seventh inning with two walks and a strikeout.
Jared Hughes (L: 0-2, 10.61) allowed the first Yankee rally, totaling three earned runs on four hits in two innings. He struck out two. Starter A.J. Burnett had a very solid outing: 4 IP, 0 R, 6 H, 1 BB, 2 K.
On Friday, the Yankees will host the Washington Nationals in Tampa at 1:05 p.m. EDT, and the Pirates will visit Citizens Bank Park to take on the Philadelphia Phillies at 7:05.