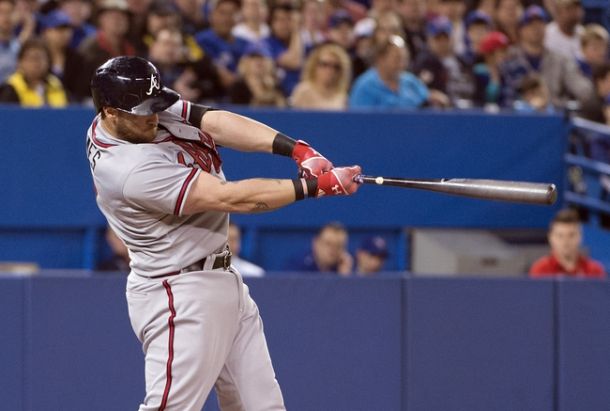 With more clutch hitting and stellar pitching, the Atlanta Braves (8-4) defeated the Toronto Blue Jays (6-7), 5-2 in the series finale. Atlanta is now 5-1 on the road to start this 2015 season, while the Blue Jays have struggled at home with a record of 2-5.
Jonny Gomes gave the Braves their scoring punch this afternoon as he went 1-2 with four RBI's, three of which came in the first inning on a bases clearing two-out double off Jays starting pitcher Daniel Norris. Gomes would tack on another run in the third inning on a sac-fly to give Atlanta a 5-0 lead.
Shelby Miller (2-0) went six strong innings allowing two runs on five hits. He did walk three batters but still got plenty of swings and misses as he struck out six Blue Jay hitters. The only damage done against Miller was in the sixth inning where catcher Russell Martin drove in two runs with a two-out double.
Rookie left-hander Daniel Morris (1-1) didn't have a good outing as he gave up five runs (four earned) on six hits in only 2 2/3 innings. Morris continually got behind in the count because of the lack of fastball command. With this clunker Morris' ERA has jumped to 6.08.
This game came down to defense and the Braves were more efficient. Gomes' rocket double to center was deflected off Blue Jays outfielder Dalton Pompey. It wasn't ruled an error but it was catchable. In the third inning Freddie Freeman scored from first on a Chris Johnson single, because Pompey airmailed a throw as Freeman ran to third base and it skipped past Donaldson allowing the run and Johnson to end up at third base. Johnson would score on the Gomes sac-fly.
After a couple rough games by the Braves bullpen they rebounded this afternoon. Left-hander Andrew McKirahan went two-thirds of an inning with a strikeout, right-hander Cody Martin went 1 1/3 shutout innings with two strikeouts, and closer Jason Grilli had a 1-2-3 ninth inning with two strikeouts. That is Grilli's sixth save of the season which leads the National League.
Miller has been great since putting on a Braves uniform. In three starts, he has pitched 16 innings allowing only three runs while striking out 11. He's had some walk issues but his he's been able to keep the ball down inducing a lot of groundball outs. He currently poses a 1.69 ERA.
The Braves have an off day on Monday but they head to New York to face the Mets for a three-game series. Right-hander Trevor Cahill (0-1, 15.43 ERA) will get the first start of the series against left-hander Jonathon Niese (1-0, 1.59 ERA). Toronto also is off on Monday and they will stay home to face the Baltimore Orioles in a three-game series. Left-hander Mark Buehrle (2-0, 3.75 ERA) will square off against Baltimore right-hander Bud Norris (0-1, 12.38 ERA).