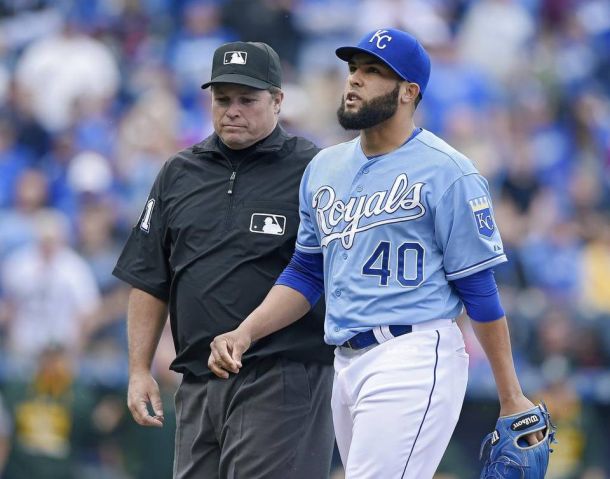 Major League Baseball has suspended Kansas City Royals reliever Kelvin Herrera and fined starter Yordano Ventura for throwing at Oakland Athletics hitter Brett Lawrie in separate games over the weekend. Ventura's fine amount is undisclosed at the moment, and Herrera's suspension is for five games.
MLB.com's Austin Laymance reports the uncertainty of whether or not Herrera would appeal his suspension. It is scheduled to start with Tuesday night's home game against the Minnesota Twins. If he begins to serve it Tuesday night, then he could return to the mound Sunday when the Royals finish a series with the Chicago White Sox. If he does appeal, then he practically gets to decide when he serves it.
The actions Ventura and Herrera took stemmed from retaliation for Lawrie's hard slide into shortstop Alcides Escobar in breaking up a double play Friday night. Escobar left the game injured as a result and missed the next two games. He returned to the lineup Monday.
Ventura plunked Lawrie in the top of the fourth inning Saturday, and the matter appeared settled. On Sunday, Oakland's Scott Kazmir hit Lorenzo Cain in the lower left leg in the first inning and was not ejected. He pitched 7 1/3 innings. Later, in the eighth, Herrera threw a 100-mph fastball behind Lawrie's shoulders, and the two teams started jawing at each other. However, no punches were thrown.
Six Royals players and coaches, including Herrera and manager Ned Yost were ejected. No Athletics were ejected.
The two teams will meet again in Oakland from June 26-28.