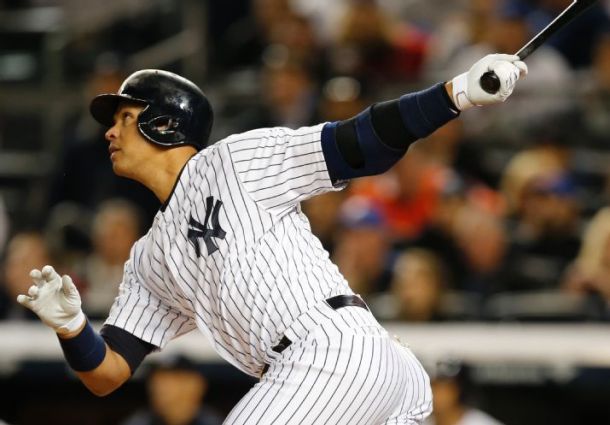 After an eventful first three innings, the Bronx Bombers held onto a lead to win the rubber match of 2015's first Subway Series.
On ESPN's Sunday Night Baseball, it looked like the New York Mets were on their way to their 13th win in 14 games, but then the bottom of the second happened.
After Alex Rodriguez launched his fifth home run of the season and 659th of his career in the first inning, the Yankees brought home four more in the second, giving them the lead for the rest of the game. The Mets had put up two of their own in the top of the first, as Curtis Granderson popped a leadoff home run into right field of his old ballpark and Daniel Murphy drove in Juan Lagares with an RBI double.
The Metsies got two runs back in the third, thanks to Murphy's second RBI double and another one from Michael Cuddyer. However, the Mets could never get more timely hits, and their defense didn't help much either, as New York's N.L. team put up four errors on Sunday night.
Neither Jon Niese nor Nathan Eovaldi dazzled, as they each allowed four earned runs on seven-plus hits. Once the starting pitchers exited the game, both New York bullpens pitched nicely; the Yankees pen held the Mets hitless for 4 2/3 innings, and Andrew Miller picked up his seventh save of the season. Meanwhile, the Mets' Erik Goeddel and Alex Torres combined for three innings pitched, one hit, four strikeouts, and no walks.
While the Mets have now lost 2 of 3 after their 11-game win streak, they still stand nine games above .500 at 14-5, and a solid 4.5 games ahead of the Atlanta Braves in the N.L. East. The Yanks, meanwhile, are tied with the Tampa Bay Rays at the top of the A.L. East at 11-8, but two games separate the entire division, as no team is worse than 9-10.
Up next, the Metsies will head to Miami to begin a three-game series with the Marlins, while the Yankees will stay at home to begin a three game set with the also-tied-for-first-place Rays.