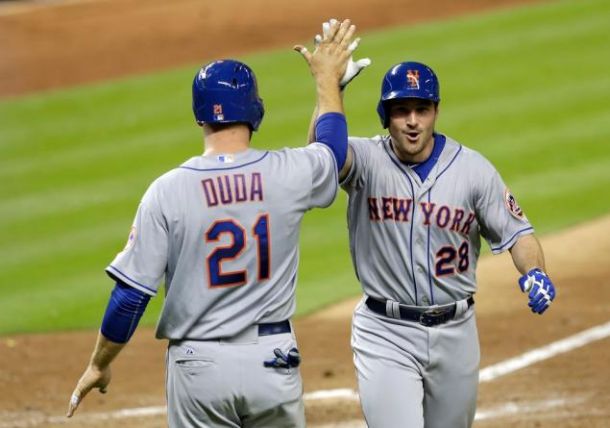 When Terry Collins was asked about Daniel Murphy's performance on Monday night, he answered the question quite accurately.
"Murph-a-licious," said the Mets' manager.
Was he ever. After the first 7 and a half innings of Monday nights Mets-Marlins affair went by in a flash, the offense finally showed up.
Dillon Gee and Jared Cosart both pitched startlingly well; after seven full innings, both starters had shutouts going. Gee had thrown a measly 58 pitches as he entered the eighth inning, but after allowing two straight two out singles, he let Martin Prado whack an RBI single into right-center for the first run of the game. Gee's final line was 7 2/3 innings, six hits, one earned run, and three strikeouts.
Meanwhile, Cosart lasted eight full innings, only allowing two hits and three walks while striking out two. Cosart's final pitch count was 93, twenty more than Dillon Gee. No wonder the game was moving at light speed.
In the top of the ninth inning, Marlins closer Steve Cishek entered the game. Cishek has had his struggles against the Mets since assuming the closer role in Miami, and tonight was no different.
Juan Lagares led off with a double to center field, capping a seven pitch at bat. Then, Lucas Duda drew a five pitch walk, and after Michael Cuddyer frustratingly popped up to right field, the most Murph-a-licious man on the Metsies came up to bat.
Daniel Murphy has had his struggles this season, as he still holds a batting average of .174, but on this trip to the plate Murphy made his best swing of 2015, rocking a home run into the right field stands.
Jeurys Familia completed his ninth save of the season in a 1-2-3 bottom of the ninth. Familia currently holds a 1.69 ERA and a 0.66 WHIP.
Carlos Torres got the win for the Amazins, after he threw one pitch (one pitch!!!) to retire Giancarlo Stanton in the bottom of the eighth after Dillon Gee was taken out of the game. Meanwhile, Cishek blew his second save of the season, while ballooning his ERA up to 11.57.
After tonights 1:59 long game, both teams will face off again tomorrow night, as Rafael Montero makes a spot start for the Metropolitans against David Phelps.