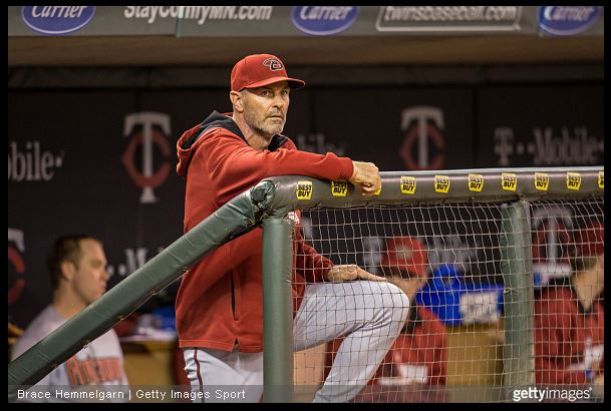 Former Detroit Tigers and Los Angeles Dodgers World Series hero and Arizona Diamondbacks manager Kirk Gibson received some potentially tragic news recently, and he made that news public on Tuesday. MLB.com's Jason Beck reports that Gibson has revealed his diagnosis of Parkinson's disease, a disease that attacks the central nerve cells in the brain.
Gibson discussed the diagnosis, the challenges he will face, and the support he has received from his loved ones in a statement he made during a press release with FOX Sports Detriot, for whom he currently works as a baseball analyst. Beck shared part of that statement in his Tuesday afternoon report. Said Gibson,
"I have faced many different obstacles in my life, and have always maintained a strong belief that no matter the circumstances, I could overcome those obstacles. While this diagnosis poses a new kind of challenge for me, I intend to stay true to my beliefs. With the support of my family and friends, I will meet this challenge with the same determination and unwavering intensity that I have displayed in all of my endeavors in life. I look forward to being back at the ballpark as soon as possible."
WebMD.com defines Parkinson's disease as a condition that "affects the nerve cells in the brain that produce dopamine [which controls movement]." WebMD.com also explains, "Parkinson's disease symptoms include muscle rigidity, tremors, and changes in speech and gait. After diagnosis, treatments can help relieve symptoms, but there is no cure."
Gibson will turn 58 in May. He joined FOX Sports Detroit in January after managing the Diamondbacks for the past five seasons. He did not quite finish 2014, losing his job with only three games to play. The Diamondbacks finished 63-96 under his watch, and he had only one winning season (2011, 94-68, N.L. West champs) since he took over mid-season of 2010.
As a player, Gibson enjoyed a 17-year career with the Tigers, Dodgers, Kansas City Royals, and Pittsburgh Pirates from 1979-1995. He had a career line of .268/.352/.463, 255 HR, 870 RBI, and a National League MVP award and Silver SLugger award in 1988 with the Dodgers. He was also very successful in the postseason: .288/.380/.577, 7 HR, 21 RBI in 21 games. He is most rememberd for two heroic World Series home runs, one each in 1984 with the Tigers and 1988 with the Dodgers.
In 1984, Gibson's three-run home run off Goose Gossage helped the Tigers win the Series-clinching Game 5 over the San Diego Padres.
That shot was Gibson's second home run of the game, and it put the game out of reach.
Gibson outdid himself in 1988. Having injured himself in the NLCS, he was unable to play in Game 1 of the World Series against the Oakland Athletics. Gibson, though, came out of the hot tub, where he was nursing two bad legs, to pinch hit off Oakland's great closer Dennis Eckersley with the tying run on base in the bottom of the ninth. MLB Network rated this moment #1 of its 50 Greatest Moments.
The Dodgers won Game 1 5-4 thanks to Gobson's walk-off heroics. Gibson never appeared in the rest of that Series, which the Dodgers won in five games. It was the final postseason at bat of his career.
Here is wishing the very best for one of the game's good guys: Kirk Gibson.