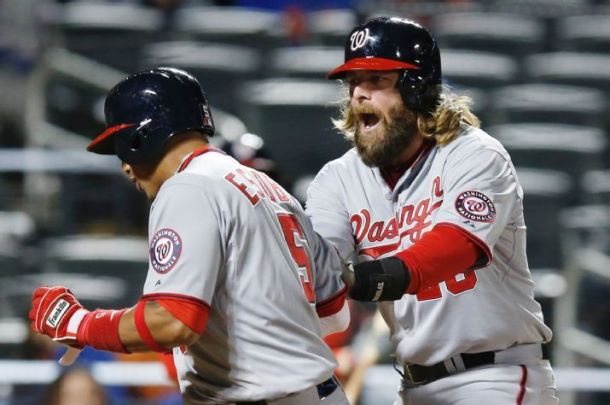 Wilmer Flores definitely wants that one back.
"That one" would be the fourth inning double play ball, which the Mets' shortstop had in his glove only to boot it, turning the top of the fourth into a three-spot for the Washington Nationals.
The New York Mets entered Thursday night's game with a 10-0 record at home, but the opening matchup of a four-game series between the N.L. East rivals didn't go as they expected. The Mets opened up the scoring in the second, with Kevin Plawecki and Curtis Granderson driving in runs to put New York up 2-0.
In the top of the fourth, with Dernard Span on first, Yunel Escobar rolled a double play ball to shortstop. But, Wilmer Flores somehow lost it, putting runners on first and second with nobody out. Indeed, this was the turning point of the game, and it might be a significant turning point in the Mets' young season. Right after Wilmer's blunder, Jayson Werth hit an RBI single, and after a Bryce Harper walk, the Nats put up two more runs in the inning to take a 3-2 lead.
After the blundering inning, Mets starter Jacob deGrom just couldn't get his groove back. In the sixth inning, he would allow two more runs, as Ryan Zimmerman and Wilson Ramos hit back-to-back RBI singles, chasing the 2014 N.L. Rookie of the Year. Thursday was deGrom's third loss of the season.
Stephen Strasburg started for Washington, and though he only lasted 5 1/3 innings, the 26-year old allowed just two runs and struck out seven Mets. Strasburg earned his second win of the year, and pushed his ERA down to 4.60 with the 100-pitch start.
The Mets threatened in the bottom of the sixth, as Lucas Duda and Michael Cuddyer led off the inning with back-to-back singles, but Nats reliever Aaron Barrett halted New York, striking out Eric Campbell and getting Flores to line out to left to end the threat.
The Mets were unlucky on Thursday; they hit the ball hard, but the BABIP gods were having none of it, as every hard hit ball seemed to travel straight into a Washington glove.
The Nats put up three more in the ninth, as Bryce Harper hit a three-run double off rookie left hander Jack Leathersich to put Washington up, 8-2. Escobar, Werth, Harper, and Zimmerman all had multi-hit games for the Nationals, and the visitors had 12 as a team.
Tomorrow night, the Mets will send ace Matt Harvey (4-0, 3.04 ERA) to the mound to face Max Scherzer (1-2, 1.26 ERA), who the Mets beat in Nationals Park on Opening Day