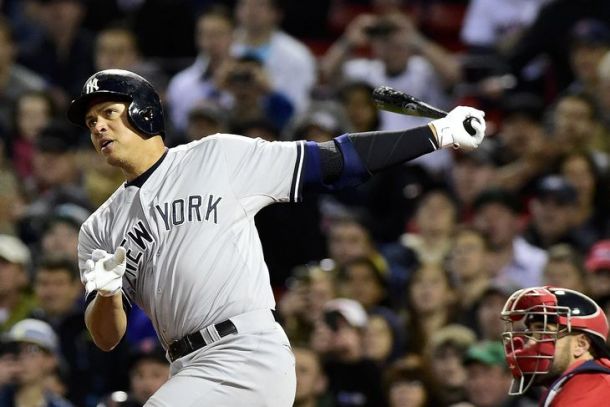 Risers
Alex Rodriguez, New York Yankees: In a pinch-hit at-bat in a tied eighth inning on Friday, Alex Rodriguez hit his 660th career home run off of Junichi Tazawa, tying Willie Mays for fourth on the all-time home runs list. Surprisingly, the home run was Rodriguez's first pinch-hit home run, and just his second pinch-hit hit out of twenty opportunities. Rodriguez can take sole possession of fourth place this upcoming week. Rodriguez is also just 41 hits away from joining the 3,000-hit club.
Jose Altuve, Houston Astros: This past week, Jose Altuve batted .467/.500/.733 with 14 hits, five doubles, a home run, and eight RBI. If this isn't enough, Altuve also went on a nine-game multi-hit streak, which ended on Friday. His stellar performance helped contribute to Houston's current 10-game win streak.
Evan Gattis, Houston Astros: Evan Gattis is no stranger to this weekly series of articles. He started the season off as a faller, since he went 0-20 with 12 strikeouts. This week, he has shown major improvement. Gattis hit five home runs and 12 RBI this past week, four of which have come in the past three days. His power streak has certainly helped Houston with their win streak.
St. Louis Cardinals: St. Louis went 6-1 this past week, and are currently on a six-game win streak. They have also walked off in extra innings in each of their past three games. They are 18-6 on the year, with the best record in the MLB.
Houston Astros: Houston went 7-0 this past week, scoring a league-leading 64 runs, which is 20 more than the next closest team (Minnesota Twins). They also hit 18 home runs with 167 total bases, all of which led the MLB. Their great performance this past week has contributed to their current 10-game win streak.
Fallers
Jordan Pacheco, Arizona Diamondbacks: In a very rare night on Saturday, both Los Angeles games ended with a baserunner being hit by a batted ball. Pacheco recorded the final out of a 4-6 loss to the Los Angeles Dodgers after being hit by a David Peralta ground ball. This was the first time since 2010 a game ended with a baserunner being hit by a batted ball, and it happened twice that night. But this wasn't the end of the week for Pacheco. The next night, Sunday, Pacheco was tagged out attempting to score on a passed ball in the top of the 13th inning, which would have broken a 0-0 tie against the Dodgers. In the next half-inning, Los Angeles walked off to win the series. Pacheco should stay off the bases and stick to catching.
Masahiro Tanaka, New York Yankees: Tanaka was placed on the 15-day disabled list with wrist tendinitis. However, he is currently playing through a torn UCL from last season, and this could be a precursor to Tommy John surgery.
Josh Harrison, Pittsburgh Pirates: Harrison struggled greatly this past week, going 1-23 with five strikeouts and no walks. He went 0-7 today in Pittsburghs' 14-inning lost against the St. Louis Cardinals. A.J. Burnett, Gerrit Cole, Vance Worley, and Francisco Liriano all had better slash lines than Harrison this past week.
Baltimore Orioles: Baltimore went through many obstacles this past week, all of which revolved around the Baltimore riots. The riots caused them to play the first, and only, game closed to the public. They also had their series against the Rays moved to Tropicana Field, where they served as the home team. Throughout all that, they only played four games, with a 3-1 record.
Chicago White Sox: The White Sox were also affected by the same struggles as the Orioles, as they had their first two games of the week postponed due to the riots. However, Chicago went on to go 0-5 in the week, scoring just 12 runs and twice losing by double digits. Chicago also only hit four extra base hits (all doubles), six fewer than the next worse team (Chicago Cubs).