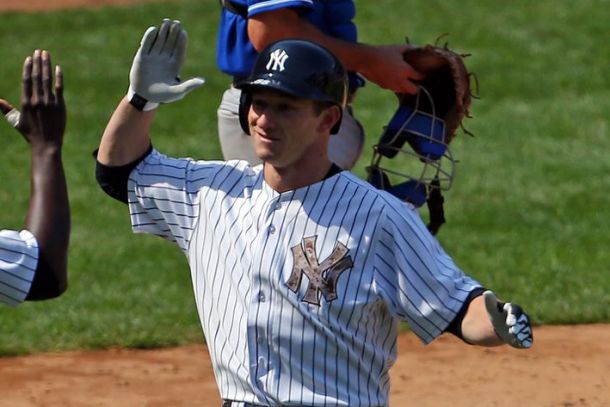 New York Yankees outfielder Slade Heathcott has been placed on the 15-day disabled list with a Grade II quad strain, as announced by Yankees manager Joe Girardi earlier today.
Heathcott, 24, was called up to the big leagues on May 20th following an injury to incumbent centerfielder Jacoby Ellsbury. Six years after being drafted and proclaimed as a promising five-tool talent, several injuries delayed his track to the majors. Now, Heathcott tells reporters that his latest injury has been bothering him since the offseason.
Girardi believes with certainty that Heathcott will miss more than just the minimum of 15 days as he told reporters, "I can tell you it'll be longer than 15 days," In addition, Girardi revealed a specific time frame he expects Heathcott to miss, telling reporters once again, "If it's Grade 2, I'd guess he'll miss about a month."
This is just the latest roadblock in Heathcott's career and life as he tries to stay healthy and on the field. In a career mired by injuries, the Texas native batted .353 with one home run and three RBI through his first 17 at-bats in the majors.
Yet, as Heathcott said in an interview prior to the 2015 season, his injuries have never come from playing the game too hard, but rather from other factors beyond his control.
"One of the best lessons I have learned in life is that we all have our opinions. Whether it's that you like pepperoni pizza or ham and pineapple on your pizza. We all can have our own opinions. I play the game hard because I believe people all over the world work their butt off to make ends meet I don't think I should be an exception. On that note all my injuries have come from things I could not control. Since 2009, not once have they come from playing the game too hard. I haven't been injured in a game to this point in my professional career."
To take Heathcott's spot on the roster, the Yankees have recalled fellow outfielder Ramon Flores from Triple-A. Flores, 23, is having a strong season for the RailRiders this season. Through 42 games, Flores is hitting .294 with four home runs. However, as stated by Donnie Collins on Twitter, Flores was in the original starting lineup for the team today. He was a late scratch and will likely not make it to the game on time, meaning the Yankees will likely play a man short.
Finally, Girardi also told reporters that he will be using Brett Gardner in centerfield more prominently with Heathcott's injury.