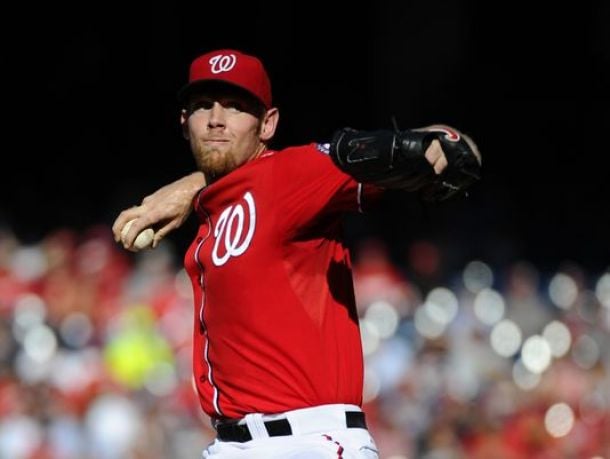 Washington Nationals starter Stephen Strasburg was placed on the 15-day disabled list on Saturday after leaving Friday's start with neck stiffness. Strasburg threw just 16 pitches in that start on Friday before being removed. There is a bigger problem here, though. Including Friday, four out of Strasburg's past five starts have resulted in his leaving the mound before the fourth inning.
There was controversy and discussion over what should have been done with him after his Tommy John surgery a few years back, and now this has arisen.
It is quite possible that the Nationals are ruining Strasburg by mismanaging him. With Tommy John surgery, it used to be that the general conception was that it was not good if a pitcher was having this surgery. However, due in large part to the always advancing world of technology, Tommy John actually seems to make pitchers better when they come off of that procedure.
However, Strasburg really has not been the same this season. He was good last year, pitching himself to a 14-11 record with an ERA of 3.14. This year, through just ten starts, Strasburg is 3-5 with a 6.55 ERA. Something is wrong with Strasburg, and it may not be good that the Nationals kept running him out there.
It would not be fair to say that Nationals management has ruined Strasburg at this point. However, it is a very realistic possibility, especially considering Strasburg had four of five starts in which he did not get to the fourth inning. With someone who has been hailed as one of the next big ace pitchers, that has to be a red flag. But the Nationals may have waited too long.
Neck stiffness may be the problem, but just because someone lands on the DL, it does not mean that he is necessarily injured. If it is just mechanics or his pitch sequence or something minor like that, Strasburg may not be able to be fixed this year. Sometimes, getting away from the game and regrouping can help. However, if it doesn't, one has to wonder if the Nationals have ruined what could have been.
It is tough to see something like this happen. Strasburg is a rare talent that not every team gets its hands on. As for the game of baseball itself and not the Nationals, Strasburg has the chance to write his name in many record books, and that would be something great to see. But in order for that to happen, let us hope that the Nationals management has not ruined him or his career in any way.