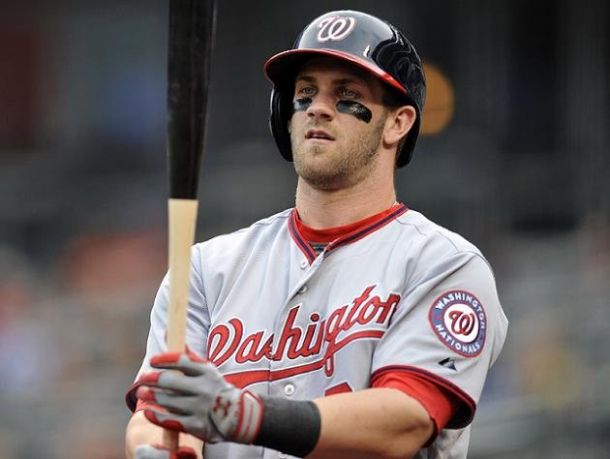 We have finally hit the summer months -- unless you live in California since it always stays around eighty degrees here -- and fantasy owners can finally get a good guage on players who are struggling and those that are playing well. Today, let us look back on the previous month and see if any information can be gained and -- overall -- just take a look at who helped owners the most in May.
Some players will get a deeper look than others since there are many players to cover. To show the value the players had in fantasy, we are going to use the ESPN Player Rater Score, or PRS, which gives players a numerical value to the five main stats of a fantasy league. For all the owners reading this, remember that this is ONLY the last month, not the entire season, so some names may be absent from the list, but those players are doing just fine in fantasy.
Batters
Bryce Harper: ESPN PRS-14.75
Paul Goldschmidt: ESPN PRS-12.72
Jason Kipnis: ESPN PRS-12.05
Ryan Braun: ESPN PRS-11.95
Justin Upton: ESPN PRS-11.27
Prince Fielder: ESPN PRS-10.81
Todd Fraizer: ESPN PRS-9.63
A.J. Pollock: ESPN PRS-9.54
Josh Donaldson: ESPN PRS-9.01
Kris Bryant: ESPN PRS-8.60
Brandon Belt: ESPN PRS-8.57
Dee Gordon: ESPN PRS-8.42
Delino DeShields Jr.: ESPN PRS-8.16
Torii Hunter: ESPN PSR-8.03
Brandon Crawford: ESPN PSR-8.01
Starting from the top, we see that Bryce Harper had the best month, and what a month it was for him and his owners. In home runs alone, Harper scored five points for fantasy owners, and in roto leagues, that is a major total.
A.J. Pollock used his legs to steal fantasy owners four points and was able to hit for some power as well. Pollock may be on his way to a breakout season, and owners that have him should either sell him high or hold on to him.
Kris Bryant finished his first full month nice and strong for owners, hitting for power and even keeping his average strong. Many did not think he would transition so well, but they are now glad to be wrong.
The bottom of this list is where we see names that owners have to make some hard choices about. Dee Gordon and Delino DeSheilds, Jr. are train wrecks waiting to happen. Dee Gordon should be sold now before the wheels come off. Delino DeSheilds is a worse choice than Gordon, at least for now, and if owners can get anything from him, it would be a bonus. Both have value, but the problem is what happens when both come back down to earth and the numbers average out.
Brandon Crawford is another interesting case that fans and owners look at with a curious eye because the power came out of nowhere. Funny enough, the numbers actually support what he is doing, and even if the power does decline, which is likely, there is a legitimate chance that Crawford could hit .290/.350/.400 this year.
Pitchers
Max Scherzer: ESPN PRS-9.31
Drew Storen: ESPN PRS-8.69
Corey Kluber: ESPN PRS-7.65
Cole Hamels: ESPN PRS-7.39
Shelby Miller: ESPN PRS-7.34
Felix Hernandez: ESPN PRS-7.13
Jacob DeGrom: ESPN PRS-6.91
Dallas Keuchel: ESPN PRS-6.83
Sonny Gray: ESPN PRS-6.72
A.J. Burnett: ESPN PRS-6.54
Ryan Vogelsong: ESPN PRS-6.47
Madison Bumgarner: ESPN PRS-6.45
Chris Sale: ESPN PRS-6.44
Huston Street: ESPN PRS-5.93
Zack Grenkie: ESPN PRS-5.80
What Harper did for the Nationals' offense Max Scherzer did for the pitching, having a fantastic month with an 11.72 K/9, out-done by Cory Kluber's 12.66 K/9 after Kluber woke up from that very slow beginning of the season.
Not wanting to be out done by Scherzer, Drew Storen solidified his position as the team's closer, converting eleven saves in thirteen appearances and even managing a win while not giving up an earned run the entire month.
Dallas Keuchel continues to make a name for himself, going 4-1 in May and actually getting his first loss of the season in May. While Keuchel is not striking out as many hitters as Cole Hamels is, he is becoming a very reliable option for owners.
Madison Bumgarner, Chris Sale, and Zack Grenkie making this list is not shocking, and all had a very productive month.
Shelby Miller is becoming quite the mystery for owners since he is pitching so well, and the numbers only slightly back him up. The most important thing to note is Miller had a BB/9 of 1.42 in May, and that is a dramatic improvement. If he can continue to avoid the walks, owners should take him more seriously. Miller is not striking out many hitters, but, so far, he has avoided hard hits, and batters seem to have a hard time squaring him up. However, a 0.90 ERA to 2.72 FIP is normally a bad sign.
Ryan Vogelsong had a great month, but no one would have suspected it considering his year. The bottom line is very clear with Vogelsong, and he is a decent spot starter when the match ups work for him, but he is not a pitcher owners should run out and add to their rosters. Owners should avoid him and his very low K/9 since there are far more pitchers that have a higher potential to do way more for fantasy owners.