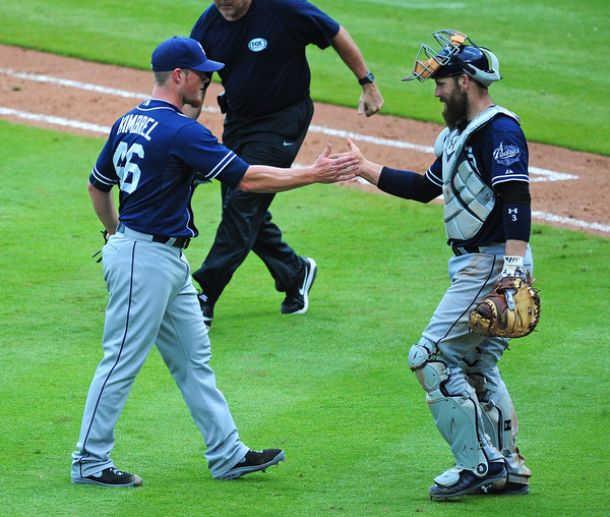 In a four-game midweek series that would see Jace Peterson and Cameron Maybin face off against the San Diego Padres and Craig Kimbrel face off against the Atlanta Braves, the Padres took another game from the Braves to tie the series at two games apiece on Thursday afternoon.
Dale Thayer was given the win, and Kimbrel succeeded in saving his 15th game of the season. The afternoon matchup started with both benches being cleared in the first inning after Matt Kemp was hit with a pitch.
The game continued to go down for the Padres when Bud Black was ejected in the seventh inning, but they managed to come from behind in the eighth and win it on a two-run single by Yangervis Solarte in the 11th. Kimbrel saved it to seal the Padres' win 6-4.
Overall, for both the Padres and Braves, there really were not any hitters who had amazingly strong days. However, a strong performance from both teams overall -- as well as from Alexi Amarista, Solarte, and Wil Myers all scoring in the eight inning for the Padres -- was enough to send it to extra innings. The Padres tied the game at 4-4 on a bases-loaded catcher's interference call.
In the Padres' part of the 11th inning, Solarte stepped up and hit the single that scored Corey Spangenberg and B.J. Upton. When the Barves came up in the bottom half, closer Kimbrel was called up into the save situation against his former team.
This win allows the Padres to take their second of the four-game series from Atlanta and bring their record back up to .500.
Next on the schedule for the Padres, they will return to Petco Park for a three-game home stand against the Los Angeles Dodgers. The tentative pitching matchup for Friday night will be Odrisamer Despaigne for the Padres and Clayton Kershaw for the Dodgers. Saturday's starter for the Dodgers is tentatively Zack Greinke, and Sunday's starter is tentatively Mike Bolsinger. Saturday's and Sunday's starters for the Padres are still to be determined at this time.