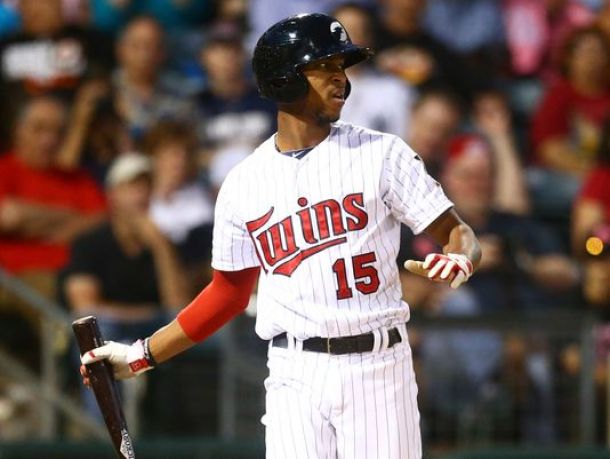 The news broke early Saturday evening that the Minnesota Twins have called up prospect Byron Buxton from Double-A Chattanooga and he will be available Sunday. Buxton is ranked as baseball's number one overall prospect by not only MLB.com but also Baseball Prospectus.
Buxton was the second overall pick in the 2012 MLB Draft, behind Carlos Correa of the Houston Astros. Correa recently made his Astros debut and now it is Buxton's turn.
Through a little bit more than 250 plate appearances, Buxton was hitting .283 with six homers, 37 RBI and 20 stolen bases this season in the Minor Leagues.
Buxton is coming up to help the Twins in the outfield, especially because they are short on outfielders. Aaron Hicks is suffering through an elbow injury and the wily veteran Torii Hunter was suspended for two games after what is being described as a "strip-down" ejection from Wednesday's game. Hunter unbuttoned his shirt and had a complete meltdown.
For the Twins, they need the help in the outfield. But for Buxton, this callup provides a huge opportunity. He could provide a huge spark for the Twins if he finds success at the plate and adjusts quickly to the Major Leagues.
That's also easier said than done so expectations should not be too high on Buxton. However, Buxton has drawn comparisons to the Pittsburgh Pirates Andrew McCutchen so he has the talent to be a special player. What remains to be seen is if Buxton can be that next McCutchen, or even someone like an Adam Jones or a Mike Trout. Buxton will set out on his Major League journey and it may be a historical one. Either way, Buxton is creating buzz around the majors and it is time to see what he is made of.