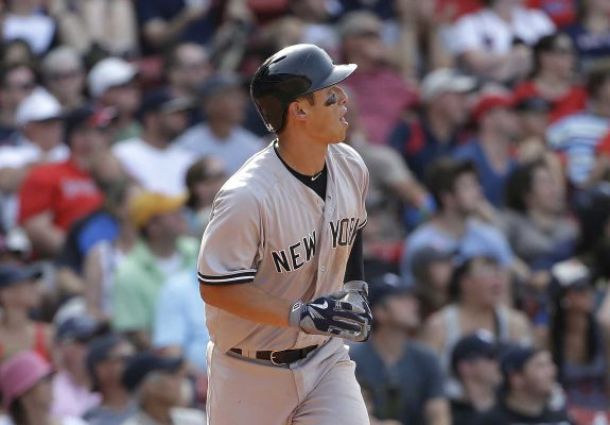 In search of consistent production from the second base position, the New York Yankees called up top prospect Rob Refsnyder last weekend in Boston. In his two-game cameo, Refsnyder provided a much-needed spark, including recording his first Big League hit and home run, proving himself as a difference maker early on.
John Harper of the New York Daily News reports that Refsnyder will remain with the Yankees after the All-Star break concludes. The 24-year-old reportedly impressed the Yankees enough to buy himself additional time at the Big League level. Among those impressed were Yankees manager Joe Girardi.
"I think he played well," Girardi told Yankees LoHud. "Obviously, we have four days off, and I have a lot of time to think about things as we move forward, but he played well."
After going hitless in his first game, Refsnyder recorded his first career hit on Sunday afternoon. He followed that hit with a two-run home run, giving the Yankees an 8-4 lead. That blast ended up being the decisive blow as the Yankees made things interesting in the 9th inning, holding onto the victory via a score of 8-6 against the Boston Red Sox.
With the incumbent Stephen Drew struggling to a tune of .182/.257/.372, the Yankees will welcome a consistent bat at the second base in any form whether it be from Refsnyder or elsewhere. Despite Drew's 12 HR and 25 RBI and defensive upside, his subpar overall hitting is not helping his case to remain as the Yankees' starting second baseman.
In fact, in a recent article by Vavel's own Kevin Hayes, the numbers proved that Drew's defense does not make up for his lack of hitting.
Harper, though, notes that it is unclear how the Yankees plan on incorporating both Drew and Refsnyder in the lineup. While it is possible that the Yankees end up giving the reigns to Refsnyder full-time, the Yankees might want to take it slowly and start with a platoon of Drew/Refsnyder. Drew would start against right-handed pitchers, and Refsnyder would start against left-handed pitchers.
Harper also adds that if the Yankees decide to send down Refsnyder, they would like to see him continue to focus on his defense, one of his alleged weaknesses. Refsnyder looked quite comfortable at the position over the weekend despite being hit with a tough-luck error on Sunday.
Yankees general manager Brian Cashman stated that the organization had no definite plans for their young second baseman past the weekend, but based on Refsnyder's play and Drew's lack of production, everything points toward Refsnyder's staying put.