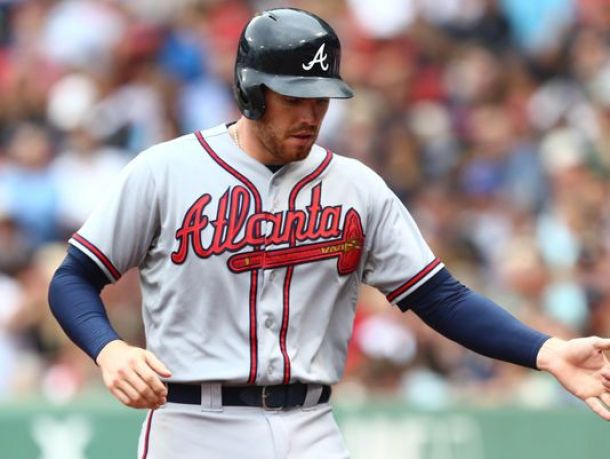 On Tuesday, a familiar face was seen walking around the Atlanta Braves clubhouse. Freddie Freeman rejoined the team after being out since August 4th with a right oblique strain. Freeman had only been back for 10 games from his first DL period before he was sidelined again.
When asked, Braves manager Fredi Gonzalez said, "It's going to be nice to get him back in there in that third spot...Hopefully (Freeman) will be in the lineup the rest of the way. It's more difficult (for opponents) to navigate with him in there."
The Braves offense has been struggling as of late and desperately needs Freeman's bat back in the lineup. In the 76 games that he's played this season he's posted 14 home runs, 45 RBIs and a .284 batting average. Despite all the missed games this season, Freeman still leads Atlanta in home runs, second in doubles (21), and third in RBIs.
During his rehab stint, Freeman was 3-for-15 with two walks and seven strikeouts. During his last game, however, he went 2-for-3 with two RBIs and two walks.
The Braves have lost 17 of their last 19 games while on the road, and have lost their last nine games against the San Diego Padres while playing at Petco Park. With a four-game series against the Chicago Cubs starting on Thursday, Freeman could not have come back at a better time.
Since Freeman has been activated, the Braves have optioned first baseman/outfielder Joey Terdoslavich to Triple-A Gwinnett. Newly acquired Nick Swisher, who came over from the Cleveland Indians on August 7th, will now primarily be a backup first baseman/pinch-hitter.
Hector Olivera, third baseman acquired from the Los Angeles Dodgers on July 30th, is expected to be activated from the disabled list on August 24th when the Braves come back home for a series against the Colorado Rockies.