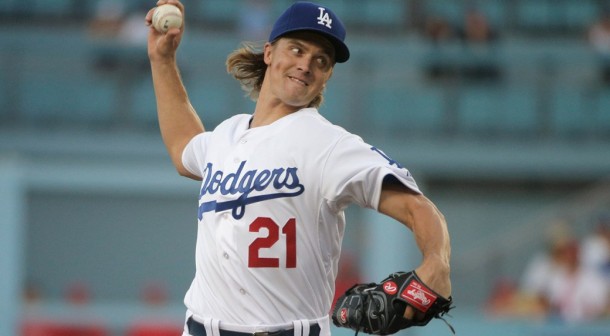 The Toronto Blue Jays are said to be preparing an offer for veteran right-hander Zack Greinke, according to a report from MLB Network Radio's Steve Phillips on Wednesday morning.
The news comes just one day after the GM meetings have gotten underway at the Boca Raton resort and club in Florida as many general managers are already getting down to business with many transactions already being discussed.
The original thought behind this is the fact that the club believes there is less risk with him over David Price, who will be testing the free agent market this winter as well, even though Greinke is older than the left-hander.
In terms of the potential risks, the list not only includes health issues but money as well. On a long-term deal, Greinke would not be looking at a price nearly within the range of which Price is currently commanding because many teams are showing interest early on.
Greinke, 32, completed his third and final season with the Los Angeles Dodgers, having posted a 1.66 ERA in 222.2 innings pitched while having given up 43 runs on 148 hits, 14 of those being home runs, and striking out 200 hitters.
As noted by TSN, Greinke is arguably the most coveted free agent in baseball this winter. He was 19-3 this season with a major-league best 1.66 earned run average. He recently opted out of his contract with the Los Angeles Dodgers with three years and $71 million still left on it.
A baseball executive familiar with the Jays plans told TSN that Greinke is aware of the Jays' potent lineup, pitching staff and its recently overhauled front office. The executive also said that Greinke is currently among the most cerebral players in the game.
At this current point in time, Greinke is the "odds-on favorite" to win the National League Cy Young Award for what would be the second of his career.
At this time, it is unlikely that the Jays will pursue a long-term contract with Price as their is currently no communication between the two sides. It is said that some scouts believe Greinke has a better chance than Price to maintain his effectiveness into his late 30s. And that's a reasonable assessment, said TSN baseball analyst and former New York Mets general manager Steve Phillips.
When speaking about the subject, Steve Phillips said, "A couple things worry me about David Price. He recoils in his delivery. Instead of following through with his arm after he throws the ball, he stops and pulls the arm back. That's deceleration and that's where injuries can take place."
"Also, if his velocity drops, Price will need high quality secondary pitches and he really doesn't have those. Greinke has quality secondary stuff and I think he'll be better later in his career than Price."
Greinke could very well cost more per year over Price, even though he can be signed for a shorter term than Price if the 2010 Cy Young Award winner ends up returning to Toronto in 2016.
As Phillips said, "Making a contract offer now would also make a statement for the Blue Jays."
In terms of players moving to the city when joining the Blue Jays, Phillips says that American players have a reluctance to go to Toronto. They think about the hassle for themselves and their families to go across border. All this said, if the Jays want a guy, they have to go above and beyond, making a statement. This could definitely mean something to Greinke as he would have many things to consider, putting his future into perspective.
Greinke has had an interesting career to say the least, given the fact that he walked away from Major League Baseball in 2006 as he battled social anxiety disorder and depression. According to MLB.com, Greinke, who was given a prescription for the medicine Zoloft later, made his return and did so in grand fashion having won the 2006 Cy Young Award prior to signing a then-record $147 million deal with the Dodgers.