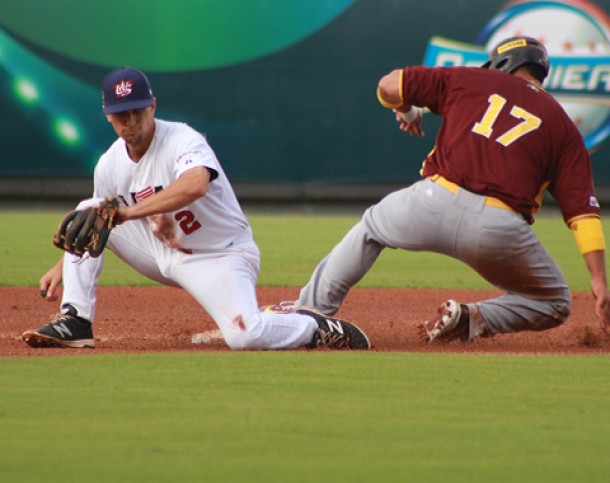 The United States of America were looking for their second win in as many Premier 12 games, but Venezuela would not allow it as they won 7-5 on Wednesday at Taoyuan International Baseball Stadium in Taoyuan, Taiwan. With the win, Venezuela improved to 1-1 in Premier 12 group play.
The United States (1-1) jumped out to a 1-0 lead in the first inning, but seconds later the rain came pouring down. The run was drove in by Brett Eibner (Kansas City Royals), who singled between third base and second base.
It was a two hour delay due to a steady downpour of rain, which forced starter Anthony Vazquez (Philadelphia Phillies) to be taken out of the game for Seth Simmons (Arizona Diamondbacks).
In the third inning, Dan Black (KT Wiz, KBO) knocked a solo shot to add to the lead for Team USA. In the first game of the Premier 12, Black played a huge role in the 11-5 win over the Dominican Republic on Tuesday.
Another run was tacked on by the States to make it a 2-0 lead, but the big blow came from Luis Jimenez, an infielder, who crushed a game-tying two-run homer in the fourth inning. The home run chased Simmons from the game. He finished with two runs on four hits over three innings of relief. Vasquez tossed the first inning for the United States against Venezuela.
Jimenez was back at it again in the fifth inning, as he drove in two runs on a double, which helped Venezuela (1-1) take a 5-2 lead over the U.S. off reliever John Church (New York Mets). The infielder finished the game 3-for-5 with five RBI, a stolen base and two runs scored on Wednesday.
In the bottom half of the fifth, the United States responded. Team USA got a two RBI double from Eibner to make it a one run game. Elliot Soto (Miami Marlins) and Jacob May (Chicago White Sox) got on-base to allow Eibner to clear the bases.
Venezuela added two more runs in the seventh inning to take a 7-4 lead. Frank Diaz knocked in an run with a single to right field and Jimnez added his fifth and final RBI of the night. Diaz finished 2-for-4 with an RBI and a walk.
The last run of the game was scored by the United States, but it was not enough for a comeback victory. May hit a solo shot to right field, but Team USA still trailed, 7-5.
Fernando Nieve retired the last five USA batters to get the save.
Team USA took the loss and is 1-1 with three group games to play. They will face Mexico on Thursday at 5:00 AM ET at Tianmu Baseball Stadium. Meanwhile, Venezuela will battle Korea at 11:00 PM ET on Wednesday.