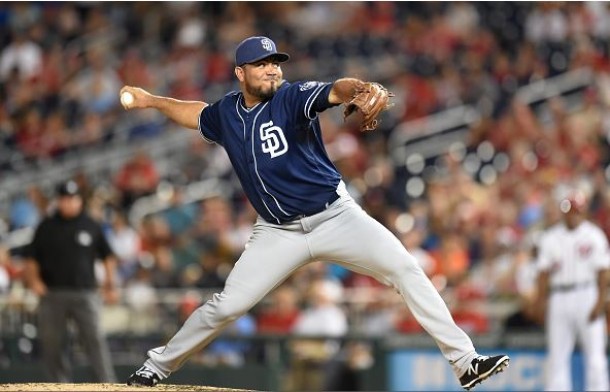 After thier bullpen finished 12th in the American League in ERA and blew 26 saves, the Seattle Mariners have already begun the revamping process. MLB.com's Alden Gonzalez reports that the Mariners have acquired reliever Joaquin Benoit from the San Diego Padres in exchange for two "low-level" Minor Leaguers: RHP Enyel De Los Santos and INF Nelson Ward.
Benoit, a former closer with the 2013 Detroit Tigers, just had his 2016 option upheld, which means he will make $7.5 million in the upcoming season. He saved 11 games in 2014 and 2 more with the Padres this past season. Overall, in more of a setup role, Benoit compiled a 2015 line of 6-5, 2.34 ERA, 2 saves (in 6 chances), 63 K, 23 BB, and 7 HR allowed in 65 1/3 innings spread over 67 appearances.
Benoit, age 38, will most likely not compete for the closer's role even though the Mariners used the infamous bullpen by committee last season. Mariners relievers totaled 45 saves with three pitchers saving 13+ games: Fernando Rodney (16), Carson Smith (13), and Tom Wilhelmson (13). Benoit, though, could spot close if/when needed, and he can set up whoever steps up as the closer of the day.
Mariners general manager Jerry Dipoto discussed the acquisition and how he plans to use his new reliever. Gonzalez quoted the GM discussing the matter. Said Dipoto,
"He's obviously nearing 40 years old now, but he hasn't lost his effectiveness. He still continues to turn in quality performances year after year. He's been durable and effective in every way. I feel like this was a target for us as we went into the offseason, and I'm very happy that we were able to bring him on board.... [This is] both a stabilizing and impact move toward the back end of our 'pen."
In his career, Benoit is 54-42 with a 3.84 ERA, 50 saves, and a 1.23 WHIP in 661 appearances (606 in relief).
New Mariners manager Scott Servais and pitching coach Mel Stottlemyre will have options out of the bullpen. Smith and Wilhelmsen would likely compete for the closer's job, and either could support the other in the eighth inning. Benoit would fit well into the seventh and eighth innings. Lefty Charlie Furbish (1-1, 2.08 ERA, 0.65 WHIP) helps round out the back end of the bullpen, assuming Furbish is fully healed from his torn rotator cuff and can return to form once he gets back into mix.
The Mariners' bullpen was 21-36 with a 4.15 ERA and 1.38 WHIP in 523 total innings in 2015. Benoit brings experience to a young relief corps, and he has a track record of success, especially since 2010.
Dipoto, though, said that he is not finished adding bullpen depth as Gonzalez relayed: "There's still an awful lot of offseason left. I don't anticipate this being the last addition we make in our bullpen."