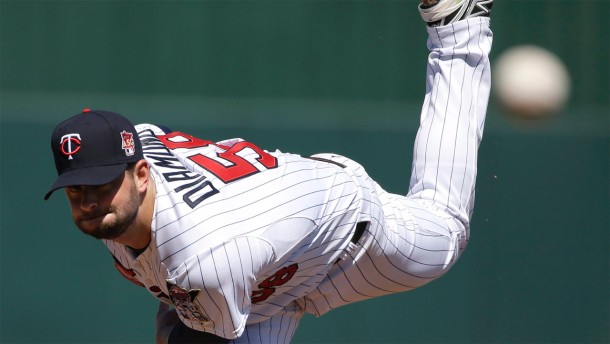 The Toronto Blue Jays have agreed to terms on a minor league deal with veteran left-hander Scott Diamond, an industry told Sportsnet on Tuesday afternoon.
The 29-year-old Canadian will receive an invitation to big-league spring training where he will likely battle for a spot in the bullpen.
Diamond has spent parts of the past three seasons in the Minnesota Twins organization before joining the Tampa Bay Rays on a minor league deal, which he signed prior to the start of spring training this year after becoming a free agent after the 2014 season came to an end.
Diamond spent the majority of this past season in Triple-A pitching with the Durham Bulls while posting a 3.71 ERA in 150.1 innings. He later became a minor league free agent following the season's conclusion.
This move comes along with multiple other moves in which took place yesterday as these men have been brought along to join the club's minor league system to prove what they are capable of before potentially joining the big league team later on down the road.
Diamond made his Major League debut with the Twins back in 2011 and started off strong, going into the 2012 season being a key part of the rotation where he posted a 3.54 ERA in 173 innings pitched. Since then, he has had on and off struggles including the 2013 season where he posted a 5.43 ERA in 24 starts.
It is possible that Diamond could have a shot at making the Blue Jays starting rotation, however, it will be more clear as the offseason unfolds as the disabled list is currently active and the organization will look to have emptied by the start of March.
As of right now, the club's rotation is projected to consists of RHP Marcus Stroman, RHP R.A. Dickey, RHP Marco Estrada, RHP Drew Hutchison and RHP Jesse Chavez. Diamond adds more depth with the possibility of injuries and brings a veteran left-hander that is valuable both on the field and in the clubhouse. With Hutchison being the team's fifth starter, Diamond could be a reliable backup piece as he will have the chance to start during the spring to showcase his talents, which have been re-established.
Should Diamond not make the cut, he will join Toronto's affiliate, the Buffalo Bisons, where he can be of help after the club's loss of both LHP Andrew Albers and RHP Scott Copeland.
Other minor moves in which have been made by interim general manager Tony LaCava include those of C Humberto Quintero, SS Jiovanni Mier, 1B Casey Kotchman, and 2B David Adams.