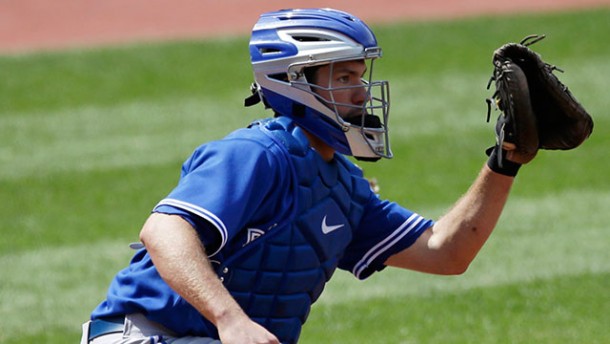 The Toronto Blue Jays non-tendered Josh Thole ahead of the midnight deadline, making him a free agent, as according to a club announcement on Wednesday night.
Thole has been the catcher for RHP R.A. Dickey for the past three seasons in Toronto who acquired the two alongside Mike Nickeas as well. Nickeas, also a catcher, was acquired in a trade with the New York Mets in exchange for John Buck and prospects Travis d'Arnaud, Noah Syndergaard and Wuilmer Becerra.
This move took place back on December 17, 2012. Thole's game time was minimized in 2015 given the fact that Russell Martin was brought aboard when he signed a five year contract worth $82 million.
Because of this, he only had the chance to take part in 18 games where he hit with a slash line of .204/.250/.245 with 2 RBI's in 52 plate appearances through a total of 18 games played. For his career, the 29-year-old has a batting line of .249/.319/.314 with eight home runs and 104 RBI.
Dickey and the Blue Jays agreed to a three-year extension immediately following the transaction as he was a CY Young award winner the year before.
Looking back to last year when d'Arnaud was with Toronto, he was rated as Baseball America's No. 17 prospect and the Blue Jays' top prospect according to MLB.com. When Travis joined New York, he was promoted to the club's Triple-A affiliate in Las Vegas where he finished the season hitting with a .333/.380/.595 batting line alongside 16 home runs in 67 games played.
Syndergaard, Toronto's third-best prospect as ranked by MLB.com, was a supplemental first round selection and the 38th overall pick in the 2010 draft. While in the Blue Jays organization, he spent his time in Double-A Lansing where he posted a 2.60 ERA in 103 2/3 innings covering 27 games including 19 starts.
Becerra, a native of Venezuela, played the first 11 games of his professional career this past season before turning 18 on the 1st of October. He signed for $1.3MM in July of 2011, according to Ben Badler of Baseball America.
Nickeas was the backup to Thole in New York and did not have much playing time under his belt. In 2012, he appeared in 47 games having hit .174/.242/.229 in 122 plate appearances. He was with Toronto for a short time before being sent down to Triple-A Buffalo and later released.
For his career, Thole owns a batting line of .261/.331/.333 having made all of his 1026 plate appearances all with New York. He is arbitration eligible for the first time this offseason and is projected to make a salary of $1.2MM.
Dickey is the only one who remains a Blue Jay today and joins a starting rotation of which includes RHP Marcus Stroman, RHP Drew Hutchison, RHP Jesse Chavez and newly acquired LHP J.A. Happ.